Twas the night before tip off (well, actually, day of)
And boy, am I excited about the game that I love!
Summer's officially over, and the Giants just won!
And with no lockout in sight, it's time to have some fun.
From July to November, it's been a long haul.
Each moment I counted down 'til the beginning of fall
To assess up 'n' comers and locker room cancers
After an offseason that produced more questions than answers.
Will superteams rule each and every year?
Do the Celtics have anything left besides sneers?
Amar'e's hurt, what'll the Knicks do now?
And are Timmy and Stevie preparing final bows?
Yeah, we got questions, but each year?  The same.
As Herm once said: "You play to win the game."
So win, lose, or draw, it's time to predict
Who will rise from the ashes, and whose butts will be kicked.
So steal your neighbor's car, huff your favorite glue
Just do whatever you've gotta do
Grab a beer, please take a gander at this:
Yet another preview poem, written (drunk) by The Diss.
So just like last year, we'll start in the East
With six solid entries, and two formidable beasts.
We'll cover them all, but here's the basic jist:
In terms of contenders, it's a pretty short list.
The Atlantic Division's sure got some bones to pick!
They'll spit in your face, and beat you down with a stick!
But even though the Atlantic's chock full of frowny fun
There's a single contender.  That's right, just one.
You got it.  Boston.  The Great Green Machine.
They're rich, they're tall, they're pissed and they're mean
They'll knock you down, spit on you all day
And now you're on their shit list, ex-Brother Ray!
If Rondo keeps dropping these glorious dimes
If KG, Jet and Truth get themselves to line
Boston will be a very tough out
And Miami's title defense will be in a bit of doubt.
But let's not forget about the rest of the class
Who will do their own things with a bit of sass.
Both the Nets and the Knicks will be borough sensations
And will both savor their second round eliminations.
And if Bynum can pull himself out of blood platelet hell
Philly should be a pretty tough club as well
With Dwight finding his inner-Mickey Mouse out West
Young Bynum (and his knees) will be put to the test.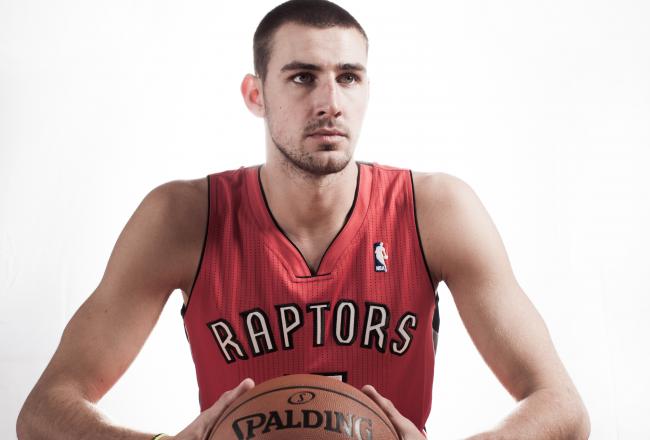 And as for Toronto, well, good luck, eh?
Your time is coming (just not today).
Defense wins 'Ships, this much is true.
But Valanciunas in the block?  He alone won't do.
So that's the Atlantic.  How 'bout the Central?
Where the Windy City's residents will slowly be going mental.
Throughout this division, wills will be tested
To see if Miami's threesome can be bested.
Prohibitively the crown goes to the Pacers
(Whose name, apparently, relates to car racers)
They're trotting out, essentially, the exact same team.
Enough to beat Miami?  Well, that's a nice dream.
Don't get me wrong: Indy is nice.
Paul George, occasionally, is as cold as ice.
But let's be serious folks, and not lose touch
LeBron, Wade and Bosh are far too much.
Da Bulls will wallow in Number Two hell.
(A nasty side effect from a torn ACL).
Thibs will get his guys to scrape and grind.
But Nate Robb as your starter?  Brother be out of his mind.
Now two teams here are somewhat intriguing
(The Bucks aren't one, but don't stop believing!)
But for Kyrie and Cleveland, destiny summons
And Detroit?  Hey guys, just enjoy Andre Drummond.
Now finally, let's talk about the Southeast Division
Where the Miami Heat will be on a singular mission.
They must win out and triumphantly repeat
Although now they are certifiably the team to beat.
Not sure what else is left to say.
The Heat are good.  Really good.  Okay?
D-Wade, Bosh, and Allen are legit.
But LeBron stops worlds.  And don't you forget.
Wait, do I really have to write about the Wiz?
And the Bobs?  Why'd I get involved in this biz?
Here's really all that you need to know:
Both these teams suck.  One might even say they blow.
Last but not least: the pitiful Magic.
Whose Dwightmare, unsurprisingly, ended up quite tragic.
This team, sadly, is a bona fide mess.
If they win 20 games, this season'll be a success.
Well that's the East.  Shall we discuss the West?
Between the two conferences, this one's the best.
Don't believe me?  Well, I won't hear any of your scoffs.
Out West, I believe it may take 50 wins to make the playoffs.
The Pacific Division is the league's crown jewel,
With warm-weather teams that are mostly decent, too.
Some are better than others, but all are good.
Could three teams make the playoffs?  In my mind, they should.
Well first: who won't? One would be the Kings.
Who remind us why we can't all have nice things.
Boogie Cousins will make his All-Star debut
But I fear for the Kings in Sacramento.  Don't you?
 And I can't say I'm feeling hot about Los Suns
Who continue to make interesting use of their funds.
Gortat, Scola, B-Easy can be trouble
And I love Goran D, but he's Nash's stunt double.
But after that, the Pacific's straight golden
The best team, of course, is the group's most olden.
The Lake Show (cue vomit) has done what they do:
They got Dwight Howard.  Oh yeah, Steve Nash too.
Now lest we forget: nothing is assured.
One simple injury, and greatness is deferred.
But given this conference, and the trade of The Beard
The Laker's enter the season most feared.
And Flop City, despite faults, will still be quite good
(Hard not to be when Chris and Blake live in the hood.)
They'll be pretty good, deserve their acclaim
But will regret J-Crawford, who'll shoot 'em outta games.
And finally, the Warriors.  My team in the Bay.
Who cause me to grow gray hairs every day.
It's not impossible they'll get into the dance
Health is the key… so in other words, fat chance.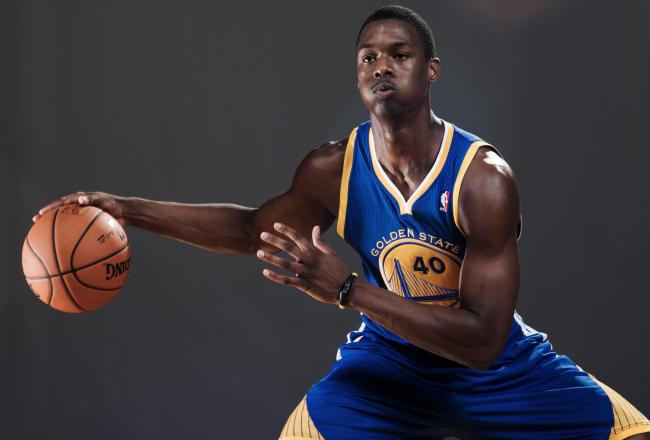 I'll be a homer: I think this goes to my team.
We're young, deep, and well run, nawmean?
This year it's definitely playoffs or bust.
It's nice to get to say: in Jerry West we trust.
Golden State's main competition's in the Northwest
Chock full of solid clubs, a few better than the rest
Believe it or not: each team has good reason
To compete for a spot in the NBA's postseason.
Utah?  They've got a fearsome front line
And they go to the playoffs all the damn time.
And the T-Wolves?  Their roster upgrades could prevent a swoon.
But they'd better hope Love and Rubio come back soon.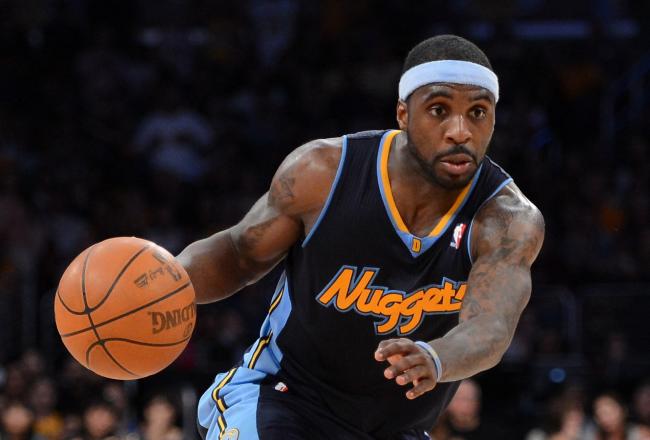 Now Portland doesn't have enough to get it done
But Denver?  Man!  That team's gonna be some fun.
How to beat OKC?  Here's a solution:
Organize your own positional revolution
And OKC, though they just lost James Harden
Are the West's biggest, most bountiful garden.
Yes, we're sad to say goodbye to Mr. Beardy's action.
But his max contract will no longer be a distraction.
The Lakers look strong, and the Spurs can dig in
But I really think this is OKC's thing to win.
Again: no one will stop Durant and Russ West soon
And my money's still on Thunder-Heat come June.
And our last division?  The Southwest in da house!
Which is really just Texas, with random teams in the South.
But stay focused!  We're very nearly through.
And the teams in this division are interesting too.
This year, I won't make the same mistake as the last.
The Spurs aren't old.  They're athletic and fast.
Let's see if Kawhi can provide a second year bump
(History seems to hint a sophomore year slump.)
Memphis at two?  Sounds good to me.
But someone ask Z-Bo to fix that damn knee.
Yet with Rudy, Marc and Mike o'er there
They're good enough to give any team a scare.
After that it's sorta anyone's guess.
Common wisdom says Dallas, but they're sorta a mess.
Dirk's battling injury, and who knows how it feels
In a locker room filled with one year deals.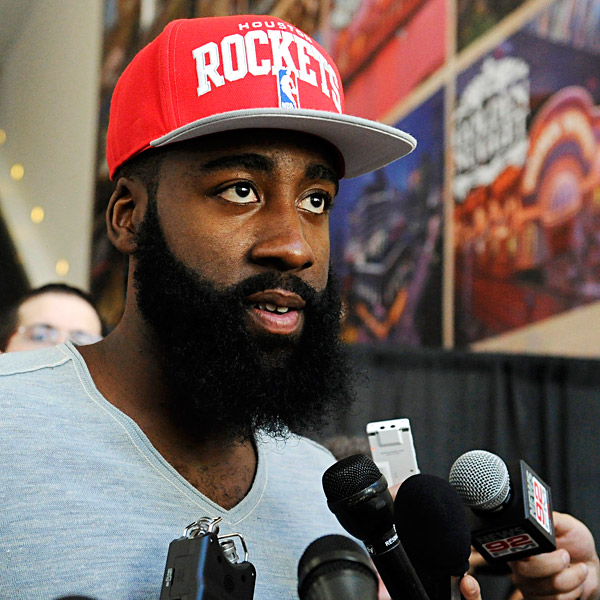 Houston rounds out our cheeky rhyme.
And if I'm being honest with everyone, just in time.
Because despite growing a brand new Beard
This team won't win.  Their roster's too weird.
And that's the preview!  We're done at last.
Now you can close this.  It's a thing of the past.
Start counting down the hours until the NBA
Is on nearly every single day.
So on Pau!  On Metta!  On Fab and D-Lee!
On Boogie!  On Kenneth!  On Rondo and KG!
For the second year in a row, let me say to you all:
Happy Tip-Off Day, all.  Let's watch some ball.