Diss Guy: Josh Howard
Ten months ago, Diss founder Jacob Greenberg and I were in the middle of an identity crisis. Well, a blog-identity crisis. We were going over various re-design options, one of which was a new banner that incorporated "Diss Players". But, we'd never decided who a "Diss player" actually was, so we bantered back and forth on GChat. Among a list including player like Shawn Kemp, Kurt Rambis, Adam Morrison and Zach Randolph, Josh Howard was an obvious choice.
If you don't remember, Josh Howard was once an All-Star, back in 2007. That year he averaged 19 and 7 from the small forward position, a block and a steal a game, and shooting a respectable percentage from the three-point line to boot. But that had little to do with why Josh Howard is a Diss player. No, Josh Howard is a Diss player because for awhile he was the most unfailingly honest man in the NBA. During the 2008 playoffs Howard went on a radio station and told host Michael Irvin that he smoked weed during the offseason. Previously, Howard openly-discussed that the reason he fell in the 2003 draft was probably because of concerns over is marijuana usage. He also said what we all know: "I think that everybody in the media world and in the sports world knows that NBA players do smoke marijuana."
A week ago, Howard tore his ACL for a second time, and yesterday was released by the Minnesota Timberwolves. I would be shocked if he see him in the NBA again. But I believe that Josh Howard will be successful in his life after basketball, for he has always shown that he is an intelligent person first, and all-star basketball player second. Happy trails, Josh Howard. I will miss you.
Miss Guy: Kendrick Perkins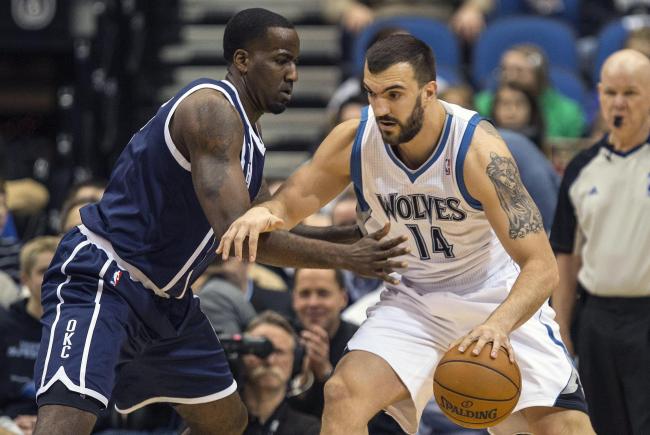 The "Kendrick Perkins isn't that good anymore" movement might've finally had its watershed moment last night. Kendrick Perkins has been living off of his 2008 reputation for, well, four years now. That year Perkins was the starting center on the Boston Celtics team that won an NBA championship. In a bizarre way, Perkins can credit tearing his MCL/PCL in Game 6 of the 2010 NBA Finals for the 4 year/$32 million contract he signed with the Thunder. The Celtics ultimately lost an eminently-winnable Game 7 by four points, and one of the strongest narratives to develop from that Finals was "the Celtics would have won an NBA championship if Kendrick Perkins hadn't tore his MCL/PCL." Thus, Kendrick Perkins was deemed a Championship difference maker, a reputation he still enjoys to an extent. Nevermind the fact that Perkins hasn't even been an average center in three years.
But last night. Last night, Nikola Pekovic destroyed Kendrick Perkins. In the first five minutes of the game, Pekovic scored five points on Perkins. In those five minutes, Perkins recorded two fouls, and one turnover. No points, no rebounds, no nothing. Perkins entered the second quarter at the 6:50 mark, and not coincidentally, so did Pekovic. Pekovic went off for nine points and stuffed Perkins' only shot attempt. At the end of the half, in twelve minutes Perkins was 0-1 with 1 assist. No rebounds for the starting center, and his opposing center had gone off for 16 points against him. Perkins last stretch of the game would be the first eight minutes of the third quarter. Pekovic scored six points against him and drew a foul. Perkins missed another shot, grabbed a couple rebounds, and wouldn't return for the fourth quarter.
Kendrick Perkins just isn't that good anymore. Hasheem Thabeet might be better than him, Nick Collison is better than him, and Serge Ibaka is worlds better than him. It is no coincidence that all the Thunder's best lineups don't involve Kendrick Perkins. He's a 15-minute a night backup center masquerading as the final piece to the puzzle.