This past weekend Boston played host to the seventh annual MIT Sloan Sports Analytics Conference. Dubbed Dorkapalooza by Bill Simmons, Sloan brings together the entire sports industry to discuss analytics. Co-founded by Daryl Morey, MIT Sloan School of Management alum and Houston Rockets General Manager, the conference is always heavy on basketball content.
Though I would have liked to attend, the timing and finances didn't quite work out this year. Given my interest in basketball, and basketball analytics, I paid close attention to the coverage of the conference across Twitter and a variety of websites. The following statement isn't meant to demean any particular writer or organization, as there were many interesting individual pieces about Sloan that I found enlightening. In aggregate though, the coverage was uninspiring, derivative and just plain boring.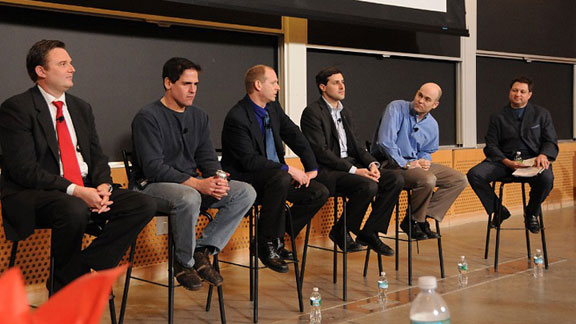 Sloan is interesting because it brings the fairly insular advanced sports analytics community together with the mainstream sports community. This usually results in fascinating perspectives as the quants and not statistically savvy interact, but not this year. This year it seemed to result in information ten years old, and the furthering of already tired tropes. The biggest takeaway from the conference, some version of which I had to read at least 20 times, seemed to be this:
Users of advanced statics need to be able to better communicate their findings.
To which I respond: well, duh. This isn't a new revelation in basketball analytics or any other field. Whether in business or in life, ideas themselves don't mean a thing unless they are properly communicated the proper audience. Isn't this what these very writers do every single day—communicate an idea, a thought, an argument to their audience? Everybody that engages in analytics and wants their ideas to be valued already knows this, and the ones that don't aren't very good anyways. These bloggers—long the target of the "they're just writing in their underwear in their mom's basement" barbs—for some reason imagine quants to be the same. In reality, the successful ones understand the data, the important takeaways, and how to present actionable data to the people able to act upon it.
I also take issue with this narrative because it places the full burden of reaching a better understanding of basketball on the shoulders of the communicator and none on the listener. It especially irks me that most practitioners of advanced statistics refuse to challenge this expectation, meekly adopting it to ward off the anti-stats pitchforks. In an illuminating interview with Hoop 76's Tom Sunnergren at Sloan, Philadelphia 76ers Director of Analytics Aaron Barzilai too played along:
Q: How is working with Doug Collins?

A: Different people absorb information in different ways. I think that Doug Collins is an incredibly sharp guy who knows a ton about basketball. I think that part of my job is to understand how to give him the information he's looking for in a way that's easily digestible. … What you really you need to do is boil it down to what's important.
76ers coach Doug Collins is avowedly anti-stats, and perhaps not coincidentally has developed an offensive scheme that was outdated by 2003, and just plain doesn't function. Aaron Barzilai's job shouldn't be to "give [Collins] the information he's looking for in a way that's easily digestible", it should be to smack him upside the head with the reams of data clearly demonstrating why the mid-range jump shot is the worst shot in basketball. Of course Barzilai (or anybody else) should present the information in an easily understood way, but no amount of improved communication skills can penetrate an impossibly thick skull and closed mind. It sounds like Barzilai has to tip-toe around the coach submissively, furthering a league-wide perception that the 76ers organization doesn't value analytics.
The advanced statics "revolution" is a misnomer, as there is nothing revolutionary about it. Teams have always sought out a better understanding of the game and its players so as to be in a better position to win. Field goal percentage is a way to better understand how a player obtained their points, as are effective field goal percentage and true shooting percentage. The main difference is that one was codified into the box score decades ago and thus has become second-nature, while the other two are relatively new and until recently were only available on niche websites. There is not a distinction between "basic" and "advanced" statics, but rather an array of statics on a continuum of understanding.
The other thing that bothered me about the coverage of Sloan was its characterization of works in progress. In multiple articles on Kirk Goldsberry and Eric Weiss' paper "The Dwight Effect", and other papers, I read variations of "this data is new" or "this is just the beginning" or "I would've liked to have seen them incorporate x, y and z". In part, the couching of the study in context is appropriate—Goldsberry and Weiss only have the data from about half of the games this year, their study is only six pages long and doesn't go into a great deal of depth, their findings are not peer-reviewed etc.
But in some of those articles, that phrase was used to lessen the impact of the findings, or dismiss them outright. The fact of the matter though, despite bizarre claims of racism, is that David Lee is a terrible defender. You can tell by looking at plus/minus, game film, opposing shooting percentages or spatial camera data like Goldsberry and Weiss did. Similarly, Larry Sanders shuts down players so badly that even though he scores fewer than ten points a game, he has a more positive impact on his team than David Lee does on his. It shouldn't be the responsibility of Goldsberry and Weiss to convince their audience of this any more than the audience should be responsible for open-mindedly listening.
Many of the most exciting advances in basketball are just starting to be understood and to effect change upon the game they need to be communicated well. This has been the case, and understood to be the case, for a number of years. Why does it seem like the majority of those covering Sloan just heard about it?