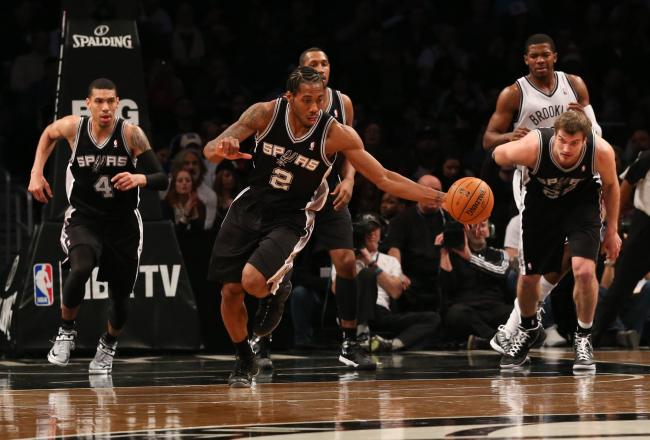 Editor's Note: We are proud to feature a guest post by Miles Wray. Miles writes a recurring column for McSweeney's Internet Tendency called Reviews of Self-Help Books by Professional Athletes. You can follow him on Twitter here.
***
On Sunday morning the San Antonio Spurs bled the New York Knicks out, 120-89, jabbing the Knicks into a puddle using every last tool from their visually unimposing Swiss Army knife. The two teams played all 48 minutes as rules and regulations require, but any sense of competition had been effectively drained from the building five-and-a-half minutes into the game, Spurs up 18-4 and Mike Woodson futilely burning a second timeout. (One could also identify a moment a mere 70 seconds into the proceedings, when Boris Diaw dished a heady behind-the-back assist to an impossibly wide-open Tony Parker, as the moment when the day's victor was decided.) The box score reads like a coach's wet dream: the Spurs shot 52% from the field, nobody played as much as 26 minutes, and even on that limited time budget five players notched double-digits and two more netted nine points.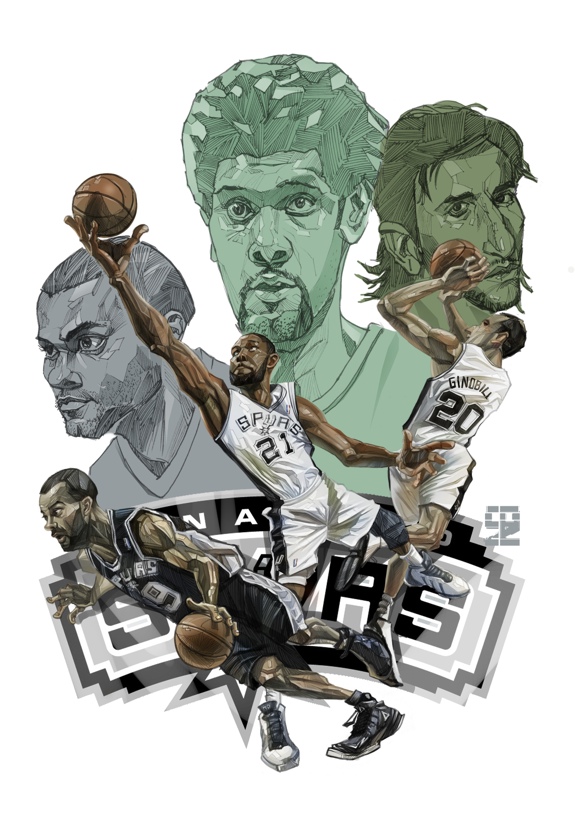 Because the Spurs, like the changing of the seasons, are a given constant on the NBA landscape, takeaways from this game are supposed to revolve around the Knicks and their sad, big-budget wilting. But let's focus on those Spurs and how this 'nother day in the office would qualify as a "statement win" for any of the West's other sprightly young contenders. I, too, hated the Spurs of the early-aughts and their fun-demolishing Finals appearances, the deep black void of their jerseys and Manu Ginobili's jutting schnoz/bald spot combo clearly identifying them as antagonists. Yes, Ginobili still looks downright villainous, and Duncan and Parker's signature eyeball-bulging exasperations at the very notion of ever being called for a foul remain a very not-good look. But.
As the Spurs' run of dominance has stretched from the merely dynastic to the impossible-to-comprehend, I've found myself–well, liking is probably not the best word, but at least admiring the superstructure they have erected. Ginobili's rapidly eroding effectiveness is only making me like the team more: it means less of Manu's chintzy foul-drawing trickery, and now also the dawning realization that he, iconic Big Three member, is actually not even essential to their continued success.
My favorite Spur, the Spur whose efforts render Ginobili's decline moot, is general manager R.C. Buford. Every year Buford picks at the edges of the late-summer free-agency leftovers and makes a few dollar-bin purchases that inevitably end up sentencing your team to an early summer. Unlike probably your team, who senselessly flash their wallets in early July so as to keep up with the Joneses, the Spurs have long recognized that the best available player is very different indeed from the available player who is best for your team. Each transaction Buford makes, no matter how uninspiring it may look on the surface, should cause all opponents to quiver in fear. Who knows what Buford saw in The Artist Formerly Known as Jeff Pendergraph, but there's not really anybody o'er the NBA landscape in position to quibble with the wisdom of the two-year deal the Spurs extended his way.
It's technically true but not entirely honest to say that anybody could have pieced together the Spurs' troop of marauders. Yes, Diaw was available to any and all when he got cut by the worst team ever, but who else would have had the foresight/ingenuity/balls to find a way to start him in the Western Conference Finals mere months later?
Tony Parker is–what? how?–only 32 years old, and Kawhi Leonard is of course the future. Here's hoping that the Spurs of the next decade maintain their present level of excellence, now with less referee-haggling and even more destroying the reductionist assumption that small-market teams don't have the genetic stature to hang with the well-bankrolled. The actual roster members of those Spurs teams are probably your team's suit-wearing 15th man, or a lanky, position-defying 17-year-old currently in the Belgian B-league. But let's imagine, shall we, of all the NBA's underused role men, the top ten who have the skill-set and the disposition to experience their day in the sun as a silent but deadly (if you will excuse the double-meaning) contributor in Pop's rotation. Organized very scientifically from least to most likely to one day be a Spur.
10. Ersan Ilyasova
Ilyasova was birthed into the NBA as a tree in Scott Skiles' brutal, rangy forest of paint-clogging big men; he knows personally the fortitude and resolve required to emerge victorious in an 86-82 game. As is desirable for any potential Spurs employee, we as a general public have no indication as to what Ilyasova's personality consists of despite many years in the league playing a sound and modern style. Ranked last only because he's in the second year of a 5/$40M deal, swallowing enough salary for two or three Danny Greens.
9. Steven Adams
The rookie New Zealander has made Oklahoma City fans swoon with the possibility of Kendrick Perkins' forceful removal from the starting lineup. If Adams continues to be the offensive rebounding magnet he's been in these opening weeks, he'll be an off-limits component of that OKC nucleus in no time. But as an Oceana resident he really should belong with San Antonio and Australian Patty Mills and fellow Kiwis Aron Baynes and new assistant coach Sean Marks.
8. Bismack Biyombo
Biyombo may in general lead a life filled with genuine happiness, but when that Bobcats uniform comes on, well, I don't think we can blame him for the deep existential void he feels, an NBA dream tarnished and fulfilled all at once. His offensive stats are an unsightly blight, but a career 2.5 blocks per 36 (the man's only 6'9") are a glimmer of a hint that his team's well-documented dysfunctionality is far more certain than his status as a bust. An indie version of Greg Oden's low-stakes, slowly percolating second act.
7. Pablo Prigioni
Last year's 35-year-old rookie knows how to make a microscopic usage rate look spiffy, satisfying the ball-hungry appetites of the giant contracts surrounding him in ways that somehow make the Knicks' offense shine. Let's hope his long-delayed NBA career lasts long enough for Prigioni to fulfill his destiny as exceedingly able Spurs back-up PG.
6. Joel Anthony
The Miami Heat's designated defender has been stoically gathering dust on their bench for some time now, his meager minutes (9.1 a game last year) sure to dissolve into the ether if/when the aforementioned Oden returns, with all of that sexy untapped potential of his. Nobody has ever needed to tell the quiet Canadian what his role is, and like he'd ever want to deviate from it anyhow–he of the career 2.4 PPG knows exactly where all his bread comes from. The Spurs would let Anthony unleash his beefy disruption on opposing fives at least twenty minutes again instead of locking him in purgatory like his current employer has done.
5. Ronnie Brewer
Speaking of being locked in purgatory, Brewer has proved his mettle long ago by contributing to the welfare of two very different playoff contenders–the D-Will/Boozer Utah Jazz and the pre-ACL Chicago Bulls. Just last year he was starting half the season under the bright lights of Madison Square Garden alongside Carmelo, Tyson, and the rest of last year's geriatric (and significantly more fun) version of the Knicks. Then, WABAM, unloaded off to OKC in return for a second-rounder and a bit of cash. (Since when does a team dump a starter on the side of the road like it's a stack of firewood or a dilapidated nightstand?) It's befuddling that the supposedly forward-thinking Thunder and Brewer's 2013-14 employer the Houston Rockets can't find a way to get the man some minutes. Yes, Brewer comes attached with a ligament-twisting jump-shot whose very presence in the NBA goes a long way in disproving any Darwinian theories re: Survival of the Fittest. But the man knows how to cut just so, flashing open right underneath the hoop and claim-jumping the defense's most closely monitored real estate. Team Brewer up with Popovich and Kirk Goldsberry will be delivering red-spotted heat charts in in no time.
4. Dante Cunningham
It's possible to go a long time following the NBA and not really be aware of Dante Cunningham's presence. Devoid of a signature move or look, Cunningham's numbers are an NBA tale of the tape so utterly average it's like he just recedes into the background out there: 6'8", 230 pounds, 26 years old, 6.1 points in 19.2 minutes a game. Wrap your head around this number, though: career 7.9 turnover percentage. Even steady bank-shooter Duncan has frittered the ball away on 12.2% of his career's possessions. You know Coach Pop has watched Cunningham from the sidelines and felt a small crush swell within his heart, what with all that fundamental soundness.
3. Thabo Sefolosha
All of Bruce Bowen's effectiveness, with none of the antics. The profound impact of OKC's elite defender reverberates all up and down Thunder box scores: you really think Durant and Westbrook would be posting their boggling scoring numbers if Thabo weren't ready and eager to clamp down the opponent's best scorer on the other end? The man knows how to fulfill a role, shooting more 3-pointers than 2-pointers last year on that steady diet of drive-and-kicks. Thabo's currently a bargain at $3.9M for the year–but if fellow defensive ace Larry Sanders is a reasonable purchase at 4/$44M, this summer's free-agent bidding for Sefolosha will be an intriguing litmus for just how much teams value all dem advanced metrics.
2. Chuck Hayes
If there's anybody in today's NBA who needs liberation, it's poor ol' Chuck. Hayes' just place in the NBA is being a crucial member of a rugged playoff contender's bench squad. Precious years are being tossed in the garbage as Chuck twiddles his thumbs on Sacramento's bench, entirely out of place on his squad because, unlike the rest of his teammates, he doesn't like to hear the sound of his own 15-foot jumpers clanging off the rim. The league's shortest ever true five deserves to be set free–if nothing else so that we re-remember that he is in fact still in the league. (Don't be surprised if fellow displaced teammate Luc Richard Mbah a Moute also finds his way over to San Antonio.)
1. Andrei Kirilenko
It's been eons since the supreme five-by-five monster has found himself in an environment that's actually conducive to his whirling-dervish skill-set. Yeah, yeah, small sample size, but with their burdensome expectations, the megabux Brooklyn experiment already feels like no fun at all. Kirilenko's presence with last year's voodoo-cursed Minnesota team has already receded out the back of our minds. Before that, AK-47 used the lockout year as excuse to return to his homeland for a reunion tour season with CSKA Moscow, and the year before that Andrei saw the Utah Jazz crumble to the ground, Jerry Sloan and Deron Williams departing (in very different capacities) midseason. For everybody who's slobbered over Lamar Odom's lanky versatility over the years, Andrei can run the point while your starter rests, all the while tallying the same career blocks per 36 as thunderous Dwight Howard (2.2). To be sure, Kirilenko has been out of the spotlight for a long time, but that's completely different from being over the hill. His arrival in San Antonio would announce the unleashing of statistical mayhem.
Get back at me in seven years when all of these predictions have most assuredly become true.