I took some time out of my busy basketball-watching schedule last night to check-in on Jarrett Jack; to pay a welfare call, of sorts. Last I inquired, he was struggling through his first few months in Cleveland, trudging through a disappointing quagmire that few predicted would occur, but now seems to be fully set in and largely irreversible. Sure enough, he was there, looking like the Jarrett Jack I always remembered. There was the moustache and gleaming bald head, the three-quarter-length black tights and ankle socks. There was the intense stare and the signature side-smirk, the high-dribble and T-Rex arms. Everything about Jarrett Jack was there. Except, of course, for Jarrett Jack. He was nowhere to be found. In the 20 minutes he played, he floated about like a wandering soul, desperately trying to find his way home. I failed to recognize this compromised version of the player my girlfriend affectionately called "LL Cool JJ", a strangely distant automaton that could be present in the game, yet contribute in no meaningful way. And though I am no deft mind for numbers, even I could tell that his stat line told the eerie tale: 2 points on 0-4 shooting (although he had 3 boards and 3 assists, and a plus-minus of +12). This was not the Jarrett Jack I once knew and loved.
Granted: I realize not everyone "loves" Jarrett Jack. During his brief stint as a Warrior, he was without a doubt one of the team's most polarizing players; an enigma that could cause you to scream with frustration one minute, before jumping off your seat in joy in an instant after your premature tantrum. With the Warriors, Jack served a role similar to what he seems to serve (on occasion) with the Cavaliers. He was typically the first guard off the bench, and called on to score and facilitate. With Jarrett Jack on the court, Stephen Curry could come off the ball, and Klay Thompson could slide to the small forward position, creating a streaky-but-potent scoring threesome. Mark Jackson trusted him — he still sings his praises, even though he's not on the team anymore — so he saw a lot of playing time. And while the results were often mixed, the experience was thoroughly memorable. Through timely passes and untimely five-second violations, Jarrett Jack was unapologetically being Jarrett Jack. And it left a mark. Nearly every single Warriors player expressed regret that Jack wasn't around any more, and concern that his presence would be missed. And frankly, when our bench is struggling to score, and Curry is tasked with shouldering huge offensive loads because no other player can locate their shots (like last evening; an teeth-gnashing 88-85 loss at home to the Wizards), there are times those fears seem truly legitimate. With a ball-dominant guard, so too goes the team. It seems to be a natural side-effect of what is going on on the court; whomever possesses the most important object in the field of play can dictate the terms of interaction with that object. In that way, Jarrett Jack left his imprint on the Golden State Warriors, and made the team his own. As Jack would survey the court, trying to decide whether he should feed David Lee in the post, wait for one of the sharpshooters to shake their defenders as they darted to-and-fro on the baseline, or just say "fuck it!" take the shot himself, he did so with a brashness and aggressiveness that was undoubtedly infectious. Indeed, Steph never seemed to mind acquiescing ball-handling duties to Jarrett Jack for huge stretches of the game, or even allowing him to take the final shot in regulation in playoff games, because there was was a legitimacy to Jack's primacy in those moments. There was an understanding that what was happening — a moment of excitement, a moment that could possibly define an ascending franchise's development — was due, in part, to the efforts, ethic and existence of Jack. In Golden State, his ball-dominance became summarized as "hard nosed." Yes, the quants would decry his shot selection, his presence on the court in late game situations, his occasionally strange offensive decisions, and often, those complaints would often be warranted. But when the team signed Andre Iguodala, and thus eliminated any chance of retaining Jack in free agency, we were all sad to see him go. And he was sorry to go as well. In Cleveland, Jarrett Jack is a lost soul. The basic features of the Jarrett Jack package are still there, but for whatever reason, they're not being experienced in the same way that they were experienced in Golden State. He still is the first guard off the bench, where he plays next to two talented guards in Kyrie Irving and Dion Waiters. Those two guards move off of baseline screens that look similar to the ones Golden State ran, while Jack still dribbles at the top of the three point line, scanning the floor and assessing options. But at that point, the similarities stop, and Jack ceases to be the player that I once knew. His movements seem more jerky and deliberate; hyper-analyzed in an offense that fails to be cohering in any meaningful way. The occasionally ad hoc nature of his game — runners, pull-up threes, turbo-button-mashing drives to the hoop — seem discordant in Mike Brown's mathy offensive schemes, which his players all seem to universally detest. Never a strong defender, his defense now seems especially suspect, and on blowouts — which happen frequently with the Cavs — his overall effort on both ends of the floor tends to be poor. His numbers display his decline; 13 points, 3 boards and 5.5 assists in about 30 minutes per game have declined to 9 points, 3 reboutnds and just under 4 assists in 28 minutes per game. He's had none of the big outings that he had as a Warrior — no 30 and 10 games for Jarrett this year — and for most of the season, has seem distracted and disinterested. And there isn't much to explain it, except to point at what's in front of our faces, and wonder if he just can't mentally get himself up to the level of being Jarrett Jack for a hopeless, chemistry-less team. When a team is in discord, there seem to be few welcoming opportunities to teach, and the idea of "growing" becomes far more political than anything else. There is the present to manage, and the future to plan for. For a ball-dominant guard like Jarrett Jack, who is on the wrong side of 30, and whose limitations as a guard have become highly exposed in disappointing season, he doesn't seem to fit.
The non-starting ball-dominant guard, an archetype that is as unique as a snowflake, but whose shortcomings seem consistent across the board, is a fickle position that doesn't lend itself towards continuity. Indeed, talented, capable guards like Jarrett Jack are likely to have lengthy careers in the league, but they will spend most of that career on the move, trying to find a team that will employ them and their skill-sets for a long time. And generally speaking, this doesn't happen. Jamal Crawford, who has won two 6th Man of the Year awards as a high-usage guard, has also been employed by six different teams, never signing long-term deals anywhere. Nate Robinson, whose unique stature and explosive offensive game has guaranteed him a rotation spot nearly everywhere he has gone, has been employed by six teams himself. Jerryd Bayless, a hired gun himself, has been sent to his fifth team — the Celtics — this season. And even the newest Warrior Jordan Crawford, the positional tweener who seems to embody the definition of "combo guard", and whose offensive prowess is being counted-upon to save the Warriors struggling bench, is now settling into his third team in three seasons. These players join a expansive list of talented guards: Mo Williams, Jeremy Lin, Raymond Felton and even Monta Ellis have found themselves bouncing from team-to-team, trying to find a permanent home. And at this point, Jack must look at his own resume: a respected, offensively-minded veteran guard who could not find a permanent home in five NBA cities before Cleveland, and whose tenure in Cleveland looks tenuous, at best. Certainly, he is who he is. But who he is isn't as valuable in Cleveland as it was in Golden State. And that makes me unmistakably sad.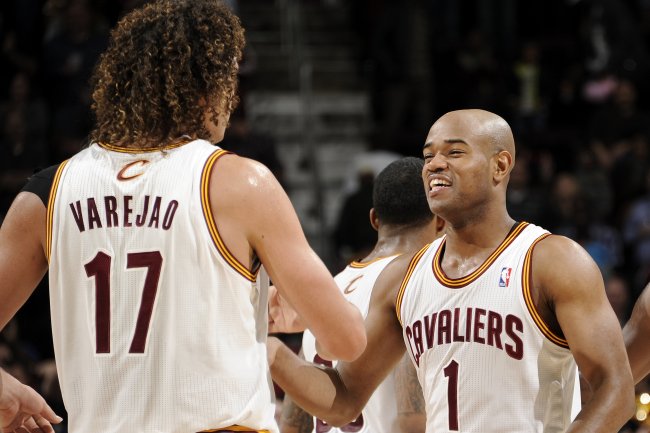 Jarrett Jack has a few good seasons of basketball left. They may even happen in Cleveland — even in this disastrous season, the Cavs, like everyone else in the East, are only a few games out of the final playoff spot — and he'll get another moment in the sun. There is still time for Jarrett Jack to be mentioned as a "veteran leader" and a "locker room presence"; a "mentor for younger players" and a "steady veteran who can create his own offense." There is still time to shed this unwanted skin, and become the player that the Cavaliers — and fans of the NBA — thought was going to Cleveland. But to do so, it seems like he will have to change who he fundamentally is. And for a player like Jarrett Jack, I'm not sure that's going to work.