Adam Silver, Mark Cuban, Larry Brown, John Calipari, Oscar Robertson, your barista, that sweaty dude in your weekly pickup game, the homie at work … seems like everyone's got an opinion that the current amateur-to-pro pipeline is in desperate need of repair, just like most infrastructure in our crumbling America. Instead of pelting you with another proposal, this week's Diss Guy Miss Guy takes a look at a pair of players who have taken unorthodox paths through this broken system to arrive at drastically different destinations and remind us that there is not, and never will be, one size to fit all.
Since 1966, there have been just two players in the league to attempt over a thousand shots and shoot below 38% from the field in a single season: Rafer Alston in 2007 and Brandon Jennings who's a couple games away from accomplishing the feat for a second time in his career. For this dubious distinction alone, Jennings is our Miss Guy. And it signifies a rock bottom of sorts for Jennings who broke ranks with the existing power structures back in 2008 when he bypassed college basketball in favor of signing a contract with the Italian pro team, Lottomatica. The decision had the potential to be a watershed moment: Would high school players eschew the rah rah glory of the NCAA and March Madness in exchange for a pro apprenticeship with a European team? The answer has been a resounding NO that's been audible all the way across the Atlantic.
Gerald Green didn't need Italy any more than he needed college. Four years Jennings's senior, he graduated from high school back when players could still make the leap straight from preps to pros. But where Jennings's ability maintained a mysterious Italian luster, Green's warts and weaknesses were on full display. There was no question of teenage culture shock, no context to explain away struggles, just the obvious: Gerald Green wasn't ready. If the up-the-age-limit camp wants a poster boy for their cause who isn't named Korleone Young or Lenny Cooke, they need look no further than Green. With the exception of an effective second year, he spent his first four seasons in the league donning jerseys for six different teams (four NBA and two D-League) and by the time 2009 rolled around, what should've been his fifth year in the League was spent in Russia playing for PBC Lokomotiv-Kuban. For most players who follow a similar path, it continues on in strange gyms across Europe and Asia. But Green isn't like most.
Around the time Green was freezing in the Russian winters with copies of The Master & Margarita to keep him warm, Jennings was an NBA rookie eager to prove himself. There was the almost triple double in his first game in the league. Then a couple weeks later when he dropped 55 against Golden State (the most points for a rookie since Earl Monroe scored 56 in 1968). Blessed with blinding speed and dizzying quickness, Jennings easily ingratiated himself with the pro set. Sure, his accuracy and efficiency were poor, but most rookies struggle to master the nuances of the pro point and Jennings was no different.
If Jennings was the bold prospect with a limitless future, Green was the resilient worker willing to go to the edges of the basketball universe to prove himself. It was after one of his numerous stints abroad that he landed with Eric Musselman's Los Angeles Defenders – an opportunity Green points to as his Lazarus moment of sorts. With Musselman's blessing and encouragement, Green flourished for the Defenders. In what appears to be the crux of the confusion with Green, Musselman summed up what most teams never quite figured out:
He (Green) is a 3-point specialist. If he didn't have that dunking ability people would think of him as a really streaky guy who could put points up on the board in a hurry and change the complexion of a game. But I think because of his athleticism and dunking and all that, I think people have a misconstrued perception of how good of a shooter he is.
Green's Defenders performance (he shot nearly 46% on threes with six 3Pas/game) caught the attention of the Nets who added him to their roster in February of 2012. Counting D-League and international teams, the Nets were the 12th pro franchise to employ Green since suiting up for the Celtics back in 2006. This reminds us that 12th time's a charm – particularly when the NBA is the end goal. Appearing in 31 games for the Nets, he proved to be a better shooter from every spot on the floor than he had during his first go-round in the league. His defense was improved, his shooting percentages were better – beautiful byproducts of confidence regained.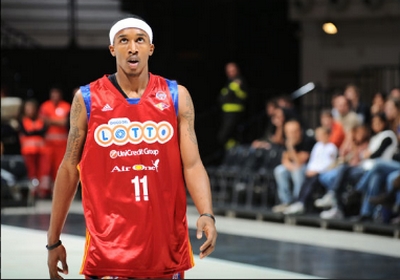 Speaking of confidence, it's fair to say Brandon Jennings has never lacked in this area. If Musselman's right and Green was the shooter miscast as the heir to Dominque Wilkins's dunking prowess, then maybe Jennings is the speedster confused for the scoring point guard. Maybe Jennings, with his McDonalds accolades and trailblazing ways (see Italy, see Under Armour, hell, see his old flat top) is really a Vinnie "the Microwave" Johnson-type of instant offense off the bench. Sometimes a flurry of success is the worst thing to happen to a young athlete as coaches and the athlete come to believe aberrations are the norm, that they possess innate qualities that are really just outliers. Looking at Jennings's shot charts above, we see a player who has spent the bulk of his career as an average-to-below average shooter. Where we hope to see young players evolve in terms of both quality of shots and efficiency, Jennings has gotten worse. For a player prone to taking and missing poor shots, playing alongside a massive frontline in Detroit hasn't helped his efforts. [Meanwhile, Green's thrived this year in the Suns wide open attack where he's fourth in the league in 3's made and is a strong candidate for Most Improved Player.] He's having the second worst eFG% season of his career and is missing more shots between 0-3 feet than ever before (21%). Since 2009, only John Wall and Rodney Stuckey have a worse eFG% than Jennings, but both of those players have taken more than 1500 shots less than Jennings.
Jennings is only 24-years-old. When Green was the same age, he was stuck in Russia penning early chapters in a global odyssey that includes a handful of highs, but mostly lows written in strange, incomprehensible languages and prepping himself for the inevitable Diss Guy he would be awarded a few years later. Jennings won't walk the same path, but there's a humbling "paid his dues" element to Green that isn't evident in Jennings's game. He still plays like he's the focal point at Oak Hill Academy, unable comport the strengths of his game to the elevated requirements of the NBA. A miscast talent enabled by a lack of pro stability and structure he's encountered in Milwaukee and Detroit, it's unclear if Jennings will author a narrative along the lines of Rudy Gay or Gerald Green or if it will include more of the unpredictable he's given us so far.