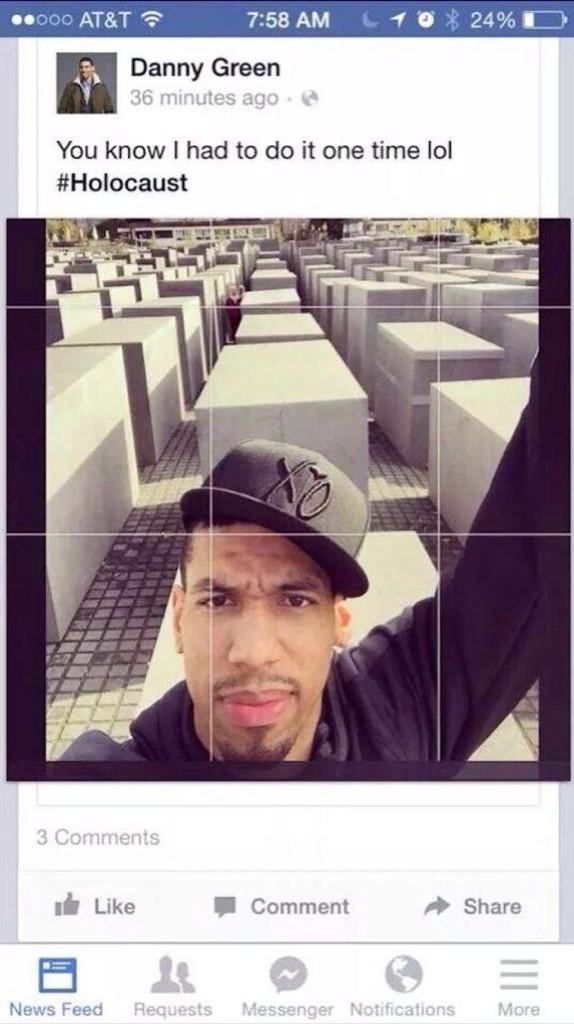 Thanks to Spurs guard Danny Green, a new word entered our lexicon this week: the holocaust selfie. Green, who was visiting the Memorial to the Murdered Jews of Europe Information Center in Berlin, where the Spurs played a preseason game, decided to snap a selfie of himself at the monument. While the picture was questionable, the caption — "You know I had to do it one time lol #holocaust" — was really what caused a stir. To his credit, Green acted swiftly and sincerely to his transgression. The picture was deleted (and then later reposted with a far more appropriate caption) and Green, himself, issued a lengthy apology on Twitter. Combining the four tweets yields us with this message: "Yes, mistakes do happen. I want to sincerely apologize for the insensitivity of my post! I have great respect [and] understanding for this country's history [and] wanted to continue chronicling my experience in Berlin. But showed poor judgement. [Sorry] once again."
The point here is not to lay it all on Danny Green, who has apologized, and who is guilty of a crime of ignorance rather than a crime of maliciousness. Rather, I highlight the "holocaust selfie" to illustrate that the San Antonio Spurs haven't been as squeaky clean over the last few years as their sterling reputation might suggest. Of course, Tony Parker found himself facing accusations of antisemitism after a dated picture of he and French comedian Dieudonné M'bala M'bala both engaged in the quenelle emerged, a gesture that has been compared to a "Nazi salute in reverse." At around the same time, pictures of Parker's countryman and teammate Boris Diaw engaged in the quenelle resurfaced, adding to the (admittedly small) firestorm which wondered whether there were larger issues of antisemitism in the Spurs organization. But that's really not the half of it. Right before the season started, Mike Budenholzer, the team's former lead assistant, and newly-hired coach of the Atlanta Hawks, was arrested for a DUI before ever coaching a game for his new team. Even the team's general manager has had his trouble with driving under the influence, getting arrested for a DUI in 2011. Prior to that, Gary Neal, who served as an important player in the Spurs rotation from 2011 to 2014, faced rape charges while attending LaSalle University, but was acquitted in 2005. And finally, one cannot forget the fact that Gregg Popovich, the team's head coach whose grumpy-Gus act with the media has become his calling card, was apparently mean enough to Doris Burke to nearly make her cry. Yet, to the average NBA fan, most of these incidents are hardly incidents at all. Like other NBA teams, or professional sports teams, the Spurs struggle with character issues from their employees. At the same time, it still seems puzzling: why aren't these transgressions more widely discussed?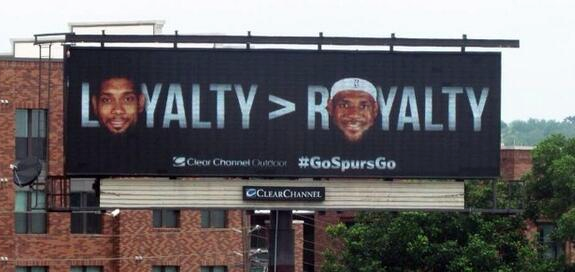 Part of the reason has to do with the Spurs purposeful orientation towards their community. With apologies to the Toros and the Rampage, the Spurs are the only "Big Four" professional sports team in San Antonio, and by far the city's most successful. In fact, of all of the NBA champions from the past 20 years, only the San Antonio Spurs (#36) hail from an area that's not in the top 20 for media market size. As such, and like most single-team cities, they carry themselves with a "mom and pop" feel that contributes to their overall mystique. Though they maintain active sponsorships with national brands such as Kia, Coca Cola and State Farm, their primary sponsor is H-E-B, a local supermarket chain based in the San Antonio area. They also prefer to align themselves with sponsors who have a longstanding presence in the San Antonio area, including Express Lube and Southwest Business Corporation (SWBC). While this prevents the Spurs from having the visibility that a team like the Los Angeles Clippers enjoys, or even another strong one-team-town like the Oklahoma City Thunder (whose primary sponsor, Chesapeake Energy, is already problematically owned by team owner Aubrey McClendon), it also shields them from criticism that other prominent teams deals with. And, most importantly, it is difficult to criticize a team that contributes their images and likenesses to silly television spots and billboards around the area. The Spurs are sponsored by businesses that know them, and reap the benefits from a longstanding partnership with the ninth most valuable team in the NBA.
Additionally, the family-style atmosphere that surrounds the Spurs extends to formal coverage of the team and this, in turn, seems to shield the Spurs from negative headlines. The San Antonio Express-News is the only major newspaper in publication in the area, and as such, the only outlet that assigns beat writers to the Spurs. The writers themselves — Jabari Young, Dan McCarney, Mike Monroe, Jeff McDonald and columnist Buck Harvey — are among the best in the business, providing excellent analysis and commentary on one of the league's crown jewels. Through their words, we have learned much about the Spurs' iconic characters, from Popovich's fatherly ways, to Tim Duncan's love for Marvel comics. However, upon further observation, we are confronted with the fact that these writers are either unable or unwilling to dig a bit deeper, and present more nuanced character profiles about members of the beloved hometown team. The quenelle incident was only mentioned in passing by one writer, Dan McCarney, in a piece highlighting how "proud" head coach Gregg Popovich was in Tony Parker for his apology. The other writers chose (or were told by an editor) to let the story drift out of the headlines. Granted, this is understandable, considering Popovich's exhaustively-chronicled grumpiness towards the media, the Spurs' stinginess with national media requests, and the politics that must come with being the single major newspaper in a single sport town. While this engenders a positive relationship between the high-performing local team and the local press, it perpetuates the notion of the Spurs as infallible; of being incapable of truly making a mistake. This feeling seemingly extends to the blogosphere, where sites like 48 Minutes of Hell, Air Alamo and Pounding the Rock, offer tight but biased analysis for the favorite team of the writers, and in most cases, the only team where the writers themselves live. All of these individuals write for an audience that likely doesn't want to hear about negative character traits or questionable actions. Instead, they write pieces that highlight the Spurs sense of selflessness, sacrifice, and longevity. It contributes to long-existing ideas of Spurs as airtight, and in many ways, beyond rebuke.
But the biggest reason that the Spurs don't get the heat is because they are the Spurs, a statement that has become strangely self-evident. Kris Fenrich wrote about this elegantly a few months ago, as he watched the Spurs wrap up their fifth championship, listened to what people said about them, read the words people wrote about them, and took note of the spin:
All these attributes we associate with San Antonio: a group of humble pass-first players willing to take less money in pursuit of something bigger than themselves don't necessarily align with everything they do and who they are. There's the trite "Built vs. Bought" tweaking, the anecdote about Duncan never speaking to Parker that is frequently spun into a quaint story about earning respect, Popovich's unnecessary treatment of journalists (which took countless awkward interviews before any mass condemnation occurred – perhaps because the same people in a position to criticize are those dependent on him for quotes and insight), stoic Duncan's eye popping complaints aimed at officials, former Spur Bruce Bowen's dirty play, and of course Parker's questionable relationship with former teammate Brent Barry's wife. If you want reasons, both on and off the court, to dislike the Spurs, there are plenty.
Indeed, Kris is correct: the Spurs contradictions make them difficult to analyze. The Spurs' last championship cemented the legacy of the team, and thus, the primary figures who define the organization. Led by Pop, anchored by the Big Three, and supported by a lovable cast of global citizens who do not mind being cogs in a well-oiled machine, the Spurs were — and are — a team that defy much further explanation. For most, an opinion about the team has been made, and that opinion is not changing any time soon. They are both boring and not-boring at once, both old and not-old, both slow and definitely-not-slow. It is their contradictions that seemingly make them who they are; a small town team that can unseat the major markets, who can throw monkey wrenches in the best-laid plans of the league, who can prevent a LeBron vs Durant finals series from ever happening again in our lifetimes. It is they who can drive the NBA crazy despite being the strongest example of how smart team management can supersede any constrictions caused by market size, television exposure and name-brand recognition. Yet, it is important to remember that this is who they are because this is who we have made them out to be: a cult of personalities team who draw their strength from their seminal figures, and who only need to answer to those figures, and those figures alone, on a daily basis. And as long as the team keeps winning 55 or more games a year, and consistently participates in the NBA's final four, there will be little by way of dissent from anyone who deigns to explain what makes the Spurs the Spurs, from either a local or a national perspective.
At this point, the Spurs are so heavy, they are almost totally beyond unpacking. They are a team that have made themselves by living almost completely on the margins, perched right on the border between two countries, playing by rules that only they can play by. It seems almost impossible that they can have shortcomings; that they can be linked to antisemitism, infidelity, drunken driving, sexual violence and outright bullying. But we are confronted by evidence that they do, and that they are; indeed, they are human, in a league populated with them. It is a shame that we won't really get a picture of them that extends much beyond the Spurs system, which uses the media to skillfully gloss over negative character traits in an effort to keep the black-and-silver machine churning. As long as wins come, this will not be questioned.