Editor's Note:
The Diss
is proud to present a guest article from
Symbol Lai.


The Sixers lost three in a row for the first time this season and I just don't know how to handle this.  My therapist tells me that writing helps one sort out complex feelings so here's my attempt to parse out how I feel about the Sixers.
Two weeks ago after the win against the Lakers, I fully got on board the Sixers bandwagon.  Up until then, I, like the rest of the national media, had been largely skeptical of their success.  Even though the Sixers had won by such large margins without a go-to superstar on the team, that was to be expected especially since they had lucked out with a cupcake schedule, which pitted them against unfortunate teams like the Wizards, whom they played three times.  Anything less would have been unacceptable.
But then there was that awe-inspiring three game stretch against the elite Magic, Bulls, and the Lakers, which fully convinced me of this team's legitimacy.  We had the bittersweet win against the Magic, after which Doug Collins chewed the team out for nearly blowing a 20-point lead coming into the fourth quarter by allowing an 18-0 run in the last three minutes due to a premature loss of concentration.  We had the unbelievable win against the Bulls, when the Sixers subjected Chicago to the same treatment as they had the floosie teams they played at the beginning of the season; that is, the close first half and key third quarter during which the Sixers pick apart the opposition piece-by-piece.  We even had the grind-it-out win against the Lakers — that close game typical of playoff caliber basketball with which the Sixers had thus far struggled.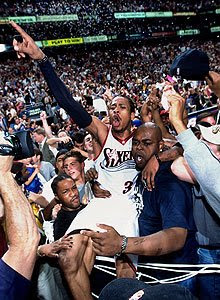 Having realized just how much the Sixers had grown since the beginning of the season — or even those three games alone — I concluded that it was probably safe to immerse myself in unhealthy Sixers fandom. This Sixers team, I believed, marked the return of basketball to a city that loved its ball after a hiatus that arguable began after the unforgettable 2001 season.  Though its character was much different from Allen Iverson's Sixers, it appeared that the team was no less remarkable.  After all, they played a type of ball that seemed to have disappeared in a league driven by marketable superstars: understated, sincere, scrappy passionate, and most importantly, team-centered all at the same time.
For a crazed second, after Doug Collins dropped that hallowed word "championship" in the press conference after the Lakers win, I let my pent up expectations and feelings run wild.  I imagined wistfully in bed one night before I fell asleep with a cheesy grin on my face: "Oh maybe — just maybe — this underrated team that, according to national pundits, were perhaps the least primed for playoff success could go far.  Perhaps not to the Finals.  No, that'd be asking asking too much. We would probably have to beat Miami.  But just…far…far enough for us to know that the championship is in reach."
Well, now that we've hit a rough patch (2-5 since the Lakers win) that culminated in a three-game losing streak, I just don't know what to do with myself.
As a Philadelphia sports fan, it is just not okay to abandon ship now.  Bandwagon jumping midseason is an indisputable no-no, especially since I'd decided to let myself become a 76ers fan again with everything that entailed, from watching interviews, to reading commentary, to scoping out other team, and even, yes, liking the players as I would friends.  Knowing the emotional commitment that came with being the type of Sixers basketball fan I was, I simply would have withheld my support of the team this season had I thought that this was going to be another sorry year filled with demoralizing — no, insulting — play of uninterested millionaires who had, for no good reason, decided to not earn their bloated paychecks by showing up to work night in, night out.
In other words, now that I've re-committed myself to the Sixers, how can I view this series of losses productively?  Is that even possible in the first place?
One thing that the Sixers can learn is the extent to which winning basketball games rely on tough mindedness.  Two games in particular highlight my point about mind over matter: the losses against the Clippers and the Mavericks.  In both games, the Sixers, who usually play better in the second half, curiously came out roaring.
Against the Clippers, the Sixers nicely got into the head of the mighty dunk-king Blake Griffin by matching his physicality in the paint.  In a few early Clippers possessions, Sixers rookie Lavoy Allen, who was ranked dead last on ESPN's player rankings, drafted in the late second round, after playing four yearas on an unranked Temple basketball squad impressively stood his ground, refusing to budge as Griffin attempted his tried-and-true post up moves.  Similar defensive plays followed and before I knew it, I was watching the same Blake Griffin who appears so cool and collected in those weird Kia commercials get slapped with a technical for huffing and puffing to the ref.  Because Griffin seemed to have disappeared on court for the game's remainder, it seemed like we had this game in the bag.  Though the score was close, the tempo was ours.  Until the second half, when for some reason, we done lost our minds.  Our turnovers piled up, and we had some serious brain farts like a 5 second violation.  Given the sloppy play, I knew we had lost even before Chris Paul hit the game-winning shot.
Against the Mavs, the Sixers played a similarly impressive first half, holding Dirk Nowitzki to 2-12 shooting, as well as forcing a number of turnovers which were converted into fast break points.  By the half, this bright-eyed, bushy-tailed team of twenty-somethings (and Elton Brand) whom the critics had doubted were up by 14!  But then, it happened.  The Mavs started trapping Lou Williams, Dirk hit a couple of exciting threes, and the Sixers started missing shots.  Though it seemed like everything in our offense had gone cold, what was worse was that by the end, no one — NO ONE — had the confidence to drive into the paint, or even take a shot.  Instead, Jodie Meeks woudl pass to Evan Turner, who would pass to Jrue Holiday, who would pass to Andre Iguodala, who would then pass it back to Evan. Until the shot clock ran down and some unlucky soul would have to randomly fling the hot potato towards that cursed basket.  Thus, the Mavs came back to win.
My point here in rehashing these two painful losses is that the Sixers could learn to have the presence of mind to settle down.  Sure, you should be giving yourself hearty pats on the back for starting out strong, but please do remember that halftimes are when opposing teams readjust to your style of play.  Let's not get hyper here and forget to show up to the latter 24 minutes, especially when the other team comes out re-energized.  If this is the lesson you take away from the Clippers and Mavs games, then we will not have peaked so early this season.
Other areas where there might be room for improvement are our front court and offense.  Ever since Collins mentioned the fact that the indefinitely-injured center Spencer Hawes added at least 10 points to our offense, and more recently during the Lakers game, after which Collins readily admitted after the game how his team was overmatched down-low, it had become abundantly clear that we need a solid front court.  Don't get me wrong.  I think Nik Vucevic and Lavoy Allen are promising young talents.  But, with both in their rookie years, young talent they are.  Like other rookies, they have weaknesses that they will hopefully correct with more experience; while Vucevic isn't the most physical defender, Allen always seems to come down with a serious case of silly-foul-and-butterfingers syndrome in the second half.  What we need is a nice, consistent big man who can, in addition to guarding the post, beef up our offense by grabbing boards and tipping in easy shots.
Related to beefing up our offense, I think the Sixers could do with a second scorer.  Right now, our leading scorer and most reliable offensive weapon is Lou Williams.  Lousanity, however, is also coming off the bench.  Despite being a guaranteed finalist for Sixth Man of the Year, to have a single bench player responsible for injecting energy into an entire team's offense isn't a very dependable game plan.  What happens when the other team starts trapping Lou like the Mavs?  Plus, with the way many of our other shooters have fared (Jrue, Evan, Iggy, and Jodie I'm looking at you), it might not be very likely that our offense extracts some price for the opponent's double team.
As long as I'm making a wish list, I'd like to expand on the previous two points by requesting a player who can drive and finish in the paint (if this person is not a big).  Unlike the Iverson years, today's Sixers like their mid-range jumpshots and three pointers.  While this works fine when we're shooting well, most of the time, as we've seen these last two weeks with all our losses, are not.  Further still, when we take it to the basket, we draw the foul but cannot manage the shot, which often works to the other team's advantage because the Sixers are not a strong free throw shooting team, particularly Iggy in the fourth quarter when the game is on the line.  Even though I'm glad that this current team values me enough as a fan to give me reasons to watch old Iverson highlights, I'd rather not indulge my nostalgia. I want to win now.
Still for all these requests for big men and second offensive options, there is that nagging thought in the back of my head telling me that no good came come of these additions.  This 2011-2012 Sixers team might already be the best they can be, and with only three worthy wins against the Magic, Lakers and Bulls under their belts.
Let me explain.  What has been the most intriguing aspect of the Sixers is how well they function as a team.  Doug Collins has put together a group of young men to whom he's assigned a specific role tat accentuates individual strengths.  Though any single individual player might not have the set of skills to be a superstar, together — as a team — they can and do go far, accomplishing incredible feats like shutting down Blake Griffin and Dirk Nowitzki.  Still, with success so contingent on camaraderie, to replace one or more pieces with another, theoretically more fitting parts could wreck the remaining team.  This scenario doesn't just apply to the present condensed season that leaves little room for practice, when players acclimate to each other's style of play, it also pertains to subsequent season under Collins' guidance.  I mean, say the Sixers had a shot at Dwight Howard.  Woud would you give up fror him?  Once the deal is done, the Sixers might have Howard but have to refit the team to Howard's measurements from the ground up.  We're essentially back at square one.
More still, if the Sixers thrive as a team of role players, wouldn't their aggregate improvement depend on each individual's development?  Sure, I might only be thinking this because I'm distressed right now and have probably sunk into that mental state dominated by unrealistic apocalyptic thoughts but let's think about it.  Just about everyone on the Sixers has grown.  In this past season, Lou and Iggy, in particular, have both comfortably settled into their team roles.  Yet, no amount of their offense prowess or defensive talent can make up for Jrue and Evan's apparently late bloom.
So now what?  What is a girl to do?  How should I interpret the achievements of this year's Sixers team, especially since, after this recent stretch of games, it seems like we've hit our ceiling?  Is it possible to see this year as the 1999-2000 year, when AI's Sixers fell to the Pacers in the second round of the playoffs — that is, the beginning of something better?  Or, in a more troubling sense, is there even a bright future for Doug Collins' seemingly anachronistic, team-oriented coaching philosophy at all?
Whatever the case, I just want the Sixers to beat good teams again.  Losing makes me sad.