The Elite Eight! The Regional Finals! This one's for all the bragging rights… in each region! Jeremy Lin probably probably knows something about eight team competitions (see: Ivy League), but I doubt he's been involved in anything at this sort of "elite" level before (zing!). Unfortunately, no Elite Eight buzz words work very well with Lin puns, so I might as well just stop writing now. Or, I could just wait a paragraph.
It looks like the only way Linsanity can be stopped is with a Hadouken
Hmm… very linteresting… According to the world's
foremost bracketology expert
, in an average year, three out of four 1-seeds make it to the Elite Eight; The Diss'es Jeremy Lin Nickname Bracket has held true to form. Despite the disappointing loss of 8-seed and noted Wu Tang Killa 
Lin and Out Burger
, several linderellas are still in the hunt, including fan favorites 7-seed
Jeremy
and 6-seed
Linja Turtle
. The dominant lame-stream media storyline will surely follow these two upstart lower seeds on the left side of the bracket, but don't sleep on Super Lintendo or Lindustrial Revolution over on the right side -  both have a realistic title shot.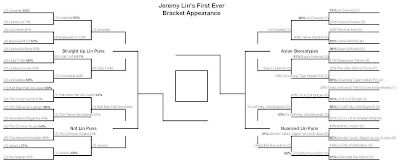 Click for a larger bracket!
Vote now for your Final Four nicknames, and check back on Monday to see if your preferred sobriquet has made it to, uh… New Orleans! And no David Stern, you can't cancel this one.