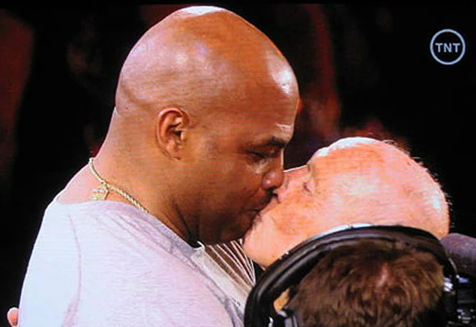 I was going to write a pithy introduction about the frustrating meaninglessness of All Star Weekend, but Diss contributor Hans Peterson says it better than I could:
Unsolicited All-Star weekend thoughts: It's obsolete.  I generally believe this about baseball too (let's not even talk about football).   In general, the All Star game still has value as a recognition of talent and I would probably be excited about the game if I were a bit younger.  But I also think that what was originally fun about All Star games is no longer a factor.  In the early nineties, I was crazy excited to discover the All Star game and learn that all the players I'd heard stories about — Michael Jordan, Larry Bird, and Magic Johnson — would all be on TV playing together at the same time!  This was particularly exciting because before the internet and special NBA TV packages made it possible to see every single game, I never really saw these players play.  I might've gotten a chance to see Larry Bird once a year on TV outside of the playoffs.  It was a chance to see something I never saw otherwise.  My dad says the same thing about the baseball All Star games from the 1950s and 1960s.  He had one chance a year to see Bob Gibson face Mickey Mantle, and that was it.  Now it is only a chance to see the exact same players I see multiple times each week screw around in a meaningless exhibition.   
So let's talk All Star Game!
Amen, Hans.  Amen.
So, without any further ado: The First Annual Wild Guesses and Outlandish Speculation: All-Star Game.  Today's armchair basketballticians: Franklin Mieuli, Andrew Snyder, Hans Peterson and Omar Bagnied.
1. Shaq and Sir Charles were given the honor of choosing the rosters for the Rising Stars Challenge (the replacement for the Rookies vs Sophomores game), which features rosters laden with the role players of tomorrow.  Yea or Nay on Shaq and Charles Barkley as draft czars?
Hans Peterson: Yea on having draft czars, yea on Sir Charles, nay on Shaq.  If there's one thing sillier than the All Star game, it's the Rising Stars challenge, so we might as well make it fun by having two big personalities turn it into a sass-fest.  The problem is that Shaq should not be one of those personalities.  Shaq has endless quotes from his career.  I appreciate Shaq.  But with too much spotlight and too much empty air, Shaq is REALLY awkward.  He tries way too hard, is completely incoherent, and his takes are frequently irrational.  I want playground draft rules with Sir Charles facing off against Reggie Miller/Chris Webber or someone like that.  Then each player should be mic'ed up for the whole game for smack talkin' fun.  I'd rather watch that than the All Star Game.  The only thing they screwed up is that the draft should be done live, immediately before the game, with the players lined up in front of them (playground style) so we can watch Gordon Hayward or Kawhi Leonard get weepy as they wait to see who goes last.
Franklin Mieuli:  Sure.  Why not?  It's a meaningless, farcical event that nobody cares about (except fans of teams who suck cough Warriors cough).  As for a prediction, while Team Shaq's Ciudad de Globos Rubio-to-Griffin combo may look fearsome, I predict an easy Chuck win behind the speed of Irving and Wall.
Andrew Snyder: Shaq is just as much of a travesty on Inside the NBA on TNT as he was as the piece that convinced Danny Ainge it would be okay to trade Kendrick Perkins to the Thunder at the 2011 trade deadline.  I'm not okay with him picking anything, anywhere, except on twitter.  I'm okay with Sir Charles, though.
Omar Bagnied:
Well, Shaq and Barkley didn't actually choose the pool, they chose from a pool selected by assistant coaches.  And thank God for that.  I've watched enough TNT post-game coverage to conclude that Shaq and Charles make terrible talent assessments.  I'm fine with them fooling around on the sidelines; they're super-famous and have lively personalities which make for a nice draw.  But who am I kidding with this analysis, people just want to see the two of them
"fight"
again.  And it might happen, but it'll be a scripted deal.  But looking at the rosters, it's easy to discern that Shaq picked the more exciting team while Barkley grabbed the more talented squad that will likely win the game.  I would pay a lot of money to see Blake dunk a man's dunk all over the
dance first,
shoot second, shoot third point guard that was supposed to be my hometown Wizards' savior.
2. The 3-point contest has two All Stars (Kevin Love and Joe Johnson).  Dunk contest has zero. What gives?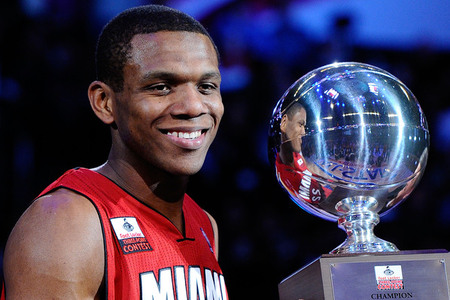 Mieuli: If the last few years of the dunk contest have taught us anything, it is that all sweet dunks have already been done.  The last few winners have relied on gimmicks (jumping over a car, wearing a cape while blowing out a candle), not pure dunking prowess.  Dunking skills have not evolved since the late 1990s/early 2000s, so the stars are focusing on something else.  3-point shooting skills, on the other hand, have gotten better and better.
Peterson:  What's in it for them?  They don't need the exposure, they don't need money, they don't need attention, and they risk making fools of themselves.  What if LeBron enters the dunk contest and Chase Budinger kicks his ass?  It becomes a media story for the next three months.  Why risk it?  And frankly, what hasn't already been done?
Snyder:
The 3-point contest and dunk contest both need to be revamped by the league, and I'm not going to go all Bill Simmons on you with a bunch of half-baked ideas telling you why.  I will say that as a Minneapolis resident, I'm intrigued by the Timberpups involved in both contests.  Derrick Williams has thrown down some
disgusting in-game dunks
this season, and I'm excited for him to add Rubiomania to the mix for a dunk or two.  Kevin Love is dirty from three, but I'm not sure his release is quick enough to excel in the 3-point contest format.  Time will tell.
Bagnied:  I actually understand why non All Stars are chosen for the different competitions; it makes business sense to showcase as many players from as many markets as possible.  I don't think Love or Joe Johnson (now Durant) are good picks for the 3-point contest.  It should be determined by the six players (non All Stars) with the highest 3-point shooting percentage with at least 100 attempts.  If you're going to pen up All Star weekend to non All Stars and have skills competitions, then select those most proficient in that skill to compete.  Who really wants to see Paul Pierce or Dirk Nowitzki embarrass a guy whose sole purpose in the league is to shoot threes?  All Stars should be kept out of the dunk contest as well.  Let the kids with hops and creativity have this be their stage.  Give them a shot to prove themselves.
3. Derrick Williams, Paul George, Jeremy Evans and…Chase Budinger?  Will Chevy Chase become Brent Barry 2.0, and become the second-ever White dunk champ?
Mieuli:  Nope, this is D-Will's to win.  Along with Rubio in the Rising Stars challenge and Love in the 3-point and ASG, this will be the best night for the Timberwolves since Garnett, Sprewell and Cassell were patrolling the floor.
Snyder:
No.  All I have to say is Iman Shumpert jumping over Jeremy Lin on a couch whould have been much better than Blake Griffin jumping over a Kia.  At least Shumpert was replaced with one of the best dunkers in the NBA.
 #LetJeremyDunk.
Peterson:  Could be.  He's a legit athlete, and I don't know if I buy D-Will as a legitimate contender.  He's powerful and athletic, but I don't think he has quite the grace/coordination of even a Dwight Howard/Blake Griffin/Shawn Kemp dunker.  I'd say it's anyone's game, but I don't think anyone remembers who won three years from now, no matter who it is.
Bagnied:  It's a shame Shumpert had to bow out with the injury, otherwise he (and Jeremy Lin) would have won this for sure.  And where's Javale McGee at?  I'm not actually sure why anyone other than Blake Griffin was invited to participate last year.  He's given the official car of the NBA to jump over while a 30 member choir sings at mid-court in his home arena.  Come on!  MCGEE DUNKED FIVE BALLS WHILE JUMPING IN THE AIR TWO TIMES.That being said, there are four sick dunkers this year.  I think they'll finish in the following order:
Jeremy Evans.  The fact that Evans got into this contest only after the Shumpert injury and a significant lobbying campaign should say something about his credentials.  He's good, and the tallest one out there, but he's not as creative or confident as the others competing.
Chase Budinger.  Budinger is a novelty pick so white folks watching have someone to cheer for. He's also the shortest contestant and can't jump as high as the rest.  Out of necessity, he'll be super creative.  I think he's really good, but because we so rarely see a fierce white dunker everything he does will seem more than "really good", it'll be seen as spectacular.  Keep in mind that it's the audience at home that votes this yaer, and white people are really good at voting for things.  I guess what I'm trying to say is this guy's my sleeper pick.
Derrick Williams.  He's a power dunker.  He'll wow voters with that power.  He's got the creativity too.  I just don't see the same explosiveness as I do in this next guy.
Paul George.  Explosive, creative, jumps out of the gym and finishes with power.  He should pull this one out.
4. This year's game features a record number of first time All Stars (Luol Deng, Roy Hibbert, Andre Iguodala, Andrew Bynum, Marc Gasol and LaMarcus Aldridge).  Which first time All Star will only get one shot at this?
Mieuli:  Luol Deng.  The old PF glut in the west (Duncan, Nowitzki, Garnett) is clearing, so LA will get more chances.  There aren't enouch good centers in the league, meaning Bynum, Gasol and Hibbert all will have another shot.  Small Forward in the East is tough, being behind LBJ, Pierce, Granger and Melo.  Between Iggy and Deng, I like Iggy more.
Peterson:  Most will be back.  Aldridge will make several appearances if he doesn't succumb to the Portland curse (even at a stacked position), and the death of the Center position means Bynum, Hibbert, and Gasol should all get a few more shots.  So it's between Deng and Iguodala.  I think both may be one-hit wonders, but I suppose I will select Iggy as the most likely one-and-done guy, since Deng could potentially get some additional attention and exposure if the Bulls win it all in a the next couple of years.  Let me sneak in another question though: Which reliably annual All-Star may stop showing up in coming years?  Okay, Steve Nash or Paul Pierce because they are really old.  But how about, say, Carmelo Anthony?  If he ever doesn't get voted in by the fans (and if New York tanks or he gets surpassed as alpha dog on the Knicks, it's possible), are coaches really going to keep sticking him in if he keeps underachieving?  Maybe it's just wishful thinking since I dislike Melo, but I could see an early decline given his consensus status as a top 10-15 player.
Snyder:  Iguodala and Luol Deng are similar (relatively old) players that excel as defensive stoppers and struggle to carry a team on the offensive end without quality players around them.  I'd venture a guess that both will be playing in the Olympics this summer, which will tire them out for the 2012-2013 season.  I don't see either one making it back to the ASH in the near future, especially given how loaded the 2012 draft class is.
Bagnied:
 Marc Gasol won't make another All Star team.  He wouldn't have stood out this yaer if not for Zach Randolph's injury.  If you're asking me who I'd never want to see in another All Star game though I'd say Andrew Bynum.  The guy's a
punk on the court
and
off the court.
 He's injury prone too so there's a good chance the answer to this question could be him.
5. Major League Baseball gives the league that wins the All Star Game home field advantage during the World Series, as an incentive to make the players actually try during the game.  Should the NBA follow suit?
Snyder:  No.  The NBA All-Star game itself is the best among the four major sports, simply because it allows players to embrace the natural flair of the game they grew up playing.  Outlandish dunks, crazy passes, and letting everybody play would go right out the window in an All Star game with high stakes like home court in the finals.  It would be thrilling to watch, but I'd miss the fun, and I'd venture to guess most players and coaches around the league would agree with me.
Mieuli:  No.  That is the stupidest shit ever.  It would be even worse in the NBA.  At least in baseball you can try 100% without that high risk of injury.  The NBA All Star Game is played, at best, at 50% intensity.  Frankly, I think the entire All Star Game thing should be scrapped, or heavily re-imagined, but please, please, don't make in meaningful for actual professional basketball.
Bagnied:  Home-field advantage matters more in basketball than any other sport.  Pressure-packed situations at the free throw line in a deafeningly loud, enclosed area…Of course the NBA shouldn't follow suit.  If a team with no All Stars makes it out of their conference it becomes a completely unjust scenario.  If you'd really like to make the game interesting and get their competitive juices flowing, incentivize winning by having the entire losing team become ineligible for the following year's All Star team.  We all know players play for the ring, but if they're going to continue to make a mockery of the All Star Game then they don't need to be playing in it.  You can always acknowledge the game's true top stars via the All NBA 1st, 2nd and 3rd team.
Peterson:  No.  And baseball should stop (although the 2011 World Champion St. Louis Cardinals and I would like to thank Prince Fielder for giving up home field advantage last fall).  It makes little sense in baseball, but is at least a tiny bit defensible because the leagues predominately play against others in their leagues.  So it is tougher to objectively compare records of an AL and an NL team.  Basketball has an even bigger home "field" advantage than baseball, and the conferences intermingle regularly.  In the NBA, it is fairly safe to deem the team with the best regular season record the best regular season team.