Editor's Note: We proudly present a guest article by Symbol Lai. This is Symbol's second contribution to The Diss.
Dear Evan Turner,
Of all the players on this surprisingly likable 76er squad, you might be the one I relate to the most. For someone who is 6'7", 205 lbs, you do really endearing things. You tweet about how much fun it was to go to the Civil Rights Museum with the rest of your team while playing in Memphis. When asked about what it was like to have Will Smith attend one of your games, you said that you hoped he would come visit you guys in the locker room. "Who doesn't like Will Smith? He's one of the best actors of all time," you said. "That would definitely be dope," a comparison and word that I haven't heard or used since I was, like, ten. Even when you scuffle, as you did during the OKC game with the annoyingly perfect Kevin Durant, it comes off spirited and charming. I'm sure that if there were some alternate dimension where I was friends with NBA players, we'd do super fun things every weekend like build forts eat candy, play Mario Kart, and get our moms to order pizza.
So you see? I like you! We're friends! Amigos if you will! : )
Sometimes, though, friends have to have those hard, heart-to-heart conversations to help each other grow and I think this might be one of those times. I've been watching you play all season and you know…well…there's really no good way to put this so here goes:
Yo, dudes! What gives?? What's with your sloppy play?? Why are you either 1) so unconfident that you disappear on court or 2) so confused about what's going on that you can't make plays even when you muster enough courage to try? Do you know how frustrating you are to watch? Half the time when you're on court, I watch the game with my palm glued to my face.
Now I know you can do this. Once when I heard someone call you a bust, I decided to look into your stint at Ohio State because I got a little sad inside. (Sorry, I don't really follow college ball. The NBA keeps me plenty busy). By golly, Evan, you did a lot! You averaged 20/9/6 while leading your team to a Big Ten title and the Sweet Sixteen as a freshman!
You also did stuff like this:
Another time, when I feared that you could be like Jerry Stackhouse, who was slated to be the next Michael Jordan after playing at UNC but did not so well in the NBA, I decided to watch you play in that meaningless, All-Star Rising Stars Challenge. Again, you did well! Though just about every player on court walked through the game, you not only tried to make plays by passing but also racked up 16 points (on 8-9 shooting), 11 rebounds, 7 assists, and the most minutes played to show for it! That's quite impressive, Evan! Even C-Webb said so!
So seriously. Why can't you do this in a real game?
I know what you're thinking. I know you have another group of (cooler) friends telling you that this isn't your fault. You can only do so much when you're not starting, getting minutes, or touching the ball. In other words, it's Doug's fault for not investing in his younger players.
Honestly, I don't think those friends are doing you any favors, Evan. Minutes don't grow on trees. You have to earn them. That is to say, if Doug is putting you on court for 16 minutes like he did in the Feb. 29th game against the Thunder, you actually produce something—make shots, create plays, rebound, protect the ball, etc.—rather than putting up numbers like 0-3 shooting, 2 rebounds, 1 assist, 2 fouls, and a turnover.
Or, if you happen to be slumping, you find some way to show your coaches that you're determined to improve. Though this might only be the media trying to stir up some controversy to explain the Sixers' rough patch, and I'm glad that you yourself have maintained a cheerful 'tude when asked about this, I heard rumblings that you and Doug might be less close because, unlike other players who will seek the coach's advice after a frustrating stint on court, you appear somewhat unconcerned or even—entitled?—(Don't hate me). Appearing indifferent or sulky will most certainly not get you any more minutes or improve your skills. In other words, buck up Evan! Stand up straight! You are the second overall draft pick of 2010! Show them you care!
What's that Evan? PRACTICE??? In this condensed season when you're playing games every other day, there's just no time for practice???
Ok, I get it. It's difficult for young guys like you and Jrue to develop when you don't have the time to work with the coaching staff. But, surely this can't be the only reason why you continue to look so lost. Can't you go get some extra help or something? Ask your former Sixer-cum-assistant coach Aaron McKie. He seems like an approachable guy. Plus, as the Sixth Man of the Year in 2001, I'm sure he can teach you a thing or two about owning your place as a bench player.
Of course, there is the possibility that you could be traded. While I'd hate to see you go, in all honesty, it might actually behoove both you and the Sixers. Still, it just doesn't seem like the front office is going to make any drastic changes in the near future. Chances are you're probably going to be a 76er for a while. The point is: you need to get it together. I mean, do you want to end up like these Larry Brown draft picks????
Speedy Claxton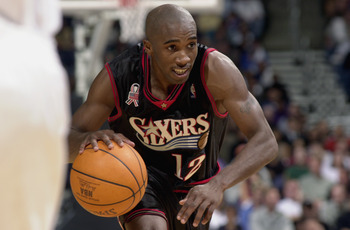 Samuel Dalembert
God. Larry Brown. That man was a terrible judge of young talent…but that is neither here nor there. Back to you, Evan.
You need to figure your stuff out ok? Not only are you in the NBA now, you play in Philadelphia no less! Corn fed frat boys and sorority girls won't earn you many favors here where fans want to win in the worst way, have remarkably short memories, and are prone to have incredibly overblown, extreme reactions when we lose. Regardless, I just don't want to cover my eyes when you play anymore.
Hugs : )
Symbol