It is generally assumed that these two-to-three weeks in the NBA season, during which most people are focused either on March Madness, MLB spring training and/or NFL free agency, constitute something like a "seventh inning stretch" for both NBA players, coaches, executives and fans alike.  With the All-Star break and trade deadline complete, yet the playoffs still about six weeks away, the Association enters a sort of no-man's land where early season dreams are squashed (or at the very least, reassessed), and teams begin to focus on the realities of their particular situations.  Whether that's tightening your rotation to assess which guys are in for the playoff run, or shutting down your chronically injured guys for the rest of the season and beginning an unabashed Tank-A-Palooza in preparation for the deep college draft, most teams are definitely doing some soul searching.
So with that in mind: lauding a true professional, welcoming back a not-so-true professional, and giving the double deuce to a truly out-of-touch-ex-professional.  Let's get to it.
1. Feeling Good for Antawn Jamison.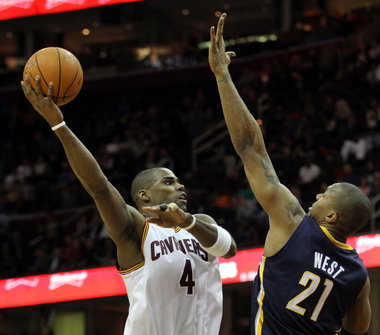 Cavs forward Antawn Jamison probably won't win a championship.  And he's okay with that.
Jamison is 35 years old, and though he's still putting up more than respectable numbers after 14 seasons in the pros (over 18 points and 6 rebounds on 42% shooting…wow), he's definitely approaching the end of his career.  Jamison's contract expires at the end of this season (he's getting $15 million), and he's considering his options.  The prevailing narrative implies that Jamison should accept whatever the Heat, Bulls, Mavs, Thunder or Lakers want to give him to join their bench units in a quest to add a ring to his already respectable resume. Yet, as The Morning Journal of Northern Ohio reports, Jamison has expressed an interest in returning to the Cavs next season.  And, apparently, the Cavs would happily welcome him back.  He'd back up rising power forward Tristan Thompson, and would still be an important piece on a team that's very close to becoming a perennial playoff contender.
Why would Jamison do such a thing?  Even if Jamison suffers a drastic decline next season — say, 5 points and 3 rebounds per game — he's still be a 13 and 3 player.  Every single contender in the league would love to add him to their locker room.  He is both a solid player and a solid citizen would would provide leadership, and perhaps the most unorthodox post game in the league.  I can think of two reasons why Jamison would choose the Cavs over other teams.  First, Jamison has already been part of a "win now!" bid.  He came to the Cavs in 2010 as a last ditch effort to get LeBron James to resign with the club, and has stuck around long after King James took his talents to South Beach.  He of all people can appreciate the flawed nature of hastily-constructed win-or-bust team building, and could be wary about going down that path again.  Secondly — and this is pure butt-talking — perhaps Jamison realizes that winning a championship really proves nothing, reputation-wise.  Indeed, many players with similar career averages who also played important roles on championship teams will not have as sterling of a reputation as Jamison.  Antoine Walker (17.7 ppg and 7.7 rpg) comes to mind.  Stephen Jackson (16.1 ppg and 4.0 rpg) as well (though his story has yet to be fully written).  One could even make an argument for Shawn Marion (16.6 ppg and 9.2 rpg).  I could say Jamison has a greater chance of getting into the Hall of Fame than any of those guys at this point, although admittedly, none of these guys have a really great shot at it.
Players like Antawn Jamison raise a question for me: why do we, as fans, value championships so much when we assess the relative greatness of players?  What is it about the image of hoisting the Larry O'Brien trophy while wearing oversized championship t-shirts?  Players like Jamison, Grant Hill and Steve Nash make the traditional NBA fan feel uncomfortable.  NBA players are supposed to be competitive — it's the model Magic and Larry presented, Michael perfected, and LeBron and company perverted.  To have a guy who sticks around a lesser team (in a lesser market) because he enjoys the professional fit seems bizarre.  But perhaps it's time for us to get used to their line of thinking.  I mean, if it ain't broke, why fix it?  Why uproot and start over?
For me, these days, that somehow seems more noble than joining a superteam to get an easy ring.  Hats off to you, Antawn, and go Cavs.
2. Welcoming Back Agent (One) Zero.
After a lengthy hiatus, Gilbert Arenas, aka Agent Zero, has returned to the National Basketball Association as a member of the (presumably) playoff-bound Memphis Grizzlies.  He's expected to provide scoring off the bench, and little else.
How's it going, two games in?  Yuck.  2-9 from the field, 0-2 from three, 2 rebounds, 4 assists, 2 steals, and 4 turnovers.  31 minutes of action.  That's 2 points a game, for the mathematically-inclined out there.
But you know what?  It doesn't really matter.  Because Gil, finally, is happy, and back where he belongs.  TrueHoop caught up with Gil shortly after yesterday's loss to the LA Clippers, and he couldn't be sounding better.  "I'm just back to my old self — laid back, funny guy," Arenas is quoted as saying. "Last couple years I was just stressed.  Right now I'm just trying to get back to my own element."  That's awesome to hear him say that.
This really is a low-risk, high-reward situation for all parties involved.  The Grizzlies are finally back to full strength, and really, they're only lacking in bench scoring.  According to Hoopstats.com, Memphis' bench scores a mere 28.6 points per game, good for 23rd in the association.  If the playoffs started today, the sixth seeded Grizz would face off against the third seeded Lakers.  A healthy and motivated Gil could be a difference maker in a series like that, providing perimeter scoring and a slasher who finished in the top ten for free throw attempts from 2004-2007.  It really could pay off nicely.
And if it doesn't?  Really doesn't matter.  Memphis is a strong team that matches up well against most teams in the West.  Whatever Gil can provide, the Grizz will take.  And if all he really can provide is a positive personality in the locker room?  For a prorated $300,000 salary, the Grizz will take that too.  This can't really go badly.
The NBA needs Gilbert Arenas the person more than it needs Gilbert Arenas the player.  I'm happy the Grizzlies are giving Gil the chance to rebuild his career.
3.  You Dang Kids Get Off My Lawn!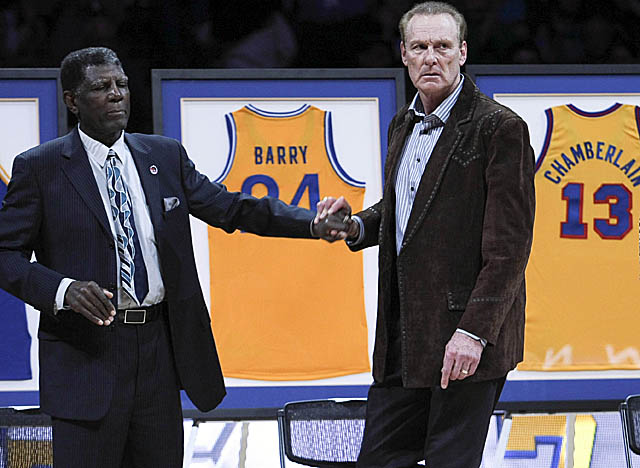 This past Monday, the night of We Boolieve, Jason Angeles, who watches professional wrestling with some regularity, informed me that Rick Barry "turned heel", and became the guy who comes out, and does something to get the masses angry and riled up.  Barry informed the crowd, who were vocalizing their displeasure over the Monta trade, and more generally, two decades of irrelevance and ineptitude to owner Joe Lacob, that they "were doing themselves a disservice" and that "they should be ashamed of themselves."  Not that we asked him, anyways.
But Rick wasn't done.  The San Francisco Chronicle published an interview with the Warriors great on Sunday, and it's clear that Barry still feels salty about the entire experience, and he holds a special ire for "young fans."  He "assumes" that it was "young fans" who were expressing their displeasure that night, and in his opinion, they (I?) have no idea what I'm doing.  For those who were angry that management excitedly (and stupidly) promised fans a trip to the playoffs this season, and instead traded away the team's best player for another second-half tank-fest, Barry would like us to remember that "nothing is set in stone."  According to him, "they [weren't] going to win a championship playing with those two guards." And for those who feel that Lacob really shouldn't be involved in a ceremony that he, personally, had nothing to do with, well, "that's the sort of attitude that's immature, inexcusable and reprehensible."  Barry includes this gem about the "young people" of the world:

"The problem with a lot of our young people in today's world is this feeling of entitlement. You're not entitled to anything unless you earn it.  Are you entitled, because you spend your money, to have a team that's going to be a championship team?  You would hope so in that case…this man is trying to give it to you!  And you're going to go and abuse him?  It's insane!"
I think I speak for most Warriors fans, and frankly young people, whether they're basketball fans or not, when I say, Rick Barry: fuck you.  Fuck you heartily.
You see, Rick Barry, you are a rich, old, white man who lives in a ritzy neighborhood in San Francisco.  As a rich, old, white man, you can do just about anything in this world. Most jobs are open and available to you.  You will get a paycheck that's at least the same value as your non-white, non-male, and non-rich counterparts, but in all likelihood, it will be measurably greater.  But you really don't have to worry about that stuff, because you're a former Warriors great.  You've got all the money you'll ever need, VIP passes to all games, a nice seat in the owner's box, and probably any thing you want from the organization, whenever you want it.
So really, what can you tell me about entitlement?  What sort of life lessons can you, rich, white male, tell me about pluck and luck, and going that extra mile?  How can I better earn a good basketball team? Seeing as how I don't draft, develop, train or treat any of these players, all I can do is see them in person (which I have done once this season, even though I live 800 miles north in Seattle), and shell out tons of money to watch all of their games out-of-market on league pass.  I don't make a lot of money, but the little that I do make?  I set a sizable portion aside for a team that has made one playoff appearance in eighteen fucking seasons.  So, again, I ask: what have I done that's so entitled?  Can you really tell me?  Would you even have any idea?
So yeah, I know you're a Warriors great.  I know you were the best player on our only championship team, which won the title at the height of the NBA's irrelevance.  But Rick?  You mostly sound like a rich white guy who lives in San Francisco.  Your Warriors are not our Warriors.  Go back to San Francisco.