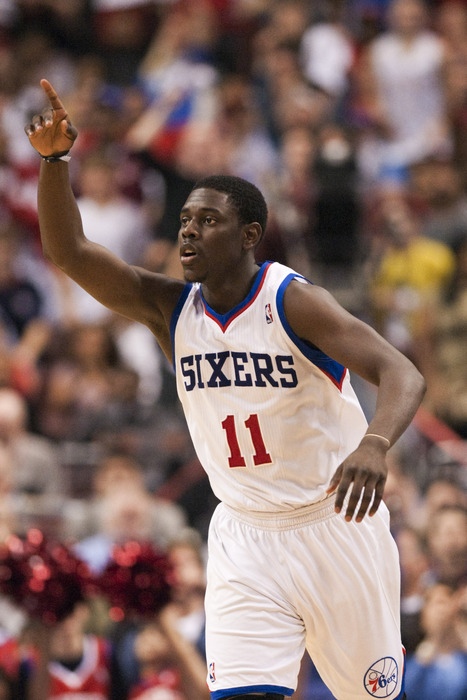 Editor's Note:  This is a guest post by Symbol Lai.  She is a frequent contributor to The Diss.
*****
There seems to be a lot of unsupported, misplaced anger directe at the Philadelphia 76ers here at The Diss and in the basketball world at large lately.  Something must be said.
Understandably much of the "Sixers suck," "No sane analyst will pick the Sixers," and "They will be chased out of the stadium by Boston or Atlanta" prognoses stem from Philadelphia's unlikely victory over the top-seeded Bulls team that was both heavily favored to take the championship and the new NBA darling next to Oklahoma City.  Without a doubt, the Sixers were buoyed by injuries to the Bulls' two best players, Derrick Rose and Joakim Noah.  However, as a skeptical Sixers fan, who is not only doubtful of the organization's plan to build around coach Doug Collins, but also held out on joining the wave of Sixers playoff frenzy until tonight, when Andre Iguodala finally became the clutch player that the city had always wanted him to be, here is why I am not ashamed to be happy for our advance to the second round.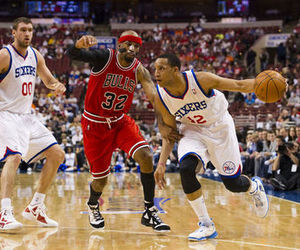 You see, despite the injures to Rose and Noah, the Bulls still could have — no, should have — won this series.  This Bulls team had an incredible season.  They managed to pull off the best record in the NBA despite a consistent string of injuries to key players.  They were very well constructed, with role players who could and did step up when needed.  They were extremely well coached by Tom Thibodeau, who almost won Coach of the Year an unprecedented two consecutive times.
This was a Bulls team whose opponent were the Philadelphia 76ers, who, while up and coming, are not complicated and rather predictable, perhaps due to a front office and coach that appear a little averse to change.  The same problems that
I pointed out
before All-Star break were the same problems that became painfully apparent as the season progressed.
1.  We have no half-court offense; if we want offense, we must create and convert fast break opportunities.
2.  We have no presence in the paint.  While Spencer Hawes is our 7-footer, he is by no means an indomitable force.  This is a guy that prefers shooting jump shots when he's literally two feet away from the basket rather than going for the surefire dunk.  (He usually misses those jump shots too).  And, for all his gifted passing abilities, I've only seen those skills on display in a handful of games.  Hawes simply hasn't been consistent since returning from his Achilles injury, particularly against opponents who are willing to apply some physical pressure.
3.  We are a skittish, young team, prone to make silly mistakes under pressure and likely to succumb to doomsday scenarios after a few missed shots.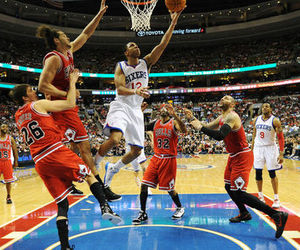 Again, the 76ers are not a terrible, unwatchable team (when playing well, we're rather intriguing to watch I think).  But we are not all that hard to figure out.  This is not rocket science.  Any sports analyst, knowledgable Sixers fan — hell, even I, a PhD student in History, who is not paid to break down basketball strategies  - could have told this to the Bulls.  In fact, I daresay someone probably did in light of how Omer Asik and Carlos Boozer's physical play gave the Sixers fits in Games 5 and 6.
All this to say: in this series, the Bulls, who, under similar circumstances, had picked apart many worthy opponents in the past, simply did not perform.  They could have won, given how noticeable the Sixers' persistent weaknesses were.  They should have won, given an overall roster that is superior to the inexperienced and therefore inconsistent Sixers.  And they didn't.
This wasn't a question of the Sixers doing anything exceptionally well, but rather a matter of the Bulls not doing what they needed to do — what they were fully capable of doing.  As such, I think a setting aside of our froofy playoff basketball tastes and re-evaluation of people's collective resentment towards the Sixers are in order.  Simply put, lower your noses and point those fingers elsewhere.  Finally, for the record, the Sixers took the series against Boston during the regular season.  We might not win, but it will be competitive.