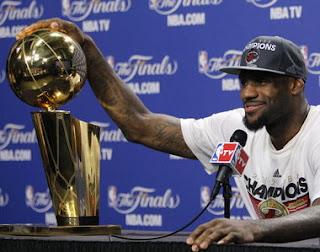 The State of the Miami Heat? The state is doing okay, and the city is presumably still cleaning up from their parade, detoxing a collective champagne hangover, and buying commemorative t-shirts left and right. Bandwagon fans of Florida and the greater Southeast, unite!  But - when all was said and done, Eddy Curry won his first NBA championship!

Ultimately, the haters hated all season, but in the end the Miami Heat won, and LeBron James got his sorely needed Larry O'Brien trophy.

A big deal was made all year about how LeBron had started playing smarter basketball, and we saw an evolution of that brand of basketball in the playoffs - there's something to be said for the fact that James stopped taking as many three pointers, focused on his post game, and decided to "have fun" instead of taking on the role of the villain. His ability to play almost every position on the floor and his single handed evisceration of the Boston Celtics in the "gahden" in a pivotal game 6 with a ridiculous array of jumpers and moves to the basket was — nasty. LeBron had decadently ridiculous stats in the Eastern Conference Finals, and also consistently produced above and beyond his past finals performances against the Thunder. His effort as a two way player defending Kevin Durant was admirable, and ultimately, I'm personally happy for LeBron that he finally "lived up to his potential" by winning a championship, whatever that "means." 

As for the rest of the team, it was substantially better than any iteration of the Cleveland Cavaliers, but is by no means a finished product. Chris Bosh and Dwyane Wade are both aren't perfect compliments to LeBron James' - their respective games certainly don't fit together with similar compatibility of other aging "big threes", like Pierce, Allen, and Garnett or even Duncan, Ginobili, and Parker. Mario Chalmers, Norris Cole, Mike Miller, Shane Battier, and Udonis Haslem also all played big roles for the Heat, but the team could theoretically improve any one of their positions through free agency or if they get lucky with this year's draft pick.
With very little cap space (but what if Mike Miller retires and they amnesty Ronny Turiaf or Joel Anthony?), the most the Heat will likely offer a marquee free agent is a $3 million mid-level exception, although if the front office is able to get below the luxury tax barrier, that number could jump to a $5 million exception - enough to convince Steve Nash to join Miami? The sizable contracts of LeBron, Wade, and Bosh's have certainly limited Pat Riley and the Heat's front office in free agency, which makes the Heat's only draft pick, the 27th of the first round an intriguing chance to add a potential role player to Eric Spoelstra's rotation. 

While the Heat could use depth everywhere on the roster, nowhere is it more needed than at the Center position. Joel Anthony is a handicap on the offensive end, and Chris Bosh and Udonis Haslem are undersized against legitimate big men. So at #27, the Heat should probably look to draft a big man with the potential to develop. Projects like Fab Melo and combine freak Miles Plumlee, or "more developed" college big men like Festus Ezili and Draymond Green should be considered. However, if no potential impact player is available at #27, then it may be worth it to trade back to the start of the second round if there's interest from another team. Every little bit the Heat can get under the luxury tax and the salary cap is extra cash money to improve the team through free agency, where the Heat must certainly be lining up veteran targets to make the "come chase a ring, be part of a dynasty, pay no income tax, and live in Miami" pitch - and those sound like some decent selling points!