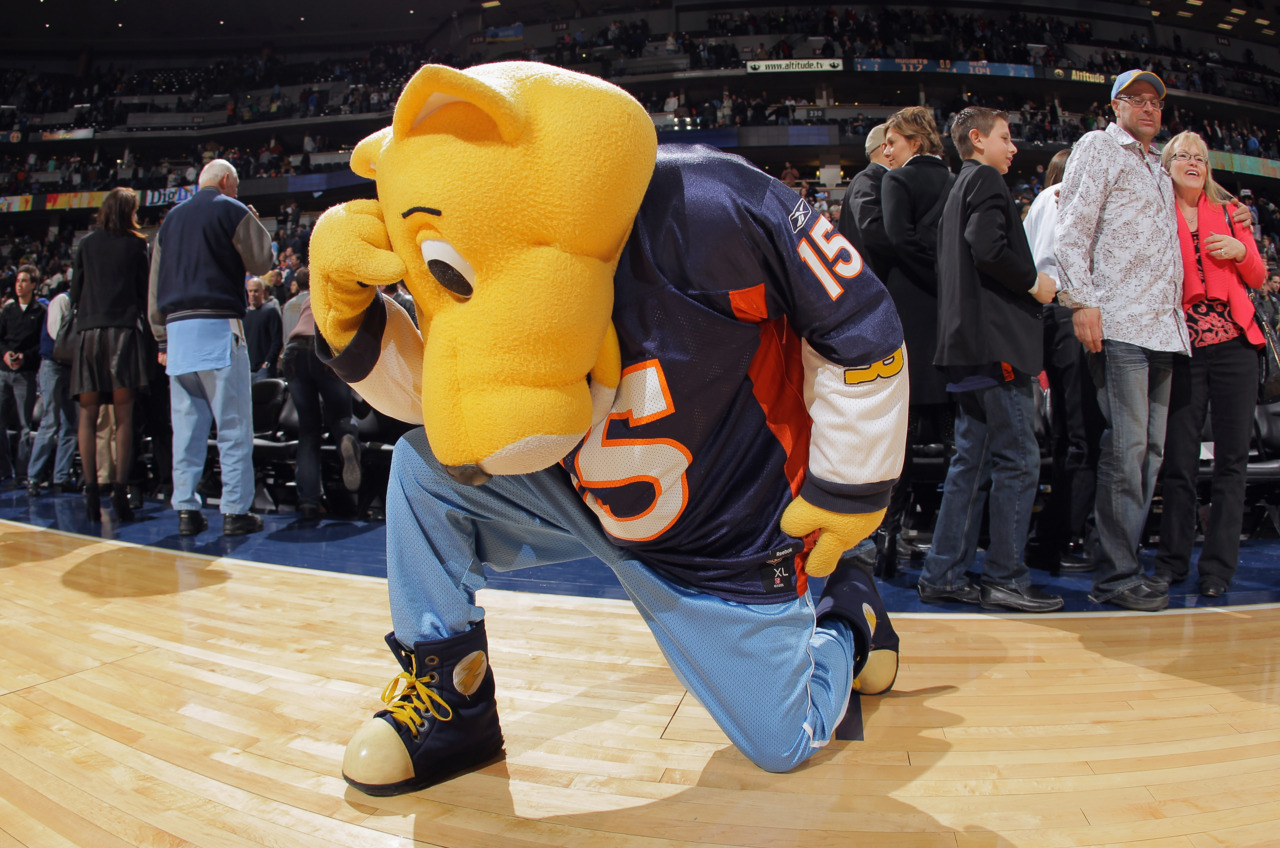 The Denver Nuggets are beginning to discover who they are, but should also be wondering if that's going to be enough.
The Nugs bravely entered their first "full" year in the post-Melo (and really, post-Chauncey) era, and all things considered, should be pretty happy with the results.  The Nugs went into the season with a roster that had been somewhat demolished by the lockout — three of their rotation players (Kenyon Martin, J.R. Smith and Wilson Chandler) had signed deals overseas without exit clauses, so they could not immediately return to the Nuggets.  As such, Denver decision-men GM Masai Uljiri and owner Josh Kroenke decided to use their money on the players that they had, with the hope that their skillsets would be enough.  And for this season, it was.  The Nugs handed out considerable (but not back-breaking contracts) to forward Danilo Gallinari, center Nene, and shooting guard Arron Afflalo, while showcasing the underreported (but still legitimate) talents of Ty Lawson, Al Harrington, and Andre Miller.  The Nuggets ran a rotation that honestly went twelve deep, with talented players both starting and coming off the bench.  The Nugs lead the league in bench scoring this season, pouring in around 41.5 points per game.  And of course, the biggest boon of the year was 22nd overall pick Kenneth "The Manimal" Faried, whose 10.2 points, 7.7 rebounds and 1 block per game made Nene (and his 5 year, $43 million dollar contract) expendable, and who teamed up with newcomer JaVale McGee to create one of the more intimidating young big-men tandems in the league.  George Karl, for the umpteenth year in a row, did an amazing job with a sort of unbalanced roster without any stars.
After their inspiring playoff run — they fought back from a 3-1 deficit in the first round to take the Lakers to Game 7 — the Nuggets enter the summer with some rather pressing long term questions to address.  They are armed with a team similar to the Philadelphia 76ers: talented players with fairly manageable contracts, but none of whom could be considered "stars".  Their only players signed longterm (Danilo Gallinari and Arron Afflalo) had wonderful seasons, but are not likely cornerstones for a bona fide contender.  Two of their important rotation players (midseason edition JaVale McGee and dynamic backup guard Andre Miller) are both free agents, and will command both interest and money on the open market.  The Wizards traded McGee to the Nuggets precisely because they didn't want to set the price on the unquestionably talented but questionably motivated player, so the Nuggets will have to decide if he fits into their long term plans.  Miller will get nice offers from contending teams in need of a quality point guard such as the Lakers or the Heat, so I wouldn't expect him to be wearing powder blue next season.  Those players departures (as well as a few contracts coming off the books, or not fully guaranteed until the 2015-2016 seasons) give the Nugs about $14 million to use in free agency — certainly enough to snag a nice player or two, but not enough to grab a star.
So the Nuggets are in an interesting place.  They aren't going to be major players in roster transactions this year.  They're still a bit hungover from the Melodrama, and seem content to pay a group of young, talented players who enjoy playing together, and playing for George Karl.  They should have a team that's good enough to make the playoffs every single year for the next several years, but who knows if that team will ever be good enough to make it past the first or the second round of the playoffs.  It seems that they're interested to see what Lawson, Gallo, Manimal and McGee (assuming he's re-signed) turn into as the league becomes longer, leaner and more aerodynamic.  Manimal and McGee look like formidable twin towers down the road, and the Nuggets, in many ways, seem like the perfect team to match up against the Thunder in the coming years.  If the Nuggets are committed to this team, they need to look in earnest for a player who can create his own shot.  That player doesn't necessarily need to start given the interchangeable nature of Karl's team, but should be able to provide 16-22 points on a nightly basis, and have the credibility (and desire) to be a leader in the locker room.
And the draft?  The Nuggets have the the 20th pick.  Given how well they did with Faried at 22, they will definitely do their homework, and try and find someone who can contribute almost immediately.  Much in the same way they replaced older, more expensive Nene with a player of a similar mold  (the younger, cheaper Faried), they should see if any players could do that for their other questionable contracts, such as Al Harrington (21 million over the next 3 years).  Then, we just sit back, watch the players develop, and see what happens.