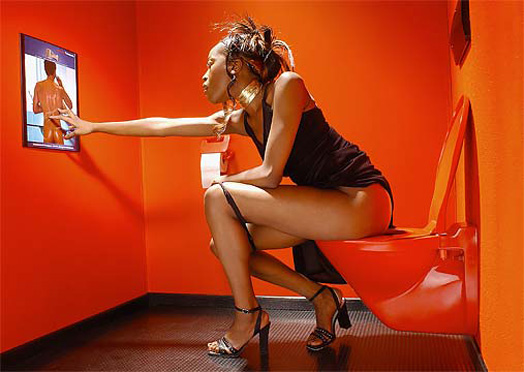 Whenever you poop, an angel gets its wings.
Henry Abbott
TrueHoop
In this piece from the eve of the draft, Henry Abbott reminds us about the importance of the draft not only for bad teams, but also for playoff teams.  Abbott uses the example of Avery Bradley, whose absence in the playoffs might have made a difference in the Heat-Celtics ECF series, to highlight the difference between well-run organizations and their poorly-managed counterparts.  Abbott argues that the best teams manage organizations where young, midrange draftees (like Avery Bradley, who went 21st in 2010) are able to find important roles that can be mastered relatively quickly.  Poor teams, on the other hand, rely on the draft to provide "the engine" and engineer wins on their own.  It's a well argued piece, and important to consider when assessing the ongoing success of late first round (and early second round) picks who play important roles on contending teams.
- JG
Dan Feldman
Pistons Powered
Andre Drummond is the subject of a strange but interesting piece from veteran Pistons blogger Dan Feldman.  Feldman paints an interesting picture of draft night for Drummond, who was selected ninth by Detroit.  Feldman asserts that based upon the Pistons' mixed results in terms of player development, Drummond shouldn't be thought of as a surefire thing.  But, in the limited context of draft night, Feldman writes that we should be impressed with Drummond, based on the way he interacted with NBA staffers and media members on his important night.  It's an interesting picture of hope and excitement, tempered with the skepticism and realism that only the fan of a bad team can have.  It's a compelling read, especially for those who are fans of teams as hopeless (in the short-term) as the Pistons.
- JG
Rob Trucks
Deadspin
Tell it, Danny.  The newest piece in an amazing collection of posthumous (playing career-wise) recounts, Danny Manning of Jayhawks and No. 1 overall pick fame gives us his perspective of his time as a player.  Things of note: Danny stayed all four years at Kansas (and has a degree), was coached by one Larry Brown, and sucked at football (but let's be honest, he sucked, relatively).  We get his reflections on what it was like to start a career with a career-threatening injury and the lengths he went to get back in the game.  A solid read, certainly worthy of bathroom consideration, and gives added dimension to a player in world we often perceive as filled with stock characters.  So is he, or is he not, a bust?  I leave that up to you.
- LB
Andres Alvarez
The Wages of Wins Journal
What's the best way to back up your
strong words about the inefficacy of assessing "winners" and "losers" of the NBA draft?
 Recommend a good post that, through the A-F grading system, picks out draft winners and losers! If you are a person that needs to see a team "grade", as well as a proclamation asserting whether a team made a good or bad decision about a pick, this is the best site to do that.  TWOWJ consistently has the best statistically driven basketball analysis out there, so you can trust these guys.  I just hope they're wrong about the Dubs' Harrison Barnes pick (they see him as an inefficient scorer in the bigs, similar to Monta Ellis).
- JG
Evil Ted
Basketbawful
As a fan of the blogosphere (as well as a quasi-member of said blogosphere), one never likes to read these type of posts.  But Evil Ted, who, with a writer named "Bawful", started Basketbawful back in early 2005, has announced that he is closing up shop.  The post itself encapsulates the joys and frustrations of managing a basketball blog, and comments on the time commitments and levels of dedication needed to maintain an independent journalistic project with no compensation other than the satisfaction knowing others are reading your work. This saddens me — Basketbawful, as well as FreeDarko, were among the orignal NBA esoterica blogs that gained unprecedented popularity in 2006 and 2007.  Though I had stopped visiting the site regularly, their early work influenced me greatly.  I will miss Basketbawful dreadfully, and wish Evil and Bawful the best in their future endeavors.
- JG