Diss Guy: Iman Shumpert
I don't know whether I'm more excited about the fact that Iman Shumpert's rocking a classic 'Will Smith Fresh Prince' high top fade, or that he just went Office Space on the iPhone 5. On top of that oldish news, Shump also got into the rap game last year while recovering from his torn ACL, and delivered a solid "Clique" flip for the cameras during Media Day in between razzing Steve Novak and swagging out with the Knicks self proclaimed 'Bench Mobb'. Shumpert clearly had as much fun as possible (without coming across as a goofy child — see Beasley, Michael) during the de riguer of what's turned into NBA "media week," and for that, he's our Diss Guy. 
Miss Guy: Darko Milicic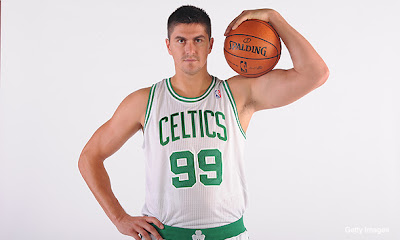 Darko Milicic is now on my favorite NBA team. That's enough to make him the Miss Guy of the week by any stretch of the imagination, but Darko's already off to an ignominious start after Media Day, telling the Boston press: "So now, if I have to go kill someone on the court, I'll kill someone on the court." 
This coming from a guy who's worn out his welcome on several teams for his lazy, intemperate approach (at best) on the NBA court during his seven year career. This coming from a guy who's most recent hometown paper, the Minneapolis Star Tribune, said in a postpartum
report
:
"
Milicic frustrated coaches with his work habits and turned off teammates with his sour demeanor and many were relieved when owner Glen Taylor signed off on using the amnesty provision on his contract to get rid of him."
Good luck with Darko, KG… If you made Glen Davis cry, I can't wait to see what happens at the end of the bench this season… and Darko, I'll believe you're going to hustle when I see it, and for that, you're the Miss Guy of the week.