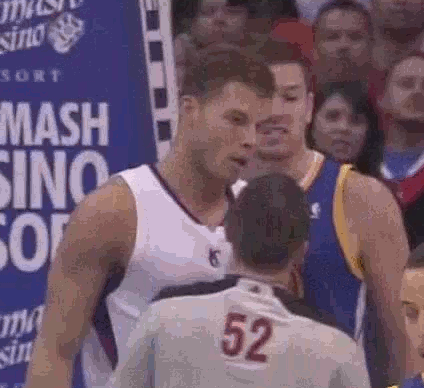 It's only the start of the NBA season and already people are yelling about a lot of stuff. Today the Discussants are accosted by one of those yellers.
THE LAKERS ARE 1-3 THE ENTIRE IDEA WAS A SHAM!
Jacob Greenberg: Pipe down. I'd still rather have the Lakers' 1-3 roster than the Magic's 2-0 roster. There's a ton of talent here, and Dwight is still coming back from pretty intense surgery. I still don't see this team winning less than 55 games.
John Reyes Nguyen: If the Lakers were 0-4 this morning, heads would roll (Mike Brown's), but thankfully the Pistons came to town and got beat down by a talented and MOTIVATED Lakers team. Mike Brown should send everyone on the Piston's a iPad for saving his job. I still a bit worried but getting the first win since May is a step in the right direction.
Andrew Snyder: The Lakers "big 4″ parts fit together so well on paper. Before the season, my only question was - would the bench be productive? So far, they haven't, and the starters have really cancelled each other's good performances out with terrible games of their own. Howard missed 12 free throws in the Mavs game. Nash got injured. I didn't watch the Portland game, but I'm sure Kobe shot them out of it [Editor's Note: Watch more basketball], and I'm sure Pau's probably not getting enough touches because of him. Either way, they'll be much better than 1-3 the rest of the way, but that also depends on them starting to play defense and keeping Nash healthy — a 60 win ceiling? I say NO MORE.
Kenji Spielman: Was the idea to make money? The Lakers are now, even more than ever, must see. MUST SEE! When, as a GM, you are presented with the question "Should you acquire Howard and Nash?" the answer is "Yes." So they aren't winning? Boo-hoo, they will start doing that later. People pay attention to them even more than they did last season (it still blows my mind that Steve Nash is a Laker) especially due to the train-wreck nature of the early season. They weren't going to beat the Heat (or the Spurs, or OKC) with the team they had last year so why not try this?
SO MANY INJURIES TO BEGIN THE SEASON!!! CLEARLY THIS IS THE RESULT OF A LONGER, NON-SHORTENED LOCKOUT SCHEDULE!
Jacob Greenberg: More proof that sportswriters are sportswriters, and not doctors.
John Reyes Nguyen: I think the basketball Gods aren't happy and are flipping the script. Besides injuries, Lakers, Celtics, Nuggets, and OKC all suck, and the Rockets, Magic, and Bucks are good, for now. Might turn out to be a very interesting season.
Andrew Snyder: This is something Stephen A Smith or Skip Bayless would say. Next…
Kenji Spielman: I blame it on the new anti-flopping rules. If you are going to hit the ground after a foul you need to do it in a controlled manner. Instead, now, you have to actually be hit hard enough to knock you off balance, a very dangerous situation.
BLAKE GRIFFIN IS AN UNREPENTANT FLOPPER AND DAVID LEE JUST SPEAKS TRUTH TO POWER!
Jacob Greenberg: I will say this: Blake Griffin's game and maturity are not growing at the pace most NBA fans would like. One or two highlight dunks really don't make up for all of the pouting, flopping, whining, incredulous hands-on-head postures, and ugly-ass shots that come with a standard night out with Blake and the Ol' Clip Show. This remains one of my least favorite "good teams" to watch.
John Reyes Nguyen: Shawn Kemp 2.0 without all the baby mammas. Flopping is an huge part of Griffin's defensive philosophy. Now that's its been taken away, he's just good for a couple of highlights. His overratedness (I just created a new word) is starting to show. Let me tell you from experience, you can't dunk forever.
Andrew Snyder: Y'all are all some serious Griffin Haters, but I do get a little fed up with how much he whines to refs, and sometimes he flops - but hey, he might get fined for that this year and stop doing it…
Kenji Spielman: Blake Griffin is fabulous to have in the league as long as you only watch Sportscenter. Highlight reel dunks without having to watch the preening, whining, and flopping. Side note: remember when Blake Griffin claimed that he was actually a good defender, he just never showed it in college because it was important for him to not foul out? Yeah, that turned out well.
JAMES HARDEN IS A HIGH-EFFICIENCY GOD! OKLAHOMA CITY WERE IDIOTS FOR NOT STARTING HIM AND TRADING HIM!
Jacob Greenberg: I mean, nah. They weren't. Perhaps they sealed their fate when they inked Perk and Serge to those big deals, but Harden is worth all $80 million of the dollars he received from Daryl Morey. This was going to be a headache for sure, and the Thunder, wisely, don't do headaches. They got a wonderful player in return (KevMart scored 28 on 8/11 shooting last night, and had a true shooting percentage of 100%), as well as a rookie and two first round picks. Harden can become T-Mac 2.0, be the main face of the Most Interesting Backcourt in the World, make an All-NBA team and lead the Rockets to 43ish wins (for the fourth year in a row), while the Thunder win their standard 57-62 games and go back to the Western Conference Finals. This really will be beneficial for both parties.
John Reyes Nguyen: It appears that OKC was holding James Harden back. Keeping him from becoming the superstar he might be. I knew his numbers would sky rocket, but not with this type of efficiency. He's averaging 35pts, 6rpg, and 6apg while shooting 53%. I was totally wrong about him in my earlier assessment.
Andrew Snyder: James Harden has looked like a god with that beard since he grew it at age 19 — other fun facts include that he's beard godfather's with Brian Wilson. I hope you Giants fans are happy about that shout out from the MVP of the first week of the season. MVP. Hands down. If they awarded it after one week. It'd go to Harden. HOWS THAT FOR A PARDON THE INTERRUPTION LIKE CLAIM. OR MAYBE FIRST TAKE.
Kenji Spielman: ames Harden is a high-efficiency god. Hey, we should coin some silly name like how Moneyball tagged Youklis as the greek god of walks. Oklahoma were idiots for not trading Westbrook (deeply overrated) for a metric fuckton of assets and letting Harden and Durant do their thing. Which might have been winning the title.