Diss Guys: All-Star Voters
Yesterday the NBA released the results of the All-Star voting, and they were as follows:
East: Rajon Rondo, Dwyane Wade, LeBron James, Carmelo Anthony, Kevin Garnett
West: Chris Paul, Kobe Bryant, Kevin Durant, Blake Griffin, Dwight Howard
Those teams…aren't too bad. Fans almost "screwed-up" and voted in Jeremy Lin ahead of Chris Paul, but on the whole the fans picked the some pretty good players. Down ballot there were some ridiculous votes (injured Andrew Bynum getting more votes than Brook Lopez), but as far as the starters are concerned, I have some anticipated rage stored up that I wasn't able to unleash.
Miss Guy: Kobe Bryant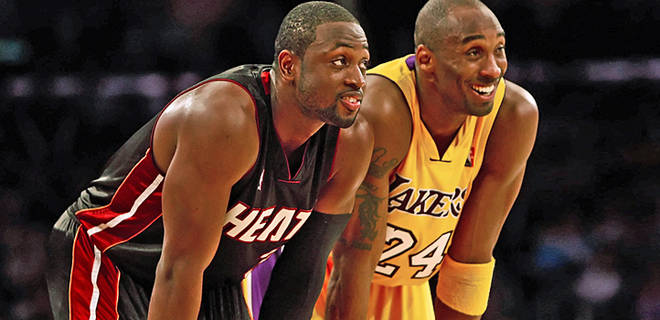 Last night saw the Heat take on the Lakers in a surprisingly exciting match-up. The Lakers were on a two game winning streak (hey, for them two games counts as a winning streak), with the chance to announce to the NBA that they were ready to be taken seriously again. Conditions were ripe. The Heat are in the midst of a West Coast road trip and were playing on a back-to-back. The Lakers had Pau Gasol back, giving them their full compliment of future hall-of-famers. Unfortunately for Kobe, the Lakers lost by nine.
Now, I'm not going to pin the entire loss on Kobe cause Dwight Howard did his damnedest to invite the Heat into the lane, but last night Kobe was at his Kobe worst. LeBron James and Kobe each took 25 shots last night: LeBron scored 39 points, Kobe 22. Kobe ostensibly was guarding Dwyane Wade last night, but I say ostensibly because he let Wade get 27 points, one of his higher totals this season. Oh right, and he had 6 turnovers. This is Kobe's best season in awhile, but last night he was at his ball-chucking worst.
But a bad game isn't enough to be "win" Miss Guy for the entire week. Everybody has bad games. No, Kobe is Miss Guy of the week for a recent interview he gave, in which he made two outlandish claims. In the first outlandish claim, Kobe said that he had never lost a one-on-one game, and specifically noted that he crushed Tracy McGrady when the two played each other in Germany. Besides the ridiculous odds that he has never lost a game of one-on-one, Tracy McGrady quickly took to Twitter to deny that he and Kobe had ever even gone to Germany together, let alone played one-on-one. Hmm, who am I going to believe, Tracy McGrady or the proven borderline sociopath?
Even more outlandish, Kobe makes the claim that he was given his "Black Mamba" nickname while playing ball in a park in New York. But everybody knows that Kobe gave himself that nickname right? Right. In this interview from two years ago Kobe explains how much he loves snakes and how he's like a Black Mamba, indicating he gave it to himself, before adding that maybe Ronny Turiaf gave it to him. Almost five years ago, LA Times columnist Jerry Crowe wrote that Kobe nicknamed himself. So what is it?
I'm not trying to go all Deadspin on this, but I think Kobe is making up a fake pickup game in New York here.