In honor of the Dallas Mavericks, who have decided to grow beards until the team record reaches the .500 mark (the Mavs are currently 21-28 and 5-5 in their last ten), it's time to take a look at their facial hair competition around the league. We're certainly not in the 1970′s heyday of basketball beards anymore, and so far as I can tell, nobody has yet attempted to rank the unshaven masses of the 2012-13 NBA season. Gimmicks like this have sort of been done before, but really, that's the best you've got Bleacher Report? As someone who's grown a horrendous neck beard in the past, I'm eminently qualified to power rank the top ten or so NBA beards — just think of this as the facial hair companion to The Diss's League Pass Rankings!
Honorable Mentions:
New Timberwolf Mickael Gelebale (pro: Gel-ay-ball), for this pencil thin moustache. Fun hair fact: Gelebale used to have huge dreadlocks, but had to cut them off for "health reasons" at the advice of his doctor — the dreads were physically heavy enough to mess with his posture and cause a back/core injury risk. If that kind of hair growing dedication can't qualify you for the first edition of the NBA [Facial] Hair Power Rankings, what can?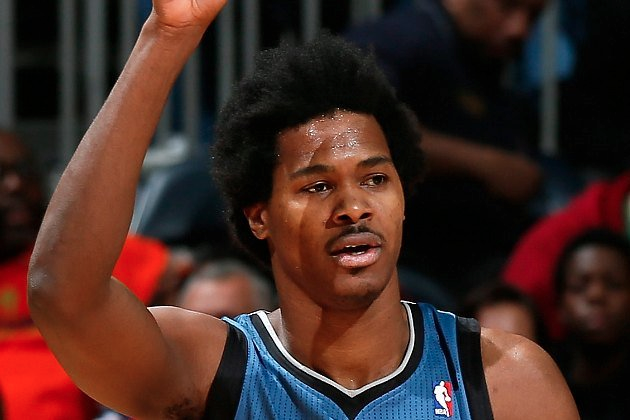 Your newest Toronto Raptor, Rudy Gay. Honestly not sure what Rudy was thinking earlier this season when he sported this goatee. It's so bad, it's good, right?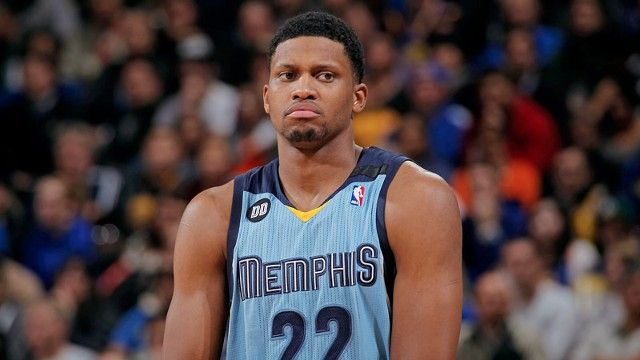 Jae Crowder. Jae was mocked by teammates to the press for his attempts at 'bearding up'. Not quite sure what they're thinking, this is a sweet avant gardé chinstrap. But Jae, remember what happened to Gelebale with the dreads?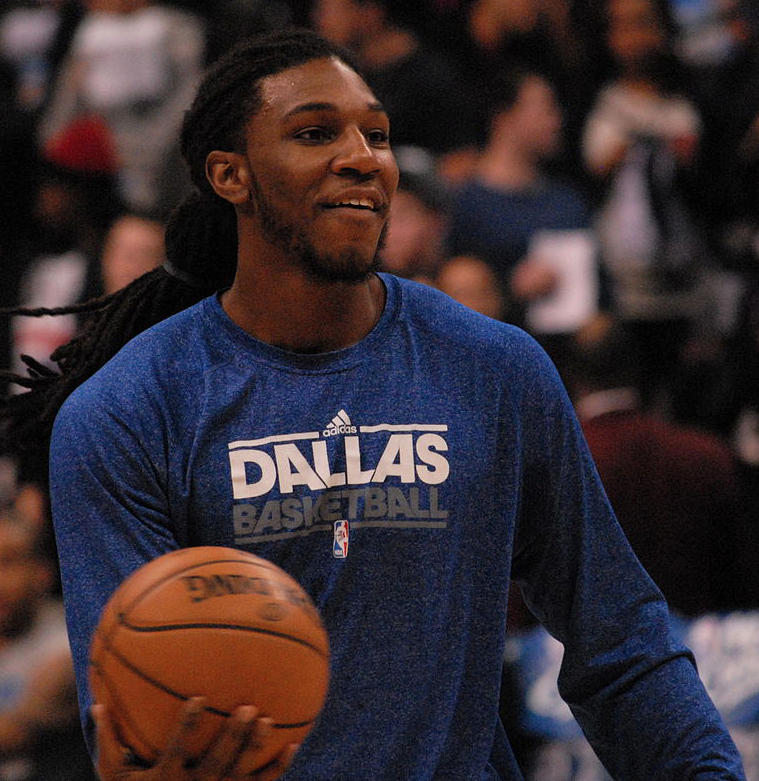 #10 — Brooklyn Nets enforcer and rebound monster Reggie Evans, who currently rocks the best "Baron Davis" in the NBA. As you can see in the picture below, Reggie's excited and surprised to have made the list.
#9 - A broken hand doesn't mean an end to growing the season-long beard, as Kevin Love showed with his return to the T'Wolves bench on Wednesday night. Love would certainly be ranked higher if he'd been on the court this year, but at least he can take consolation that if there was a playoffs for best team facial hair, the Timberwolves would certainly win a first round series at the very least. Right?
#8 - The "Godfather" Nikola Pekovic. "Pek" is a blogosphere favorite because he likes to eat meat, doesn't feel pain, and has the NBA's best tattoo, but in my opinion one of Pek's most underrated attractions is his grizzly beard - on a team with competing beards like Rubio and Love, Pek's beard is still #1 in my heart.
#7 - John Salmons. Salmons may be washed up, but his goatee certainly isn't, edging out Mike Woodson and Kendrick Perkins for best chin-hair in the league.
#6 - Wassup Symbol? I'm Spencer Hawes' Mullet/Beard and I'm here to party, rebound, shoot elbow jumpers, and act like I'm cool 'cause I wear jersey number 00. This is a sweet pic of me finger roll posterizing Vince Carter's poor excuse for a beard. Sorry for partying.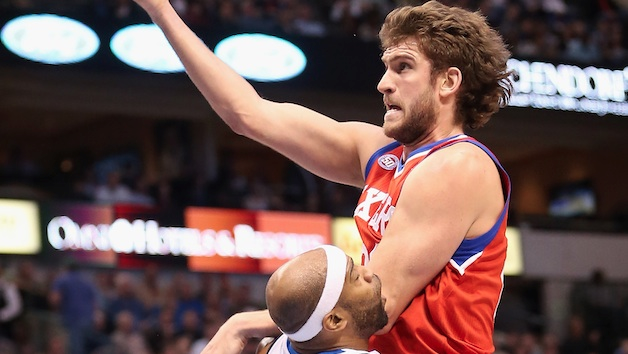 #5 — Chris "Birdman" Anderson. He does more than just win prestigious blogosphere awards like "Diss Guy," he rocks the finest triangle shaped soul patch in the NBA. Not many men can pull off the soul patch without looking like a creep, much less the huge triangular soul patch, but the Bird is the word.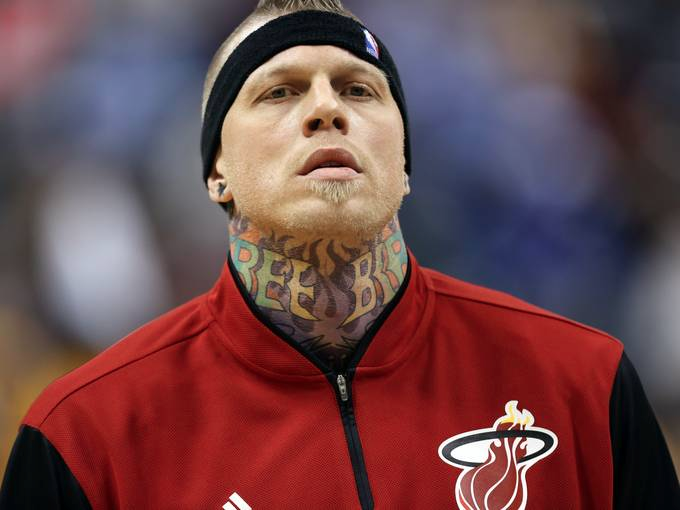 #4 — There's more than a few Team USA Gold Medal winners on this list, including Tyson Chandler. Chandler's face-mane can simply be described as powerful.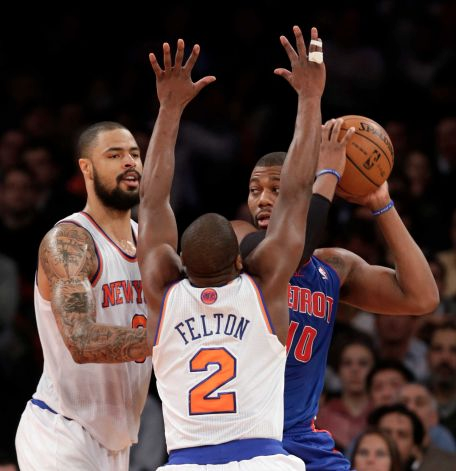 #3 - Which Gasol would you rather have on your favorite NBA team? I'd probably take Marc Gasol. Younger? Check. More Physical? Check. Actually on a playoff bound team? Check. Better grungy beard? Check.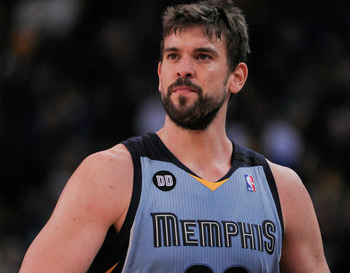 #2 - The dark horse candidate for best beard in the league, New Orleans Pelican and league assist leader (cumulative) Greivis Vasquez. This beard has it all — thicker than Deron Williams, bushier than Ricky Rubio, complete coverage across both the upper and lower lip, and ability to instill fear in a defender's eyes.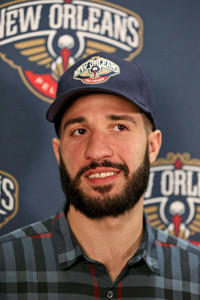 #1 - Who else can you put number one? This is what James Harden looks like without a beard.
This is what James Harden looks like with a beard.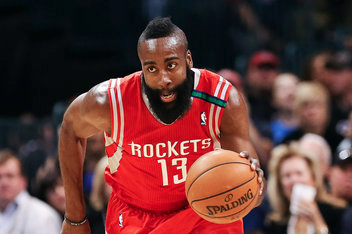 Any questions? Commentary? Players these rankings missed? Scratch your chin and share your thoughts in the comments.