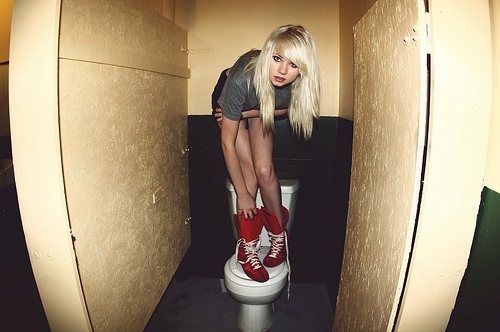 There's an unintentional focus on fashion in this edition of the reader.  Maybe I need to step up my bathroom fashion game.
Melo Time
Jason Gay
The Wall Street Journal
I'm grateful friend (and occasional Diss reader) Aimee Buck sent me this WSJ article.  Though this piece is a few weeks old, it is well worth the read because its author, Jason Gay, provides the reader with a full explanation about why a player might want to craft a long-term playing career in New York City.  Gay's interview touches on a number of interesting themes, including a player's desire to remain as anonymous as possible, diversify their holdings, and craft favorable marketing images of themselves.  What becomes clear is that nearly everything Melo does comes through third-party consult, and is closely manicured.  This goes from the endorsement deals Melo signs (only deals where a stake of ownership is offered) to what he wears on the court (a stylist matches headband and accessories to his Knicks uni).  Gay's interview leaves us with two main thoughts: New York is the land to diversify, and athletes do very little independent thinking or acting throughout their days.
- JG
The Lost Generals (Parts I & II)
Andrew Crawford
The Classical
One of the more under-analyzed events of this year was the departure of Gil Arenas and Tracy McGrady, two former All-Stars and offensive phenoms, to the Chinese Basketball Association (CBA) to invigorate their moribund NBA careers.  Though I remember hearing about it, I hadn't followed their exploits since the NBA season began.  Luckily, Andrew Crawford has been keeping tabs on both players and the CBA season. In this two-part piece, Crawford lays out the long sagas of T-Mac and Agent Zero, and the various forces that has conspired to their less-than-glamorous debuts in China.  Crawford weaves an Abrams-esque long-form, taking into account multiple figures and themes, to create a solid narrative that contextualizes the CBA in international basketball, as well as the importance of American imports in terms of local, national and international levels.  It's a dense, informative and worthwhile read.
- JG
The Humbling of Stephon Marbury and the Limits of the Chinese Basketball Association
Hua Hsu
Grantland
Read in conjunction with Andrew Crawford's piece in The Classical, this exploration into the CBA and Stephon Marbury serves as a perfect addition to this reader's (unintentional) focus on basketball and talent imports in China.  Hua Hsu takes a closer look at the current state of the CBA, in particular, the league's biggest star and first truly successful imported superstar, Steph Marbury.  He concludes that the league, at this point, is at a bit of a crossroads.  While China's expansive economy and massive market allows for potential growth, the relative dearth of talent in the league, as well as the uneven success of massively hyped players like T-Mac and Arenas (discussed in Crawford's piece) has created skepticism about the long term viability of the league domestically and abroad.  Hsu points out that the league may become a place for middle-tier international players from outside of Asia (like Jordanian center Zaid Abbas) to thrive, which will damage the league's standing amongst viewers.  This is a very interesting piece for those interested in the evolution of professional basketball in China.
- JG
King DOH! The Short and Sad Life of the King Dome
Paul Merrill
Supersonic Soul
I lived in Seattle for a little over four years, and everywhere I turned, there seemed to be some mention of the infamous King Dome, which served as the home to the departed-SuperSonics until Key Arena was built.  Based upon others' descriptions, I imagined something between a deserted factory and a huge parking garage; a massive, cavernous concrete behemoth that served as a home to three professional sports teams, and the site of some warm memories (for the away team).  For many, it seemed their fondest memory of the King Dome was when it was demolished, and they didn't have to see its ugliness anymore.   Paul Merrill provides us with a short-but-sweet history of the ill-fated dome, which the City of Seattle will finally be done paying off in 2016.
- JG
Legends of NBA Style: The GQ+A with Superfan Jimmy Goldstein
Steve Marsh
GQ
In the world of non-celebrity superfans, Jimmy Goldstein is the dictator-for-life.  Ardent NBA observers might recognize the uniquely-dressed Goldstein from his sideline perch, and ardent pop culture observers might recognize his house from the movie The Big Lebowski.  He's got millions invested in the sport, but has no favorite team.  And best of all?  No one knows how he made his millions.  As far as 1%'ers go, this guy's okay.  This interview touches on a number of subjects, from his start as a statistician for the defunct Milwaukee Hawks, to his opinions on the expansion of NBA hipster fashion.  Interesting stuff from Gentleman's Quarterly.
- JG