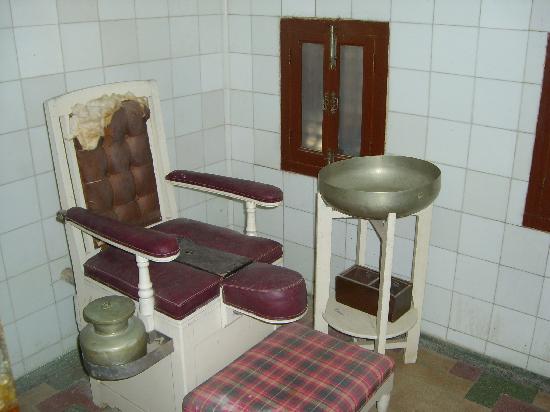 Kevin put this picture up.  I'm not sure what I'm looking at.
Allen Iverson, NBA icon, struggles with life after basketball
Kent Babb
Washington Post
Allen Iverson made over $150 million during his NBA career, yet during a court proceeding in 2012 he was forced to say "I don't even have money for a cheeseburger". Indeed, Allen Iverson has transitioned from crossover dynamo to cautionary tale, from object of inspiration to object of pity. Kent Babb depressingly chronicles Iverson's increasing detachment from the world around him, and the multitudes of people that want to help him.
–KD
Golden State Warriors lean on their faith heading into playoffs
Marcus Thompson II
Bay Area News Group
Many athletes give lip service to religion—thanking God when they score a touchdown—but not the Golden State Warriors. Led by pastor-coach Mark Jackson, the majority of the team attends pre game chapel ceremonies, and on an off day in Southern California earlier this season most of the team went to watch coach Jackson preach. In a league that is (unfairly) criticized as being all about money, tattoos, rap music and women, the Warriors' faith is an interesting story indeed.
–KD
On the intersection of Pastor Mark Jackson and Coach Mark Jackson
Tom Ziller
SB Nation
Mostly left out of Marcus Thompson's piece are the worrying underpinnings of Golden State's Christianity. It is one thing if the players are outwardly religious—it is quite another if the coach, the man who controls playing time, is. That's not to say that Mark Jackson has done anything of the sort, but Tom Ziller rightfully asks how the Jews, Muslims and atheists in the locker room feel, and how being a different faith than their coach could possibly diminish their professional fortunes.
–KD
Art, Opening and in The Paint
David Roth
The Classical
I just heard about David Lee's season-ending hip injury and don't really feel like reading anything about basketball.  It's a cruel and terrible sport, and you shouldn't watch it if you care about stuff that most would consider an escape from things that actually matter.  But you should read (and look at) this piece about an art opening that took place in Cambridge, Mass. this past Friday.  It contains very pretty pictures and interesting reasons into why people feel emotional about this silly sport being played on TV, with its players and injuries and ways to ruin your weekend.  Sorry guys, I didn't really annotate your article or art show at all.
- JG
The Day I Pegged Mike Trout
Michael DeCicco
The Line Drive
No really, guys.  David Lee being done for the playoffs with a very serious hip injury really has be down.  I'm not into basketball anymore.  I quit.  I retire.  Instead, I'm going to start reading baseball blogs.  I'm a bandwagon Giants fan; I could learn a thing or two.  When that happens (note: this isn't going to happen, I'm just really butt-hurt right now) my favorite blogger is going to be Michael DeCicco, who wrote this engaging and engrossing long-form piece in the fall of 2012.  DeCicco must be a man of many talents;he is a nice writer in the present, but he was also a skilled high school pitcher in his past.  His most memorable experience was the night he was the starting pitcher against Mike Trout's high school team.  Trout was a phenom early, and the prideful DeCicco had something to prove. Read every word of this wonderful piece.  And get well soon, D-Lee.
- JG