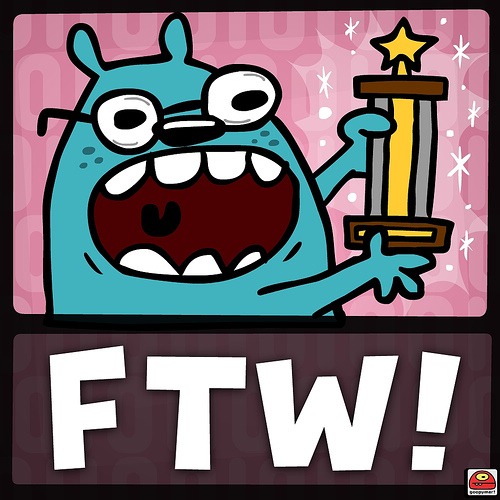 USA Today, furthering their meteoric rise in digital sports media, launched their latest site For The Win this morning. For The Win's introductory post is full of 2013 phrases like "shareable" and "social sports", while an interview with USA Today Sports Media Group's Director of Content Development Jamie Mottram adds "viral lift", "social currency", "digital natives", "search-oriented content farm" and "dual revenue stream". Allow me to interpret.
At the time of this writing, the five "most popular" stories on For The Win are a short story about a funny YouTube video including Twitter "quotes" about it; a funny GIF of Shaq running around a desk from TNT's NBA playoffs studio show; a story about six young players most likely to become baseball stars, replete with video; a sped up GIF from last night's Oklahoma City Thunder halftime show of a dog doing backflips; and multiple GIFs and a video of Liverpool star Luis Suarez biting Chelsea's Branislav Ivanovic.
For The Win describes their mission as to "find and report the intriguing, offbeat and awe-inspiring stories that resonate, and we tell them in a way that engages people and makes it easy to share with friends". Translated from public relations speak, their mission is to post fluff, devoid of thought content that will be popular.
To be clear, I expect that For The Win will be a success, where success is determined by pageviews, retweets and likes. USA Today Sports Media Group has developed a diverse portfolio of intriguing sites—Sports on Earth, The Big Lead, Quickish, MLB Trade Rumors and others—and has thrown a bunch of resources at For The Win. Jamie Mottram has been at the forefront of sports media for fifteen years, heading up sites like AOL FanHouse and being in charge of some of Yahoo! Sports' blog offerings. They have smart people in place that intimately understand the sports media landscape in 2013, the landscape where Twitter personalities like cjzero and jose3030 are well known because of their amazingly quick ability to create GIFs and videos of crazy sports happenings.
But does sports media need another website dumbing down content? The interview with Jamie Mottram brings up competitors like Deadspin and BuzzFeed, and Mottram himself contrasts For The Win with SB Nation and Bleacher Report. For The Win wants to operate in a similar space, but be better, than those sites. To me though, it seems like they've missed the point on what makes those sites popular.
Today's Deadspin may have a guy with an insane set-up ready to capture every GIF-worthy moment as it happens, but the reason it is a popular website is because of their blunt willingness to criticize any and all deserving sports targets. Mottram contrasts For The Win with how SB Nation was "'born on online communities — message boards around each team'", seemingly not understanding that the reason SB Nation is so popular is because of its community feel comments section based around individual teams, not in spite of it. They took the right lesson from Bleacher Report though: people love the shit out of lists.
For The Win will be a success, but that's because USA Today Sports Media Group has chosen clicks as the metric of success. I'm not so naïve to think that other sites don't base content decisions on monetary concerns—some of my own writing is dictated by what I think The Diss' audience wants to read—but few are doing it so nakedly. At For The Win the tail is wagging the dog. Instead of creating great content and getting pageviews because of it, For The Win will design content to fit what their analytics say will be popular.
There is room in sports media for all sorts of sites, and it is great to see USA Today paying real money to "sportswriters". It is disappointing, though, to see them financially double down on even more of the vapid, trite and "shareable" memeification that already permeates sports media. It may be content that gets a million clicks in two days, but it is also the content that everybody forgets three days later because it makes no impression. It floats in front of our eyes, elicits a giggle, and is forgotten about immediately. It doesn't further our understanding of sports, society or ourselves, except that we have precise neurological triggers that can be milked—ten seconds at a time—for ad revenue.
I think I'll pass.