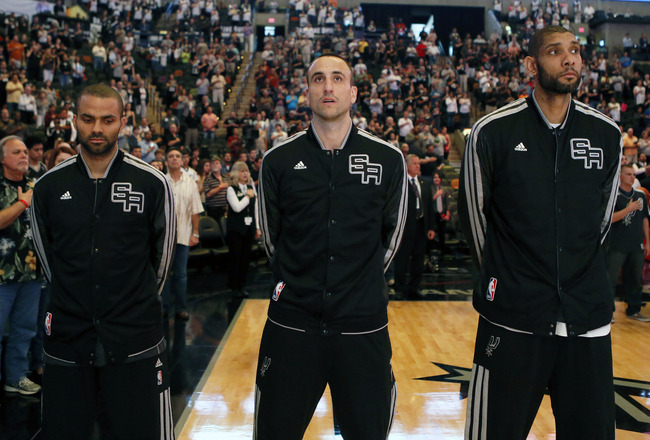 Editor's Note: Once again, Hans Peterson is here to deliver The Diss' postscript to the NBA Finals.  Hans is a regular contributor to The Diss.
***
In case you missed it, last year I submitted a characteristically verbose reflection on the Heat, the Thunder, and Lebron's first championship. The notably more succinct synopsis: I'm glad Lebron won one and shut up the pundits, the Thunder will have more chances (although much less than they WOULD have had with James Harden), and I hope I don't have to watch the same 2 or 3 teams in finals for the next six years running.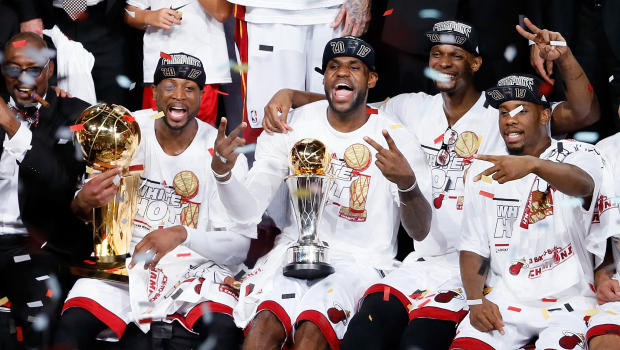 One year later, much of what I wrote stands. I did not hate watching the Heat win. I'm still perfectly content for the best player in basketball to collect another title (Lebron, if there was some concern I was referring to Mike Miller), and I am further convinced that the Heat and the fairly obnoxious "big three" concept will not lead to a five-peat or anything similar without some pretty dramatic reconstruction along the way. This Heat team has holes, flirted with their own demise quite regularly, needed an absolute miracle of a Game 6 just for title number two, and I suspect Wade's regression is not a temporary one.
I also shared most fans' delight with the series itself.  I'm delighted that, at least until Lebron took over the last game and a half, it wasn't the superstar show. It makes my efforts at punditry look suspicious, because I repeatedly pontificate about how much NBA results and titles rest almost entirely on the shoulders of the 10 best players in the league. My series prediction was based entirely on whether Tony Parker and Tim Duncan would outplay Wade/Bosh enough to make up for the Lebron advantage. Oops. It is easy to forget now, but after Game 5, Danny Green was the clear favorite to be the series MVP.
One prediction I did get right is that I had no idea what would happen in this series; that certainly proved true. For five and a half games, this was a team series. Except for a couple snippets, Lebron was not nearly the factor I expected him to be until he absolutely had to be. It has already been glossed over, but Lebron was not great in this series as a whole. If anything, this should really dispel any questions of his "clutch" factor. He was mediocre when it mattered a little, and unstoppable when the chips were down. Even then, only Allen's three prevented Lebron's barrage in the 4th of Game 6 from being buried by a flood of criticism for two truly horrible turnovers. Duncan had vintage moments, and Parker rekindled the now stereotypical discussion about his underrated status. But the series was largely determined on the backs of Ray Allen, Mike Miller, Danny Green, Kawhi Leonard, etc. You can make a case that if you overlook two dominant performances (Games 4 and 5), Wade may not have been the Heat's second best player in the series. And an even more interesting and compelling case can be made that if the Spurs had won the Title, they may have had a different MVP in every single game they won (Game 1 - Duncan, Game 3 - Danny Green, Game 5 - Manu, Game 7* – Leonard). You could put Parker in game 3, and Game 7 is basically a tie between Duncan and Leonard, but you get the idea. That's pretty unusual. In fact, I'm fairly certain that would be the first time in my lifetime that has happened in an NBA finals.
We spend all season talking about superstars, and on basketball's biggest stage, we got to see a series in which it was never particularly clear who the hero would be. That's a win for the NBA's entertainment value from my perspective. I distinctly recall watching the Heat's run in the fourth quarter of Game 6 and wondering: who on the Spurs was ever going to score again? Duncan hadn't taken a shot for what felt like forever, Parker was running around desperately trying to get away from Lebron, Manu was a complete disaster. Honestly, their most competent player with the ball looked like Boris Diaw – and he wasn't even looking at the basket. Then Tony Parker single-handedly engineered a seven point swing in about 45 seconds and it looked like the game was over. We know the ending, and I suspect all anyone will remember will be the Game 6 comeback, Lebron's triple-double, and his second title. That's quite unfortunate. It was a much more interesting series than that.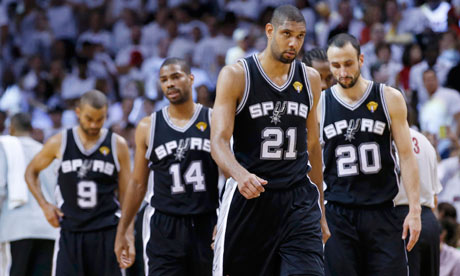 That said, as someone who did not hate watching the Heat win, I was quite surprised by how devastated I was watching the Spurs slip away in the fourth quarter of Game 7. And my despair was not just because the series ended. Disclaimer before Kevin Draper cuts me from the (non)payroll: I hate irresponsible forced-narrative journalism based on athletes' character, but from a fan's perspective, the Spurs won me over as the series went on. The clichéd argument is that the Heat are whiny floppers; a lazy self-assembled super-team. Duncan and company play the game "the right way," they hustle, they pass, they "know how to win." Obviously, much of this is false. The Spurs mystical understanding of winning did not keep them from coughing up an enormous opportunity and advantage in Game 6, and it did not bring them back in Game 7. The Heat hustled. Everyone hustled. This series makes the "professional basketball players don't try hard like college players" argument look even more ridiculous than usual. But ultimately, I liked watching the Spurs play a lot more than the Heat, and I became invested in their success.
Instead of remembering this series for Lebron's ongoing coronation or whatever you call it (he wins at least three rings. I'd place the over-under at four), I will remember how the Spurs made me appreciate them. I couldn't place it until I contrasted the Heat's mess of a third quarter in Game 6 with the Spurs repeated failures to pull back into the game in the final quarter of the series. Each team made horrendous mistakes as their season hung in the balance. Wade took possessions away from Lebron and repeatedly ended up on the ground waiting for a foul that never came. Lebron carried his team to the brink of a come-back but then drove into traffic aimlessly and threw an alley-oop to no one. In Game 7, Manu fell apart in a way that I've never seen from a potential Hall-of-Famer with a handful of rings; he actually looked like the Monstars "stole his talent." Duncan could not provide his team the offense they so desperately needed – even when faced with mismatches. But how the team's responded was different. The Spurs faced elimination as if no one was watching. Miami faced it as if they were terrified of what people would say if they lost.
In Game 6, every critical error by Wade or Lebron was followed by a desperate fall, or a stunned look at refs, teammates, and cameras. On one position in Game 6, Wade received a no-call on a reckless drive through traffic, then simply stood up and pouted as the Spurs pushed their numbers downcourt. He did not even make it back onto the TV screen until shot-clock was in the teens. The Heat's reaction to their probable downfall and their own mistakes reminded me of my reactions to my athletic mistakes as a child. When I threw a ball to no one, or let a grounder fly between my legs and under my glove, my instinctual response was to fabricate an excuse – I hurt myself throwing the ball, someone fouled me, the ball bounced erratically on a rock, I have lupus, anything to spare myself humiliation. Anything so I would not have to own my own failure. That's what I saw from the Heat until the final moments of Game 6.
Contrast the Heat with what I saw from the Spurs – particularly Duncan –  as they faced their own long odds in Game 7. They didn't handle the circumstances any better in terms of performance. Duncan missed gimmes. Manu threw the ball to literally no one. Repeatedly. But every time, without hesitation, they grimaced, they slapped their hands in frustration, and they sprinted back down court. Let's not forget that Duncan patented the shocked and incredulous "Duncan-Face," and Manu's flopping in the past has absolutely repulsed me. But there's a time and a place. In Game 1, the complaints might wear down the refs and ultimately get you the call you need to win in Game 6 or 7.  When you have 5 minutes left in your season, they get you nothing. I hate to ever say a team wanted it more, and I won't. But I will say what it looked like: The Heat looked like they were terrified of being blamed or criticized if they lost. The Spurs just looked like they really, really, wanted to win.
All that said, I'm not in the business of lamenting the suffering of multi-millionaire athletes with a collection of four championship trophies. But history forgets the loser, and I would like to remember that the Spurs earned a fan even in their loss. I don't suspect we are going to see Duncan's Spurs in another final. I probably would have said the same thing in 2007, but it seems a much safer bet this time around. But four out of five isn't bad, and I'm always excited to see who fills a vacancy among the top contenders.
*Please note, the Spurs did not actually win Game 7. It still feels a little like they won Game 6, but I'm quite certain they lost Game 7.