Diss Guys: Jarrett Jack and Carl Landry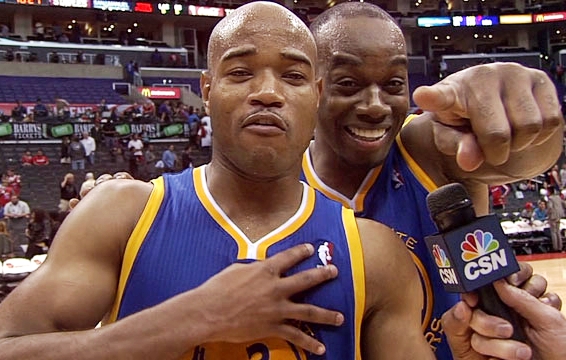 Today was a very big day in Warriors land.  We got Andre Iguodala from the Denver Nuggets, and said goodbye to Andris Biedrins, Brandon Rush and Richard Jefferson.  We cleared out a ton of salary, and gave a way at least two first round draft picks.  But we also had to renounce our rights to two important, beloved players: Carl Landry and Jarrett Jack.
Both of these guys got their fair share of criticism over the course of the season and the playoffs, but the fact remains that these guys were instrumental in the culture change in Oakland.  In Jack, you had a hard nosed leader who could assume point guard duties, and who could score in late game situations.  Landry was a useful power forward who filled in admirably for David Lee during the playoffs, and was one of our most consistent scorers in the post.  As Jack and Landry went, so too did the Warriors; when those guys were on, we were a very difficult team to beat.  They were amazing assets.
It was clear they enjoyed their time in Golden State, and we definitely enjoyed having them here.  Because of their solid play, they'll get handsome salaries, and prominent roles on good teams.  I don't feel bad for them, or myself.  But it's always difficult to say goodbye to someone you've grown fond of, and this is no different.
Fare thee well, gentlemen. We'll always cheer for you when you come through Oracle.
Miss Guys: The University of Washington
Like most institutions of higher learning that have adopted the high tuition-high financial aid model that is quickly privatizing public education, the University of Washington is all about raising tuition.  According to a June report from The Seattle Times, UW has raised its tution each of the last four years.  Both UW and WSU have raised undergrad tuition by 85% over the last five years.  At this point, it is difficult for the average middle class family to afford public education from UW, and there are fewer opportunities for low-income students to go to college in Seattle.  However, the UW is not exceptional; most public universities rely on tuition to operate the school, thus nullifying the very definition of public education. UW is just doing what other peer institutions are doing.
However, I've never seen a school do what UW is trying to do for some of its most wealthy and prominent alumni.  Last week, a number of current and former NBA stars who went to UW played in an alumni game in Seattle. Included in the ranks were current players Spencer Hawes, Jamal Crawford, Nate Robinson, Quincy Pondexter and Tony Wroten, as well as former (or occasional) NBA players like Brandon Roy and Will Conroy. The game was a rousing success, and highlights from the affair made the rounds on the internet.  The problem?  According to the NBA, UW didn't get approval from the league to release the players to play in the game, which is a requirement for the period between the end of the finals and the end of the moratorium when trades cannot be approved by the league offices. In total, the UW alumni racked up $50,000 worth of fines between them.  And UW wants to front the bill.
To me, this is criminal. UW is barely affordable, and the Washington state legislature is making no moves to give more money to the public education system.  Students are being relied upon to provide the funds necessary to keep schools open and running.  And the school wants to bail out it's rich young athletes?
UW's priorities have always been skewed, especially when it comes to budget cuts and tuition hikes.  This is another sad chapter in a history of putting students absolutely last in massive public universities.  Shame on UW, who thoughtlessly bail out millionaires while the lower and middle class struggle.