Diss Guy: The "Underwhelming" 2013 Draft Class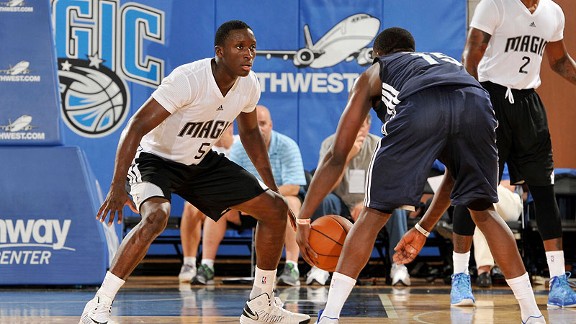 My beloved 1995 Honda met its maker this week, and as a result, I was laid up in my apartment, taking care of what I could do work-wise from home. When I got sick of looking at car loans and identifying potential replacement Hondas, I turned on the Orlando Summer League, which was playing on First Row Spo…er, NBA TV, all week long. I was eager to check out a draft class that was described variously as sub-par, underwhelming, weak and lackluster, all before they played their first games of professional basketball.
What did I find?  Well, not a whole lot of disappointment, weakness or lack of skill, at least at this point.  Kelly Olynyk looks like exactly the type of the player the Celtics need in a physical, inside-outside forward. Victor Oladipo looks like exactly the type of player the Magic need in a dynamic offensively-minded combo guard who can run a team, or take over the offensive duties himself.  Peyton Siva looks like exactly the type of player the Pistons need in a backup point guard, who can come off the bench and orchestrate an offense built around Andre Drummond and Greg Monroe in the post.  There was a lot to like, and not a lot of disappointment.  Sure, Trey Burke and Michael Carter-Williams didn't look like much at the moment, but there's definitely something there.  Overall, I was pretty pleased with the earliest glimpses of this year's rookie class.
Draft coverage always seems to be an all-or-nothing affair; either this young man is going to change the fortunes of the franchise, or they're going to flame out and become pariahs in our public and private remembrances.  Summer league tends to adopt some of the same totalitarian mindset, in the sense that the performances are hyper-analyzed, and the circumstances largely ignored.  We can be impressed by the per-game numbers of rookies while ignoring the fact that their defenders are equally as green or under-skilled (respective to a typical NBA game and/or player), and we are liable to project individual (and team) results that are more hypothetical than assured.  Summer league provides an imperfect vision of the future prospects of a new player, and as long as one doesn't take too much for granted, there's a lot to learn.
There's still a lot of time before these guys suit up in their first NBA games against everyday players, and of course, the possibility of outright "bust"-ed-ness persists until they call it quits.  But for the time being, the "underwhelming" and "disappointing" label seems misplaced.  These guys can play.
Miss Guy: Whomever is Asleep at the Wheel in Milwaukee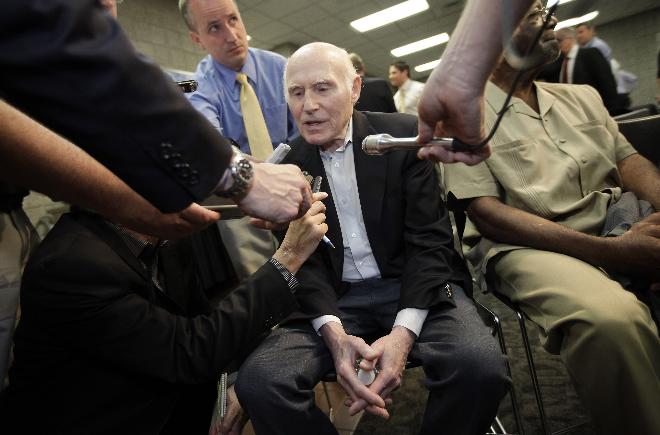 In a cosmic sense, there probably is no right way to rebuild your team.  Lots of different methods will be on display this year, as a full half of the league will have incentive to rack up the losses in a hope to either land one of the vaunted 2014 draft prospects, or sign one of the quality 2014 free agents outright.  Some rebuild jobs take only a year, others take many sustained years.  But as long as you don't end up like the Clippers and Warriors of old (and the Pistons and Timberwolves of now), and get mired in an endless cycle of rebuilding because the front office has no clue how to do their jobs, there really isn't anything you can do wrong to get better.  Create flexibility, acquire talent, and either develop that talent, or swap it for equal (or greater value).  I don't care how you do it.  Just do it.
So with that in mind, I really don't understand what's going on with the Milwaukee Bucks.  The Bucks finished 8th in the East at 38-44 last season, which was good enough to get full-on embarrassed by the eventual champion Miami Heat in the first round of the playoffs.  The team was faced with some "tough decisions" that really didn't seem that tough. They had to figure out which of their not-terribly-exciting free agents to sign and extend between Brandon Jennings, Monta Ellis and J.J. Redick, whom they acquired at the deadline.  They had to figure out a way to shed the baked albatross contracts of Drew Gooden and Ersan Ilyasova (a quality player who is wildly overpaid). They had to draft wisely and identify which players were worthy to keep around for the future (by my estimation, only Larry Sanders and John Henson are deserving of this "honor"), and start to get ready for the 2014 summer.  Seemed fairly textbook, at least to me.
Shows what I know! After not trading either Brandon Jennings or Monta Ellis at the deadline, but Bucks let Monta walk to the Mavs for nothing a few days ago.  J.J. Redick, whom they acquired as an expensive garnish for about 30 regular season games and four forgettable postseason contests, was traded to the Clippers in a three-team swap.  With their available cap space, the Bucks added career-backup Zaza Pachulia to an already crowded backcourt, and signed noted chucker (and beginning to show his true journeyman skin) O.J. Mayo to a multi-year deal.  And now that most have wisely passed up on Brandon Jennings in this first round of free agent signings, the Bucks seem to be earmarking that money for the equally-meh point guard Jeff Teague (with point guards as good as they are these days, this guy is a backup on most quality teams, and we all know it), to the tune of 4 years, $32 million dollars.  That's right: the Bucks have a team entirely composed of backup players.
It's strange to me that the Bucks would go this route now, because their problems go a bit beyond the typical team.  There is still some doubt about what the team's future is in the city. The team's owner, Sen. Herb Kohl, has repeatedly stated that he wants to build a new arena to replace the 25 year old Bradley Center, but as far as I can tell, no definitive moves have been made to break ground.  Kohl has also stated that he has no interest in "rebuilding", and will aim to put the best team on the floor every year, with whichever players are available. But what happens when the players aren't very good?  "It doesn't mean, as some people have thought, that maybe I'm satisfied with mediocrity," Kohl is quoted as saying early last month before the Draft. "I'm not. We want to get X number of wins, and when we get there I want more wins. And then after that, you want more wins. Teams that are winning find a way to win some more." While this sounds good, the reality doesn't always match the fantasy. We've seen what prolonged irrelevancy can do to a fan base's purchasing habits (at least in Seattle, Detroit, Philadelphia and purportedly, Sacramento), and as a team that looks poised to finish between 7th and 11th in the Eastern Conference for the time being, and either draft in the late lottery or mid-first-round, this is not an enviable place to be in.  Desperate times call for some dramatic moves, and, per usual, the Bucks seem to be playing it safe.
Simply put: given the way the NBA has changed in recent years, I cannot think of a worse time to be a middle-of-the-road team.