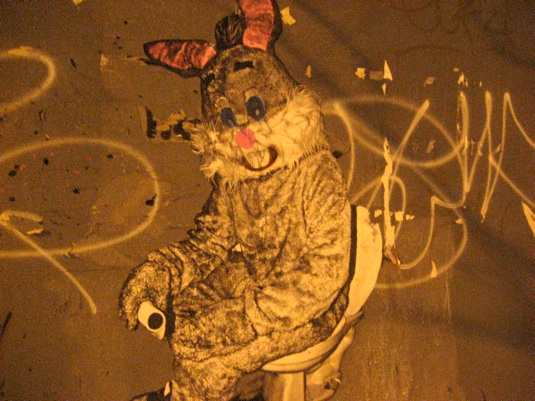 First of the month. Hope you remembered to say Rabbit Rabbit (Rabbit).
The Unfortunate Tale of T-Mac
Bill Simmons
Grantland
There wasn't a lot written about the NBA this week, and what was written was focused on the retirement of Tracy "T-Mac" McGrady, the enigmatic swingman who looked like one (of many) Next Jordans at the turn of the century.  This is Bill Simmons' take on the career of T-Mac, and he does a really nice job putting the entire affair into context. The crux of Simmons' argument is that T-Mac's skill pre-determined his role as both the primary player and leader of a team, but the teams he played on were never skilled enough, and T-Mac himself lacked the personality necessary to lead an NBA team to great heights. This is a safe argument, and one that has been advanced before.  The best part of this piece was the way Simmons contextualized the sadness one feels when a formerly transformative player is relegated to spot bench duty towards the end of their careers.  Once you can't crack [the 9-man rotation-, you're confined to cheerleading and garbage time," writes Simmons. "But you're still there. We see you during every timeout and every layup line. Almost always, you're somewhere in your thirties, so you don't look dramatically different than you did when you mattered. It's almost like you threw on a Halloween costume of yourself." This is definitely great work (though, true to Simmons' form, it goes on probably five paragraphs too long) and worth a read.
- JG
AI, T-Mac and Lamar: A Divisive NBA Era Ends All At Once
Bethlehem Shoals
GQ
It is always a pleasure when Bethlehem Shoals — the formative figure in homegrown basketball analysis for a great number of us armchair analysts - writes something about basketball. It is even better when Shoals writes about the era where he (and FreeDarko) came into prominence. That era, as Shoals writes, is all sort of ending at once, as three of its defining figures — Allen Iverson, Tracy McGrady and Lamar Odom — have all reached their moments of reckoning, at least NBA-wise. Shoals chooses to largely gloss over AI and T-Mac (understandable considering the crowded market in former All-Star eulogies this week) and instead focuses on Odom. In his discussion of the puzzling multi-skilled positional revolutionary, we get a compelling summarization of the early 2000s in the NBA. "This isn't the endpoint to his career—that might never really come, in the sense of Odom's story being settled or readily digestible—and it doesn't even feel right to call it the end. In some ways, it never really started," writes Shoals. To me, this seems to be a perfect way to encapsulate the turn of the century in the NBA: an era that never really ended, because it's difficult to know when it actually truly began.


- JG
The Future of Injuries in the NBA
Derek James
Hardwood Paroxysm
While Tracy McGrady makes a cameo in this excellent piece by Derek James, his inclusion is mostly cursory, as it highlights the main point of the piece: preventative care is becoming commonplace in the NBA, and that wasn't always the case. James' analysis focuses on the Minnesota Timberwolves, whose promising 2012-2013 team was compromised by injuries of both the nagging and catastrophic variety. James explains that new Wolves boss Flip Saunders is making a point to not "over-train" the players, as he feels that in previous years (under the former boss, David Kahn) many injuries came from unnecessary wear and tear. Saunders' goal is to have the players and their various coaches and trainers to come to an agreement about how much training is necessary for a player to perform well while maintaining a relatively high level of health. As a person who coordinates health services for individuals, and sees first hand how an over-abundance of services can have a deleterious effect on a particular client, I found this analysis to be very interesting and enlightening.
- JG