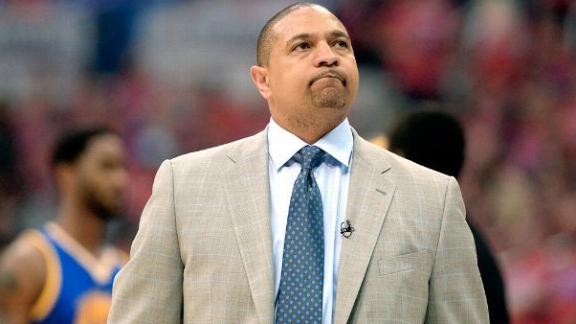 It was a weird season for the Golden State Warriors. The team hadn't experienced such on-court success in over twenty years, but—with all due deference to Chris Cohan and Robert Rowell's special brand of suck—it also hadn't seen this level of dysfunction in nearly as long. On Tuesday head coach Mark Jackson paid for that dysfunction with his job.
Jackson isn't obtuse, and he long felt the fans' open frustration with his team. He resorted to lashing out in the media, blaming them back in February for a situation that was his own fault: "I mean, we are 10 games over .500. Some of you guys haven't seen that in a long, long time. So keep on acting like you have." Taking a cue from his coach, Jermaine O'Neal uttered similar comments in April: "This city has suffered for many, many years. This city has only had four seasons in the history of this organization when it has won 50-plus games. So when you get an opportunity to appreciate . . . I just don't understand it." O'Neal is right, he doesn't understand it, and would have been better off remembering the old saying, "better to remain silent and be thought a fool than to speak and to remove all doubt."
***
Each home game, the Warriors feature a Season Ticketholder of the Night. During a timeout said season ticketholder receives some swag and is asked what their favorite Warriors memory is. Almost without fail, they say the We Believe team. If they're in their 40s or 50s they might say Run TMC. I've heard the 1975 championship team nominated once. If you are younger than mid-30s, until last year We Believe provided the only good Warriors memories you had. The rest of those memories are filled with 28–54 seasons and parades of incompetence.
Every NBA fanbase is unique. Whether because of geography, the region's character, a momentous event or something else, no two are alike. What makes the Golden State Warriors fanbase different is its consistent support of the team even when it was losing. For at least a decade and change, fan support has been much stronger than the team's play on the court. It is the loudest arena in the league—especially come playoffs—and attendance has almost always outstripped league position.
When I was seven, my family left our cramped Oakland home and moved to the suburbs. I wasn't thrilled to leave everything I knew behind, and besides, Castro Valley was weird. Every goddamn second grade boy was obsessed with Star Wars, while I had never seen the movies. My teacher wasn't as nice as my old teachers. And that is why I am a Golden State Warriors fan, because seven year old Kevin missed his home. Frequent readers of The Diss know how much I love Oakland, and the Golden State Warriors are hopelessly entwined with that love.
I can't tell you why other people became Warriors fans, but I do know that there are way more than the organization deserves based on its performance, and that becoming fans had nothing to do with falling in love with a winner. Because of the unique construction of the fanbase, Warriors fans place less emphasis on winning—and perhaps less emphasis on the on-court product overall—than others. The fans want the Warriors to win, of course, but if their fanhood depended upon success Oracle Arena would have been abandoned a long time ago.
Stability and managing expectations are very important to Warriors fans. The Chris Cohan era saw Latrell Sprewell choke PJ Carlesimo and threaten to kill him, 19,000 fans booing Chris Cohan in front of his son, Monta Ellis tearing ligaments in his ankle while riding a moped and lying about it, the PR director posting on fan forums under an assumed name and numerous other disasters. The void Chris Cohan's non-existent leadership left was quickly filled with chaos and turmoil.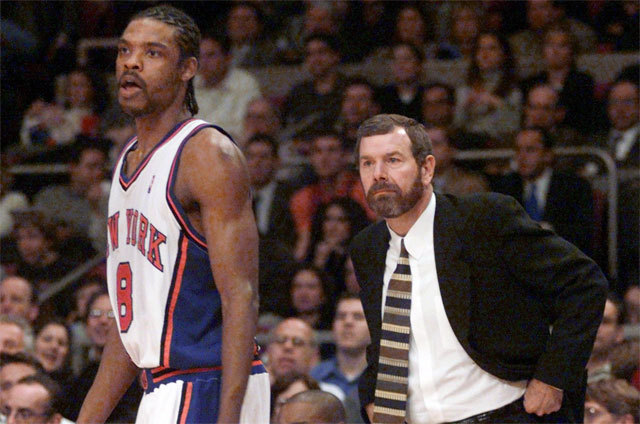 To obscure this chaos and turmoil, promises were made that were rarely kept. Promises of playoffs, promises of an end to rebuilding, promises of the talent of draft picks. TV broadcaster Bob Fitzgerald led the relentless cheerleading, and the team pursued quixotic quests to push unworthy players for the All-Star game or postseason awards, not because they actually had a chance to win but to trick the fanbase into believing the team wasn't pathetic. They attempted an elaborate smoke and mirrors routine to convince fans everything was alright, and oh by the way you should renew your season tickets.
Unmet promises, what does that remind you of? Mark Jackson promising playoffs before a season in which the Warriors would go 23–43, and condescendingly saying afterwards he was trying to "change the culture" of the team? Joe Lacob vowing to build an arena on San Francisco's piers 30/32 even when everybody said it would be near impossible?
Chaos and turmoil, what does that remind you of? Reports that Mark Jackson banned Jerry West and Kirk Lacob from most practices, and pettily moving Darren Erman's parking spot? Pissing off his center by speculating about his injury, and then blaming the media when his center got mad about it? Dismissing the importance of late night playoff preparation the day before his team lost by 40?
The Warriors' off court problems would be troubling in any market, but the wins and playoff appearances could be enough to paper over the cracks. This is what Jackson and O'Neal thought when they condescended to the fans and media, lecturing that they saved the team from basketball purgatory, and everybody should be grateful for it. But to mangle an overused quote, Warriors fans were born in basketball purgatory, molded by it.
***
It is nearly four years since Joe Lacob bought the Warriors, and the Cohan era seems like ancient history to most. But collective neuroses take a generation to develop and just as long to dissipate. This is the idea Bill Simmons was attempting to describe when he said that Grizzlies fans get tense because of the MLK shooting. Warriors fans have self-defense mechanisms habituated years ago, like distrusting on-court success until it proves beyond a shadow of a doubt to be genuine. Warriors fans know that you're only one boneheaded Jason Richardson trade away from extinguishing the glow of the greatest playoff upset in NBA history.
Warriors fans sense negativity before the signs manifest themselves. The Warriors may have won 51 games this season, but they slipped relative to the competition. Stephen Curry may love Mark Jackson, but loving Don Nelson didn't prevent Stephen Jackson from forcing a salary cap crippling contract extension. Mark Jackson may be a good coach, but he alienated his only high-quality assistant coaches. We are conditioned to understand that this means another season in the basement is arriving shortly.
Once upon a time, Warriors fans knew who to blame: Chris Cohan. But who is the scapegoat now? Joe Lacob talks an impressive game, and took a walloping from the fans for it, but he has transformed the management of the Warriors. General manager Bob Myers has signed some duds, but has assembled one of the best rosters in the league. Mark Jackson's game plans lacked tactical nuance, but his players never stopped working hard.
Chris Cohan was always the organization force for Warriors fans, the gravitational pole that attracted all anger, angst and disappointment. But amidst unmet expectations and a fanbase exuding an ever-increasing amount of nervous energy, there was no clear direction to aim. At first it was pointed towards Joe Lacob, but slowly shifted to Mark Jackson. Every poorly-called iso, every opponent run uninterrupted by a timeout while Jackson stood wistfully with his hands in pockets, every bad home loss, every leak of trouble with the coaching staff and every unnecessarily defiant press conference were throwbacks to the not so ancient history of Warriors fandom.
Firing him may not be 100% fair to Mark Jackson, but if he wanted to avoid it he should have listened to the fans instead of lecturing at them. He didn't understand his history and paid the price for it.