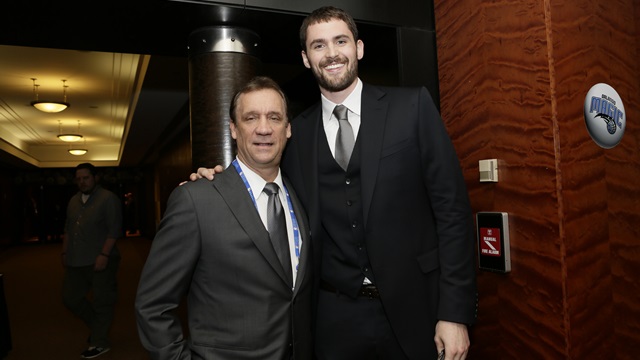 It was saddening that, for perhaps the thousandth week in a row, the Timberwolves found themselves on the wrong side of the headlines, mostly due to factors beyond their immediate control. At the beginning of the week, reports began to surface stating that Kevin Love had informed the front office that he was unlikely to re-sign with the Timberwolves for the long-term — he can be a free agent at the end of next season — and to begin exploring trades that could take him to a more preferred destination. Though the moment a superstar spurns the team that drafted him is among the more brutal gut-punches a fan can experience in the Association, it seemed to be cut by the fact that Dave Joerger, successful head coach of the Memphis Grizzlies, and known Flip Saunders protege, seemed to be a virtual lock to replace Rick Adelman for the 2014-15 season. For a brief moment, it looked like there was a sense of clarity to a rapidly-evolving situation — Memphis was clearly cleaning house, Joerger didn't appear to be in the franchise's plans, and Minnesota needed someone to take control of a rapidly devolving situation. But even that small moment of respite ended, now that Joerger and Grizzlies owner Robert Pera Jr. have hugged it out, and decided to work together for at least the next season. Now, the Wolves are back where they started last week: coachless, star-crossed, and searching for answers to problems they anticipated they might have, even when things were looking rosy.
While things have been bad in Minneapolis for nearly a decade now, there's something that feels especially desperate about this particular situation. The team has been on the rebuild for nigh on ten years; their last playoff appearance as a 2004 Western Conference Finals participant against the Lakers fading further from the mind's eye as forgettable seasons pile up in the driveway, waiting to be shoveled before it hardens and turns into ice. While it's possible the team could experience a 2011 Denver Nuggets-esque rebirth, and coagulate into a team of athletic, young, upwardly trending players, all of whom arrive as a result of a blockbuster trade based around Love, and all of whom buy into the system of a respected veteran coach, it doesn't seem terribly likely. Teams that cannot get tread on a rebuild end up spinning out in the mud for years, digging themselves deeper and deeper into a hole. Fans of the Warriors and Clippers know this all too well; their teams spent the better part of two decades trying to find a winning formula, and even then, it was mostly a game of chance that finally allowed for the moratorium to be lifted, and winning basketball to return to these respective polities. When that happens, though, all bets are off about what is going to occur, and how long it will take for it to coalesce. Way back when, David Kahn suggested it might take five seasons for the Wolves to make the playoffs. Given where the team stands at this given moment — firmly on the precipice of a total implosion and grinding rebuild in a cutthroat conference- it could take many more seasons than that.
One of my favorite aspects of the Wolves — especially the 2013-14 Wolves team that finished above .500 for the first time in a decade, yet fell quite a bit short of its intended goal of making the playoffs as a low seed — was always their rugged individualism, a style of play that stood out among its peers. The Timberwolves existed as a collection of individuals, banded together to use their endemic skills to better a larger cause. The eye test was a perfect litmus for this team, as one could roll down the roster, and quickly pick out the individual skill that was supposed to guarantee success for the entire squad. It was easy to see Love's ability to create his own shot from nearly anywhere on the court was supposed to carry the team, while Ricky Rubio's deft passing was supposed to create spacing and generate scoring opportunities. Corey Brewer's rubber-man act was going to have an impact on both ends of the floor, while J.J. Barea's gritty, hard-charging style was going to anchor the bench, and generate some much needed offense. Of course, these things didn't happen, or at the very least, they didn't happen consistently enough to win 10 more games, and guarantee a playoff spot. But in the mind of a powerful individual like Flip Saunders, whose own individual success with the franchise was enough to warrant a hero's welcome, despite the fact that, in NBA terms, he hadn't done much with this team at all, these particular individuals could overcome their personal weaknesses, and find solace in a team, where weaknesses are masked, and strengths are accentuated.
It is not my desire to watch this team be dismantled piecemeal, as other teams that cannot make expedient forward progress on a rebuild are wont to do. Already the signs point to a fairly calamitous upheaval in downtown Minneapolis, and the team will look entirely different next year. While it seems at this point the most important thing for the Timberwolves is not to get a "fair" return for Kevin Love, nearly no trade package for a 10 player will ever get a more favorable exchange rate than $0.75 on the dollar. The Wolves will have a difficult time receiving anywhere close to equal return for a player who not only was supposed to heighten win totals, but also raise awareness, and work to spread a brand (which Love had begun to do, no more explicitly than in Taco Bell commercials where he was wearing some pretty fly retro Wolves gear, and taking part in winter-time activities like he was a true Minnesotan). Moreover, it doesn't seem important that the Wolves hire a coach just to hire him; another round of horseshoes with Lionel Hollins, or another stroll around the block with George Karl. These would be the textbook fixes for a team that was looking to reach the mountain by taking the long ridgeline to the summit, rather than scaling a sheer rock face that plummets precipitously downwards.
Instead, it seems the most important goal for the Wolves as they head into this offseason is to determine who they are. It seems important that the Wolves — as an organization, as a fanbase, as a state of mind — firmly stand by what they stand for. The question is: what exactly do they stand for? One can't stand for "we fell just a bit short" every season. One can't stand for "we can't attract major free agents in Minnesota" year-after-year. One can't stand for "we can't keep our superstars content and confident in our organizational vision" as a way to define whole decades of NBA basketball. A positive trait must be identified and honed in on, something to sell to both prospective free agents and disinterested, disenchanted fans who wonder why they should even bother with an institution that seems destined to struggle, even though the team has, by definition, gotten better each year since they drafted Kevin Love, and began the ill-fated process of reaching the promised land of the Elite Eight in the West, falling some degree of short each season.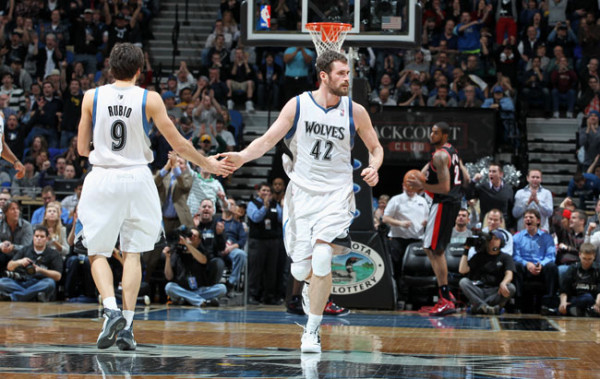 If Mark Jackson did one thing right while he was coach of the Warriors, he made that spongy movement of "culture change" easily definable, and transparently observable. He made it clear that the Warriors were now a defensive team, even though every part of their history suggested otherwise. He made it clear that he was going to be an unconditional support for his players, even if it meant that they weren't fully challenged on their shortcomings, and it affected his ability to "manage upwards and sideways" with his bosses and peers in the organization. In the end, his fervent desire to "change the culture" of the Warriors was his undoing, but in doing so, he created a mindset of predictability, and produced a healthy dose of results. That culture change allowed the Warriors to snag the premier coaching prospect this offseason, and has put the Warriors in the mix for most top-shelf availables, like Dwight Howard last year, and, yes, Kevin Love this year. It wasn't something that happened overnight, and without numerous disappointments. But it happened. And I truly believe it will happen in Minnesota, too.
If Kevin Love is traded, I do hope the haul is bountiful. When a new coach is hired, I hope he (or she; I'll never stop hoping that ceiling is broken someday) can come in and immediately make a positive impact, and be able to put all the effort and energy into the job that is necessary to take a team that just cannot figure out the right formula to win the 45 games needed to even be in the playoff conversation out in the West. But more than anything, I hope the Wolves can identify that person, place or thing that makes them who they are, and they begin to champion that ideal. I hope the Wolves can find that special someone to soften hearts, harden minds, and end that individualism that has plagued the Wolves for the last decade and kept them essentially frozen in place.