Diss Guy: Adrian Wojnarowski
It started with the draft last week and has continued unabated over the past week: I open Tweetdeck and my eyes immediately go to the list I've titled "Hoop" where a few of my favorite NBA minds congregate in a steady stream of messages, but I'm not looking for a few, I'm looking for one: @WojYahooNBA, the Twitter handle of Yahoo Sports' Adrian Wojnarowski who has become the LeBron James of breaking NBA news and signings.
Sure, there are others in the game who are masters of their craft like Marc Spears (also of Yahoo) and Marc Stein (of ESPN), Brad Turner (of the Los Angeles Times) and Shams Charania (of Real GM), but there's only one Woj.
The pale, dark-haired, middle-aged bespectacled reporter looks like as bookish as you'd expect. He's not thin, not fat, there's nothing in his appearance that stands out. But as his reputation has grown, thanks in part to his massive Twitter following, his appearances have reached beyond writing and occasional radio to forays into the TV game with Fox Sports 1.
Being on the west coast, I was unlucky enough to have a work call scheduled last week when the draft kicked off. No fear though, I quickly turned to Woj who was, as he is every June, a step ahead of the actual draft. Before Adam Silver even made it to the podium to announce the picks, there was Woj tweeting out the picks with great accuracy and zero regard for scooping the commissioner and ESPN. While I had been in a hurry to cut the call short ("Yeah guys, that's all I got … no really, that's it. I don't need to hear anymore.") and hustle my ass home, I started realizing that the prospect of Woj tweet updates significantly outweighed the inane babbling of Bill Simmons and Jalen Rose on ESPN's coverage. I stood at the bus stop eyes glued to my phone where I eagerly followed Woj's tweets. Then I was on the bus, surrounded by faceless bodies, bumping me, invading my personal space, but it didn't matter because I was locked in waiting for the next Woj tweet.
It was around this time that I figured out I couldn't care less about the televised event. Woj singlehandedly crushed the allure of the NBA's top TV event of the summer. Unlike a game where the action itself is the substance you want, there's very little action at the draft beyond players exchanging hats.
A few days later, at midnight Eastern time on July 1st, the league's free agency period kicked off and there was Woj again, applying his own version of a swarming full court press, rattling off tweets that touched teams and players in all four corners of the NBA's world. His ubiquity is such that a couple of teens seized on his awesome infallibility to create a copycat Twitter account and fool a few veteran NBA journalists. Was Woj flustered or deterred? Nope, he just plowed through the wreckage like a headbandless LeBron, reporting more news and official signings with a higher accuracy rate than any of his colleagues.
Just for fun, I took a look at Rotoworld's NBA player updates to track the sources of their most recent NBA notes. In case you're not up-to-speed on Rotoworld, it's one of the primary sources of information on players for fantasy sports purposes. Part of the attraction of their blurbs is that they're presented in a simple, easy-to-digest format which includes a summary of player updates and then an editorialized fantasy spin.
After looking through over 100 updates broken by 54 different sources for 25 teams and 67 different players, the leaders in breaking news looked like this:
To be clear, this list shouldn't be looked at with any definitive sense of authority, but rather directionally to validate the view that Woj is everywhere reporting on everything. If you'll excuse me, I need to get back on Twitter and see what crazy business Woj has gotten himself into now.
Miss Guy: Uncouth Men of the Off-Season
In a league known for its fraternalism and occasionally incestuously nepotistic hiring practices, it's always striking to see an act of blatant inconsiderate regard with which former Bucks coach Larry Drew and Rockets guard Jeremy Lin have been treated. Worse yet, these affronts were catalyzed by men with reputations that foreshadowed exactly this type of shitty, shoddy behavior.
The former coach from Milwaukee was essentially the victim of a coup. Sure, new owners Marc Lasry and Wesley Edens provided the arms and the atmosphere for the hostile takeover, but it was Jason Kidd and his agent, Jeff Schwartz that set the process in motion.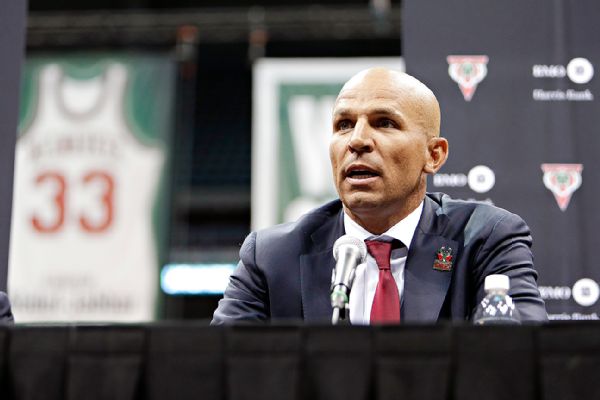 Is there a protocol or a best practice for how to go about getting an NBA coaching job? If you believe the aforementioned Adrian Wojnarowski, then yes, there's a coach's code where "You don't pursue job belonging to someone else." Kidd going after Drew's job doesn't appear to be unique as Woj wrote back in May in regards to Pacers coach Frank Vogel:
Most of the stories surrounding Vogel's possible removal as coach, league sources told Yahoo Sports, had been coming from unemployed coaches trying to angle themselves into contention to replace him.
Kidd, and likely anyone else attempting to go to underhanded lengths to supplant an existing coach, has a simple response: "I think Billy (King) said it best: It's business. That's what it comes down to."
That the NBA is such a small, tight-knit community is where an "it's business" attitude has the appearance of becoming problematic, but with both Kidd and Rockets GM Daryl Morey, that hasn't been the case at all. In Morey's latest situation, his callous decision (as GM and the external face of the Rockets organization, he has to be held accountable), to use Lin's number 7 in a mockup of Carmelo Anthony was disrespectful and dismissive of Lin, a player still on the team and still under contract.
As Eric Freeman, also of Yahoo Sports, wrote:
It's an approach that treats Lin not so much as an employee in partnership with the franchise than as a mercenary contracted for a particular task. While the latter may be true in terms of cold contractual language, it's far from the only factor in a sports world where loyalty and family bonds are spoken of as principles that contribute to success. When a player is spoken of as an "asset," he becomes a commodity rather than a person.

Any NBA player must know that he could be moved to another team at any time — it's part of the business. However, at a very basic level, they still want to be treated with respect. It's a point worth keeping in mind the next time a Rockets executive — or one from any team, really — demands that a player show his loyalty to his team. These relationships must go both ways if they are to mean anything.
Freeman acknowledges the inevitable role of business in the NBA, but also points out the obvious: that players (and coaches) want (and deserve) to be treated with respect. Some would hope that karma exists for people like Kidd and Morey who show such little regard for others, but in each man's case that hasn't happened.
In Houston, Morey continues to attract free agents with a combination of glitzy sales pitches, big money, and a pipedream of building a championship contender – which feels further and further away as the Rockets repeatedly dismiss any notion of chemistry or fit. Meanwhile Kidd, who had a reputation as a coach killer as a player, is able to get a head coaching job fresh out of retirement and parlay one decent season in Brooklyn into a raise and an extension in Milwaukee. If you're looking for justice, as our little friend Tyrion Lannister from Game of Thrones reminds us, "you've come to the wrong place."
We hope the nastiness catches up with guys like this, but in an NBA where the top-paid coaches are guys with zero years of bench experience and GMs are increasingly selected for their ability to navigate the complexities of the cap (or for their association with the Spurs), it appears that business, no matter how seedy or unseemly, trumps basic decency. The sad aspect of this possible trend is that in both Morey's and Kidd's cases, the end result could've been achieved with just a modicum of considerate communication that was overlooked, ignored, or worst, acknowledged, but dismissed.