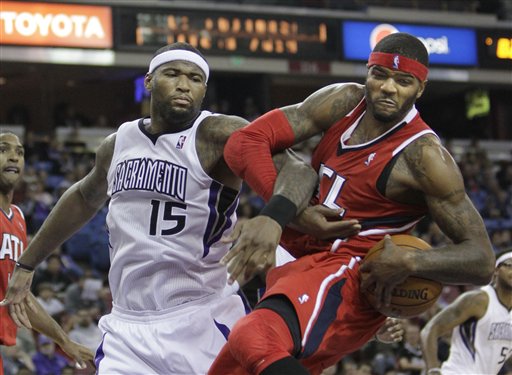 When reports began to surface that the Sacramento Kings were pursuing Detroit Pistons forward Josh Smith - the mercurial, handsomely-paid forward who has endured trade rumors for most of his waking career, and who continually seems to be fighting against himself to determine what, exactly, his precise skillset is — I threw my arms up in the air, and grinned widely. "Maloof is a state of mind!" I said to anyone who would listen, dancing impishly about the room, tweeting hate with reckless abaondon. "Maloof is a state of mind! Maloof is a state of mind!" Luckily, I was in my own abode, all alone with my ear-piercing blasphemy. A more respectful fan would probably offer hard stares and tightly pressed lips were they to hear my gleeful exultation over yet another head-scratcher from the powers that be in the 916. It's not Maloof, you dummy, their faces would say, contorted with ugliness and annoyance. It's Vivek Ranadive. It's a brand new era. 
On paper, it's hard to disagree with that overly-defensive straw man (of my own creation), feeling strangely defensive about a professional basketball team. Vivek Ranadive, the team's majority owner, isn't a Maloof, glistening unnaturally in the sun, a screen-printed t-shirt stretched to the limit across an expansive midsection. Neither is Pete D'Alessandro, the team's GM, nor is Michael Malone, the team's head coach. This is an old hat with a new head, trying to show how to properly wear a bowler that had been neglected for years, long overdue for a jaunty stroll in the sun. Yet, they go about wearing that old hat in a strange new way, conjuring images of a more abusive stewardship, complete with $6000 combo meals from Carl's Jr., and drafts more focused on making headlines than finding true cornerstones. In addition to their pursuit of Josh Smith — and the three years, $40.5 million dollars left on his contract — the Kings opted to pay free agent point guard Darren Collison three years, $16 million to become their starter, and sent Isaiah Thomas (who was slated for a payday after a 20-and-6 season for a bad team) to a division rival. They drafted Michigan combo guard Nik Stauskas, even though they drafted their shooting guard of the future in Ben McLemore last year. They let it be known that they wanted to keep brick-laying small forward Rudy Gay around for the long-term. And perhaps most importantly, their arena is being held up by a citizen's action group, threatening financial losses for the team's owners, and conjuring doubt among many outside of Sacramento that this thing is actually going to get done, and that this situation — broken and shattered for nearly a decade — will be made whole, finally, once again. It is this stumble-trip of an offseason that allows me to chortle that "Maloof is a state of mind," even though the pieces, players, and prospects are purportedly much different than before.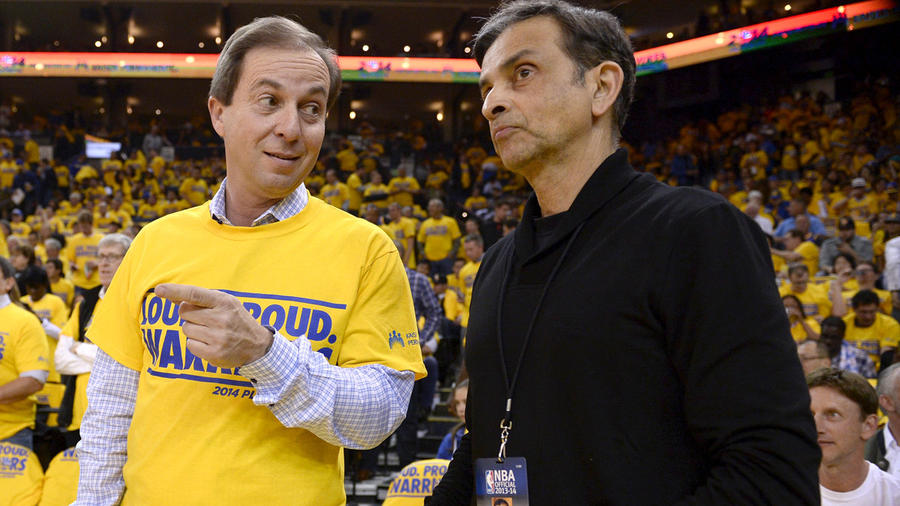 Now, stating doom and gloom in July is admittedly premature, and dare I say, rather un-Diss-like. Summer league isn't even over yet, and regular season rosters are months away from being finalized. Moreover, linking a learning-on-the-job new ownership group to a stodgy-and-distant old ownership group is an analytic pitfall, seeing as how fortunes can change relatively quickly, and feet can be crammed violently into once-proud mouths. Ranadive's old compatriots in Oakland, Golden State Warriors owners Joe Lacob and Peter Guber, can attest to this firsthand, and indeed, Vivek seems to be modeling their plan towards sustainable competitiveness. Certainly, the cacophonous boos issued by Warriors fans shortly after the Monta Ellis-Andrew Bogut swap imply that sometimes it's best to wait and see what happens, rather than react in the heat of the moment. A more invested fan would likely advise patience, and offer some time-tested euphemisms to explain away the suck. Rome wasn't built in a day, they might muse, or perhaps even more sternly inform me that patience is a virtue, you asshole. The point would be the same: give this team, this ownership group, and this front office some time, and things might get better.
But alas, it is the continuing puzzlement emanating from California's lovely capitol city that allows me to elevate the Maloofs — and by extension, a certain quality of "Maloofness" present in everything and every person in the Kings organization — to a different astral plane altogether, and label them as a state of mind. For a state of mind isn't simply held by the organization. Rather, it is shared by everyone who interacts with the organization, from the players on the court, to the fans in the seats, to the critics ALLCAPS-ing pithy internet critiques on blogs and social media sites. Simply put, it's the idea that the team doesn't actually have the wherewithal to make the damn thing work, to make the pieces finally fit together. It's the perception that a group of individuals are not enough to change a general ethos attached to a particular person, place or thing, and that that proper noun in question is doomed to repeat the mistakes it made in the past, albeit in different forms or fashions. When a backup point guard is signed as a starter, and another projected backup combo guard is drafted — even though the team already had a backup-as-a-starter guard who is more talented than the one they just signed, and already had a backup who looked pretty good last season — the link is easy to make. When the team pursues players that no one else wanted, and who sat on a trading block for nearly three calendar years because no team could fully convince themselves that they actually wanted this guy, the link is easy to make. And, sadly, when an arena fails to go up as quickly as promised, and grumbling over "citizen action groups" and "projected financial losses" begins to make their way into the headlines, memories of penny-pinching, restive municipal politics and backroom haggling present themselves unpleasantly, once again. Indeed, in those moments, Maloof is a state of mind, hovering like thick fog over a vast agricultural landscape.
While making a bad team good is far from an exact science, there are some general features that can be observed, and taken into account when considering other case studies focused on the same goals. For the purpose of this conversation, observing the Memphis Grizzlies — a team of similar stature playing in the same conference — is a useful exercise. A 2010 TrueHoop interview with Aaron Barzilai, the current director of analytics with the Philadelphia 76ers who at the time was a quantitative analyst for the Grizzlies, lends some clues into how a bad team in a small market can become good. The answer isn't revolutionary; it's common sense. Barzilai states that getting good is "a combination of everyone improving, and the team [playing] well as a unit" as well as an understanding that the team has to "play [their] starters a lot." Over time, "the strengths complement one another," and the team becomes good enough to compete. "I don't know if we're quite elite yet, but definitely in the top half of the League," Barzilai says about the 2010 Grizz, who ended up finishing just short of the playoffs, but who haven't missed the postseason since, and have qualified for a Western Conference Finals — their first in franchise history — in 2013.
However, it's important to remember that while common sense fortified the creature, its creation was a strange mix of luck, skill, patience and shrewdness. The Grizzlies had to wait for Mike Conley and Marc Gasol to develop. They had to invest (for a short time) in a coach like Lionel Hollins to construct a system of accountability and skill acquisition. They had to convince key role players like Tony Allen to come aboard. And perhaps most importantly, they had to acquire Zach Randolph when his stock was low, and create an environment for him to be successful. They did these things, and now they are who they are. The late Robert Heisley — at that point, mostly lambasted for trading Pau Gasol for seemingly nothing — went from zero to hero among NBA circles, and with him went his Grizzlies. And though it is certainly too early to tell — Smoove is still a Piston, after all — the shooting from a frontline featuring Rudy Gay, DeMarcus Cousins and Josh Smith doesn't carry the same gravitas as their counterparts in Memphis, nor the same potential upside.
At this point, the question seems to be: can the same thing that happened in Memphis with the Grizzlies in Sacramento with the Kings? Can the gritty magic of the Grizz be replicated in California's Central Valley, where orchards lay lazily across the landscape, and the sun beats down unkindly upon government servants and migrant workers alike? Can DeMarcus Cousins take another step upwards, get out of his own head, and become a Z-Bo figure for his city; a rallying point who exemplifies what, exactly, Kings basketball is, and what it will always be, from 1985 to forever? Can Michael Malone buck the trend among most first-time head coaches, and show enough progress to stick around with the team for the longterm? Can the front office figure out what to do with its positional logjams, and turn superfluous pieces into legitimate assets. Can Sacramento become a place to empower and teach, and become a legitimate destination where coveted free agents choose to sign? Can the ghosts of the Maloofs finally leave the land, and leave to haunt some other terrified polity, to ruin their own state of mind?
As rumors linking them to Josh Smith — scowling, drifting, and chucking his way to an unfortunate "overpaid and overrated" label — it's hard to see how to break this troubling state of mind, held strangely by the team, their fans, and everyone trying to figure out what, exactly, is going on there.