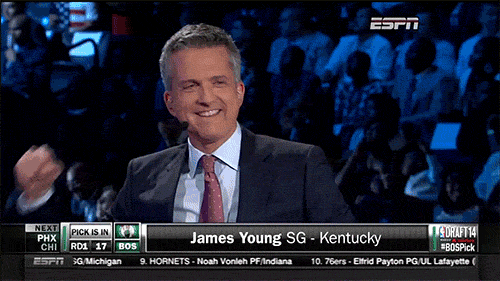 When you look at a list of current ESPN programs, the lack of NBA programming jumps out. NBA Countdown and NBA Shootaround are seen before and after NBA broadcasts. NBA Coast to Coast airs Tuesdays on ESPN2 opposite TNT's NBA broadcast, which is why you've probably never watched it. There is also NBA Fastbreak, which I've honestly never watched and I don't think is still on the air. For a sport that ESPN has an extensive investment in, that is the second or third most popular sport in the country, it is damn weak representation.
The NBA has never really been well-represented in Bristol and that continues to today. Chris Broussard and Brian Windhorst live in the NYC area. JA Adande, Ramona Shelburne and Bill Simmons live in LA. Israel Gutierrez and Tom Haberstroh live in Miami. Marc Stein lives in Dallas. Michael Wilbon lives outside of DC. Hell, the top two editors of ESPN.com's NBA section don't even live in Bristol. ESPN's NBA presence has always been on-site at games, not emanating from the studio.
That all changes this season, sort of. Yesterday ESPN announced up to 18 episodes of The Grantland Basketball Show, of course hosted by Bill Simmons. Eight episodes each will air during the regular season and playoffs, with one-off specials around the trade deadline and free agency period. The only person officially attached to the show at this time is Simmons, with the press release noting a "rotating" panel of contributors.
The momentum for this show has been building since Grantland was launched three years ago. Its initial video offerings were video podcasts and low-budget productions—a bunch of Grantland writers sitting around a living room talking about March Madness. But in the last year it has executed much more ambitious documentary projects like its three part features on Steve Nash and the Sacramento Kings war room, and its 30 for 30 shorts.
Bill Simmons joined NBA Countdown two seasons ago and almost immediately began chafing at his (in his opinion) limited role. He reportedly (it has been denied by everybody involved) forced Magic Johnson and Mike Wilbon off after that first season, and didn't mesh well with host Sage Steele during the second. I'd heard speculation (Jason McIntyre did too) that Simmons was looking to replace Steele with Beadle for a third season.
Mix one part frustrated but talented Bill Simmons with two parts beefed up Grantland video capabilities and, voila, Bill Simmons has his own show. If his oeuvre is any indication, The Grantland Basketball Show will be a success. Part of that is because the bar for success is pretty damn low: ESPN hasn't had a good NBA show in a decade (maybe ever?). Simmons also has a very successful track record when given creative control over a project: his column, podcasts, 30 for 30, Grantland. It is when he is given a voice but not creative control—Page 2, NBA Countdown—where his star hasn't shown as bright.
The main problem with NBA Countdown was that it had its feet in two different worlds. Simmons and Jalen Rose clearly desired a longer, more free form show like TNT's standard-bearer Inside the NBA, but the other cast members (whether it be Magic Johnson, Michael Wilbon, Doug Collins or Avery Johnson) worked better in a more traditional, non-controversial setting. NBA Countdown did neither particularly well.
The most interesting unanswered question about The Grantland Basketball Show is who the rotating cast members will be. Jalen Rose is a pretty safe bet, but besides that it is anybody's guess. Zach Lowe would seem to be a natural fit—and I really like his interviewing skills—but offering commentary is very different from interviewing, and Lowe doesn't seem to be particularly interested in pursuing television opportunities. We know Kirk Goldsberry can make intriguing graphics, but can he offer insightful and entertaining opinions about the game? Will cast members solely come from Grantland, or will Simmons cast an ESPN-wide net?
The seeming lack of formality, contrasted with ESPN's usually very buttoned-up presence, is also notable. The show doesn't have a regular slot on the calendar, with eight regular season episodes across 20ish weeks of play and eight playoff episodes across 8ish weeks of the playoffs, and doesn't have regular cast members. In that way it seems much more like a video podcast that is recorded whenever and thrown up on youtube…except a video podcast that will be given "prime time" billing and beamed into 100 million households.
When push comes to shove—and with Bill Simmons, it frequently comes to that—ESPN has almost always given him what he wants. It has been good for him, but also good for ESPN. The Grantland Basketball Show will be no different. ESPN dominates basketball coverage online but for the longest time curiously passed when it came to television, one of the reasons that the Turner Sports-partnered NBA TV has gained traction in recent years. That changes this season.