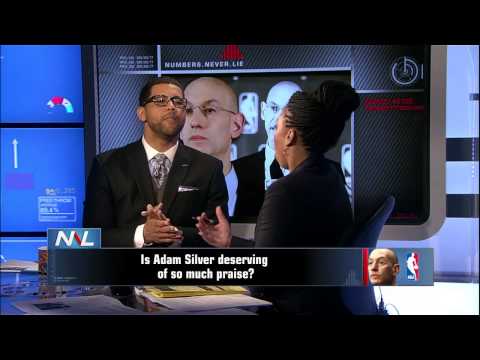 A different week, an entirely different picture of the NBA's ongoing media rights negotiations. Last week I wrote about a report from The Big Lead, which indicated that Fox Sports 1 would broadcast games under the new contract. But we have a new conflicting account, this one from SportsBusiness Journal, that asserts that very little will change, with TNT and ESPN being retained as the only broadcasters of NBA games. But before getting into SportsBusiness Journal's report, we need to talk about how the media gathers information.
There's no getting around it: either The Big Lead or SportsBusiness Journal screwed up their reporting. The Big Lead used the word "when"—as if it is an assured eventuality—to refer to Fox Sports 1 signing a media rights deal with the NBA, whereas SportsBusiness Journal says that there is "little chance" the NBA will expand the media rights deal beyond TNT and ESPN.
If The Big Lead is being played, it's most likely by the Fox Sports and the NBA. Fox Sports wants to grow support for the idea of a third media rights package, and one way to do that is by creating the presumption that they are getting it. Failing that, both the NBA and Fox Sports would like to drive the price TNT and ESPN have to pay for the rights higher. If SportsBusiness Journal is getting played, it is most likely by ESPN and TNT. If they can convince Fox Sports that there is no point in even playing and drop out of the bidding, they can potentially pay a lot less for the media rights contract. It could also be the work of the NBA, sending a signal to Fox Sports that ESPN and TNT are willing to back up the Brinks truck, and they better do so too.
If we take the new SportsBusiness Journal's report at face value and assume it is right, it's a disaster for the future of the NBA. From my reading, almost nothing will change under the new media rights deal.
"there is little chance the NBA will carve out a third package for another network"
While involving a new partner constitutes a risk, it is something the league needs to heavily consider. The audiences for every TV network are different, so it is an opportunity to tap into a new segment of the market. More importantly, a new rights partner brings fresh eyes to league coverage. I'm a big fan of how TNT broadcasts NBA games, and to a lesser extent ESPN, but who knows what ideas Fox Sports, NBC or some other organization has? Sewing up this deal while TNT and ESPN have exclusive negotiating rights, before talking to outside broadcasters, is a mistake.
"The NBA wants to explore the NFL's model, where streaming rights are sold separately. The NFL sold streaming rights to Verizon as part of a four-year, $1 billion deal that runs through the 2017 season. ESPN and Turner are balking at such a plan, saying that they need streaming rights to the games they produce."
As an increasing percentage of "television" is viewed online, streaming rights are becoming proportionately more important. ESPN and TNT would like the status quo to prevail. Currently they control how NBA fans can stream games, usually by signing agreements with cable companies like Comcast and Time Warner to let people who pay for a cable package with ESPN and TNT to access some of that content online. It means the only people that can stream online are those that could already watch on their TV.
When the NFL's media rights came up for renewal a few years back, they did something very smart. They kept Fox, CBS, NBC and ESPN aboard, but sold streaming rights to Verizon Wireless. Verizon then sells "Verizon Wireless More Everything," which is a cell phone data package that Verizon Wireless customers can pay for. Even if you don't pay for cable or have a television, if you are a Verizon Wireless customer, you can stream almost every NFL game. It's a way of reaching a different demographic of fans than currently watch games on television.
That last point is especially important given the long term trends. The vast majority of NFL games are shown on over-the-air television—meaning you don't have to pay for them—but almost all NBA games are on cable. Considering only 68% of Americans have cable (according to Gallup), that's a full 32% of the country that basically cannot be NBA fans. But it gets even worse when you dig into the particulars. Only 62% of those 18 to 29 have cable, signaling a long term trend where fewer and fewer people can watch the NBA. According to that same survey, 73% of people have wireless internet, and among 18 to 29 year olds 83% do. Eighty-eight percent of 18 to 29 year olds have a smartphone.
American consumers are moving away from watching video on their TV, and watching more of it on their computer, phone, or Roku/Apple TV/Xbox. There has been talk over the years of a non-traditional rights partner like Google or Netflix buying live sports streaming rights. Netflix is starting down that path by producing original television shows, and YouTube has also streamed live events like the Copa America, Wimbeldon and Cricket. Whether it is a cell phone service provider or an online content company, the NBA could do a lot of creative things with streaming rights.
But no, they're just going to give them to ESPN and TNT to squander on people that already pay for cable.
"Turner also will continue to manage the NBA's digital assets, which include NBA TV, NBA League Pass and NBA.com."
The fact that the NBA outsources its digital assets is a complete and utter joke. Maybe this made sense in 2000, but it makes absolutely none in 2014. It's not like the NBA is outsourcing a call center or something, it's the NBA's website, TV channel and premier subscriber product! Major League Baseball's digital capabilities are so advanced that it has created an arm called Major League Baseball Advanced Media. It runs the league and all thirty teams' websites, as well as MLB Radio. But it also has contracts with a variety of media organizations to handle their streaming video content: WatchESPN (ESPN's hugely important streaming service), CBS' March Madness streaming service, the WWE Network, the YES Network, SportsNet New York etc. It even runs the video content for The Blaze, Glenn Beck's crazy politics website!
So while the NFL controls its digital rights, and Major League Baseball is so far ahead of the game that it does the streaming video for fucking ESPN, the NBA outsources its digital assets like they're trying to save 5 cents on the manufacture of every widget. If Turner was doing an amazing job with the league's digital assets that'd be one thing, but they're not! NBA League Pass is an awful service that deserves every single piece of negative press that it gets, with an interface five years out of date and options that pale in comparison to the MLB's streaming service.
In 2003, Major League Soccer signed a partnership with MLB Advanced Media to run its digital operation. In 2009 they brought it back in-house, understanding that for the long-term growth of the league, it was important to be fully in charge. Yet somehow five years later, the NBA is content to continue farming out one of the most important aspects of running a league.
***
No matter what happens, the NBA is going to get a boatload of money each year of its new rights deal. The media landscape is such that the importance of live sporting events has exploded in recent years, driving up their price to broadcasters. The biggest deals—the NFL, MLB, NHL, Pac-10, SEC, World Cup—are already sewn up, meaning the NBA's deal (along with the Big-10's, to a lesser extent) is the last time an important package will be up for bidding for half a decade. The NBA is growing in popularity, while baseball is stagnating and football faces severe long-term challenges.
All of the leverage belongs to the NBA, not ESPN, TNT or any other broadcasting network. They're going to get $2 billion annually for the deal, and enormous increase over the $930 million it currently gets. Much more important than securing an extra $50 million or $100 million a year—which then has to be split 30 ways, making it a relatively trivial increase—is building a solid foundation for the long-term growth of the sport. This means making compelling basketball content easy to access online and on phones, owning digital assets to move quickly as thing shift, and targeting entirely pockets of the population where potential basketball fans live.
Instead, it seems that Adam Silver and NBA owners are content with the same ole same ole. Sure, by wrapping up negotiations quickly in order for ESPN and TNT to overpay, everybody will end up with slightly more guaranteed money. But the opportunity cost of such a choice is enormous, and the league is choosing incorrectly.