Diss Guy: The eyes and ears are Everywhere: How Ray Rice, Bruce Levenson, and Danny Ferry were Exposed
My God man, it's like it was yesterday that Tricky Dick Nixon was posted up in the oval office recording every little sound that escaped the lips of his guests and cronies. Then in the Boyz n tha Hood 90s there was Rodney King's vicious beat down at the hands and night sticks of the LAPD which was caught by the all-seeing eye of a well-placed camcorder. And now we've arrived at a place where technology has delivered omnipresent eyes and ears that see and hear more evil and shame than any of us prefer and we all know this even though a few men in their infinite misjudgment or hubris would make us wonder if we really do know it.
Like Donald Sterling a few months ago, Ray Rice, Bruce Levenson, and Danny Ferry have been caught red-handed with irrefutable video (Rice), audio (Ferry), and electronic (Levenson) evidence of their affronts to the all-powerful corporate gods they serve. Without over-saturating your weary brain with a re-hashing and analysis of events, or the processing of race, gender, and domestic violence in American sports in 2014, the no-nonsense acknowledgement of a collision course between pro athletes (in this case a proxy of all western humankind) and technology is sufficient.
Domestic violence and racially-insensitive or biased feelings are still all too common aspects of our culture. Pro sports are no exception and we can find abusive athletes and racist owners as far back as our History of Sports almanacs will take us into the past. These actions are nothing new, but our front row voyeuristic access is something all of us are fidgeting into.
The raw game changer has been the endless reams of data collection—visceral videos, tasteless audio clips, and endless emails. Historically these views and actions have been hidden behind locked doors and confined to areas presumed to be safe and trustworthy. But we all know shit has changed and with that change suddenly every action short of the thoughts bouncing around in our schizophrenic minds has the potential to be recorded, analyzed, and criticized. Where a St. Louis Rams defensive end named Leonard Little was once able to commit involuntary vehicular manslaughter with his Lincoln Navigator while driving drunk, serve a little eight-game suspension, come back, get caught drunk driving again, and face no further suspension from the league, we now have the violent video of Ray Rice knocking his then-fiancée, life, and career into a strange limbo. Where David Halberstam's groundbreaking Breaks of the Game plainly informed his audience of NBA owners' and corporate America's discomfort with the late-70s blackness of the NBA, there was barely a batted eye, but now we have Levenson's email culled from over 24,000 Atlanta Hawks' documents and the apparent catalyst behind Levenson selling his portion of the team. The mass collection, documentation, and presentation of all this information and these actions, coupled with an evolution of what is and is not socially acceptable, has created an atmosphere where certain actions and ideas are no longer tolerated – only no one really knows what is and isn't acceptable in this new, rapidly evolving world.
For all of us, from Jennifer Lawrence's stolen naked self-shots to the high school kid sending dick pics via Snapchat only to realize the pics don't dissolve into digital nothingness, our sense of privacy and secrecy are being painfully and embarrassingly re-calibrated. And for the Ray Rices, Danny Ferrys, and Howard Levensons of the world, what would have once been shameful character flaws and secrets taken to the grave are now ugly scarlet letters with forever homes on the internet to be crawled and indexed by search engines, etched in pixelated eternity on Wikipedia pages and forever re-told as cautionary tales rookie symposiums and owners meetings. The eyes and ears are everywhere waiting for someone to screw up and the message from our favorite sports leagues is somewhere between "don't do something that could harm the league" (and the billions of dollars at stake) and the more cynical, but more realistic "don't get caught doing something that could harm the league." We haven't reached any absolute conclusions, but the presence of this mass surveillance is at least accelerating change whether we're ready or not – and it's clear some of us aren't.
Miss Guy: RIP Marvin "Bad News" Barnes
On September 8th, basketball lost one of the all-time great characters in Marvin "Bad News" Barnes. Bob Costas compared the 6'8" power forward to Dr. J in terms of talent and he was similar to Earl "the Goat" Manigault or Lloyd "Sweet Pea" Daniels or even Len Bias in that he was a world class player who squandered his bountiful gifts away in exchange for drugs and alcohol.
To riff on the above evolution of 24/7 surveillance where smart phones can document the actions of anyone anywhere at any time, the American Original that was Marvin Barnes will never be again. While his drug use was so powerful that it derailed what, by all accounts, should've been a Hall of Fame career and likely contributed to his death at 62, his personality was powerful enough that so many of the memories of Marvin are positive or wacky or unbelievable. This is a guy who refused to board plane changing time zones because "I ain't getting on no time machine."
If he came along today, Barnes would be a mainstay on TMZ for all the wrong reasons. He'd put JR Smith's and Ricky Davis's off-court existences to shame and the truth is that he was likely so coked up, he'd be posing for photos and be featured all over random Instagram accounts in NBA cities across the country. If Barnes's life off the court was wild and crazy by the freewheeling standards of the 70s and 80s, it would've been unsustainable in David Stern's NBA.
His career was neither good nor bad, but marked by extremes. Bill Reynolds of the Providence Journal, a writer who covered Barnes for decades described his personality as: "one part Muhammad Ali, one part street poet, and on part stand-up comic, all without a filter." He was colorful, naturally a gregarious man always in the middle of something, but the same drug use that put a hard ceiling on his basketball career was a source for so many of the stories that accompany any reference to Barnes. He was the rare player who had the audacity to pull this off (h/t to Matt Bonesteel of the Washington Post's Early Lead blog):
After a particularly wild night in New York, he slept in and missed every flight to Norfolk, where the Spirits were playing the Virginia Squires at Scope.

Barnes chartered his own plane and arrived at Scope just before the game, a woman on each arm - his companions from the previous evening - and a bag of McDonald's burgers in his hand. He opened his full-length mink coat to reveal his Spirits' uniform.

"Boys," he said. "Game Time is on time!"

Benched for the first quarter, Barnes finished with 43 points and 19 rebounds.
He was quintessentially FreeDarko and inspired this description from Bethlehem Shoals:
Lots of you have read Loose Balls, so you know the stories. But Barnes was like (Roy) Tarpley times ten million, and with a swagger that 1980′s degeneracy was sorely lacking. While I've never seen clips of him, I get the sense that he was a power forward who could drop 50 on anyone while nodding off on the bench, then charm everyone, then pop back in and score 30 more once the game had already ended. Barnes also set the tone for those Spirits of St. Louis lovingly memorialized in multimedia, grab-bag fashion by Remember the ABA and this dude.
The previously-linked piece from Matt Bonesteel contains nothing but great stories about Barnes. And even Reynolds's piece which is tinged with wistfulness is full of anecdotes that don't fly in the current climate.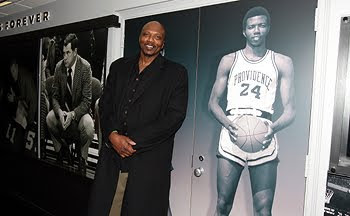 Reynolds mentions Barnes's penchant for embellishment and maybe a lot of the old stories are exaggerations and variations of truths long forgotten or never lived. Whatever the facts, aside from a few old photos, arrest records, and these ephemeral memories of Barnes, the lack of a definitive recounting of Marvin Barnes's life on and off the court is part of the romantic mythology that we wrap around athletes and which is slowly receding out of our reach because everything is documented or recorded or verified. Marvin Barnes is gone at the young age of 62 and for better or worse, we'll never see another like him.