"The greatest madness a man can be guilty of in this life, is to let himself die outright, without being slain by any person whatever, or destroyed by any other weapon than the hands of melancholy." 
― Miguel de Cervantes Saavedra, Don Quixote
***
Full discretion: while I'm not a Lakers fan, like all NBA fans, my relationship with the Lakers is semi-complicated. I hate them as a rival, but am somewhat envious of their success; secretly wishing my team could be so consistently competitive.   I'm old enough to admit this.  Sustained success was never the reason I supported a team, but it was always something to aspire to.  As a fan, all you really want is your team to be in contention, and the Lakers have delivered that to their fans more than any franchise over the last 30 years.
Whether you love or hate them, it's always better when the Lakers are competitive. Like the New York Yankees, Dallas Cowboys or Real Madrid, we need that 'evil empire'  not only to root against, but to draw interest to the sport in general.  Like it or not, the Lakers have the largest fan base globally.  It's in the best interest of basketball if that fan base is engaged.  Even if you acknowledge many of those fans as fair-weather, they bring interest to basketball and thus indirect interest to your team.  The same way Superman needs Lex Luthor, Batman needs the Joker, we fans of the other 29 teams need the Lakers.  And we need them to be competitive.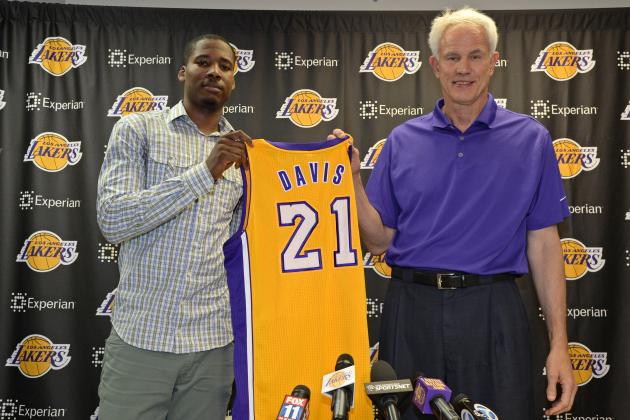 The Lakers are currently dealing with an identity crisis.  Their iconic star is near his end, with no replacement in sight. Past history implies that even if the Lakers are struggling in Kobe's final act, they'll eventually re-tool.  Eras always end, and legends always eventually decline.  Transition periods happen.  The Lakers have seen down periods before, but always maintained a certain prestige, and that prestige guaranteed that sooner or later, they'd acquire the necessary talent to compete for titles again.
It feels different this time though.  Now that mystique seems to be slipping.  Starting with the passing of Dr. Buss, the catalyst for the entire Laker image, and then the departure of prized free agent, Dwight Howard, the Lakers have appeared vulnerable as the preeminent franchise of the NBA.  And that vulnerability seems to have led the Lakers to desperation; a willingness to do anything they can to recapture the magic of the past.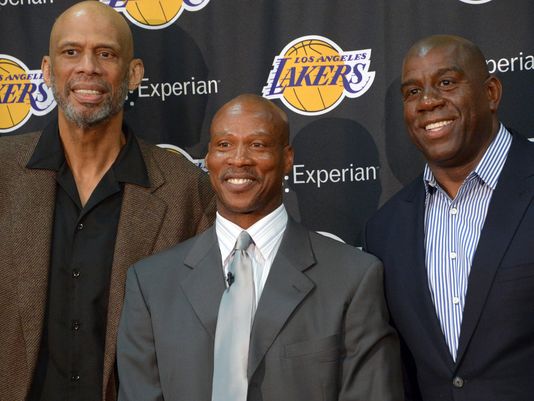 The Los Angeles Lakers don't do well with failure.  A franchise, which has only had 3 losing seasons in 38 years, is predictably unclear how to proceed.  And while taking fliers on young players with potential or making a nostalgic coaching hire is one thing, waging an all-out war on specific shot locations is entirely different and somewhat puzzling. But that is precisely what the Lakers have done: they went and hired a coach synonymous with a glory period in an attempt to restore order.  But that wasn't all.  The Lakers continue with what can only be described as a misplaced romantic pursuit of past glory through stylistic battles.
"If the Lakers never shoot another 3, I'll be happy," said Magic Johnson on August 3rd. Magic isn't a Lakers employee or front office executive.  But Magic's words do carry weight with many Laker fans.  He is perhaps their greatest player of all time, the catalyst of what is considered the most aesthetically pleasing Lakers' team of all time.  Magic embodies the Lakers image that has been sold to fans for 3+ decades, not just a commitment to winning, but also a commitment to doing it with a certain style and showmanship.  Something Dr. Buss firmly believed in, and something his son, is desperately trying to recreate.  So when Magic, speaks employed or not, it does resonate among the Laker fans and organization.
Magic's campaign against 3 pointers, is of course a direct shot at Mike D'Antoni and what he perceives as non-Laker basketball.  D'Antoni is the poster boy of modern basketball, with his emphasis on pick and rolls, 3 pointers, and small-ball attack.  All these things spit in the face of characteristics of classic Laker teams who were large, played inside out, and didn't rely heavily on outside shooting.  Instead of acknowledging the Lakers heavily depleted roster, so depleted Swaggy P was their best player, the focus switched to blaming D'Antoni for ruining a tried and trued formula for success.  And with every loss, words from respected Laker greats like Magic resonated louder.
Perhaps we shouldn't be surprised that when the Lakers struggled, the blame was shifted to the outsider: ousted head coach Mike D'Antoni.  D'Antoni isn't from the Pat Riley or Phil Jackson school of winning.  He was never a Laker.  His seemingly prickly personality didn't help either. He's a stark contrast from the magnetism and charm Riley and Jackson displayed.  Maybe it's the large southern California media market or the brand the Lakers have built, but their coach needs a certain image to resonate with the fans.  Phil Jackson and Pat Riley had an unwavering confidence, which manifested in every press conference.  They had a way of instilling self-assuredness, no matter what kind of locker room turmoil or on-court mess was going on.  They had that ability to smile at reporters, act calm in the face of adversity like it was just another day in the office. D'Antoni on the other hand, has never been one to care for the media.  He would often appear irritated with their questions or curt in response.  The only time he focused seemed to focus on defense was in postgame pressers, when the effectiveness of his coaching principles were often called into question.  He was the easiest person to blame for a poor season.
Enter Magic's former teammate, friend and Laker old timer, Byron Scott.  Scott first spoke of returning to Lakers to their heyday.  But as camp rolled around, he gives us this gem,  "If we shoot between 10 and 15, I think that's a good mixture of getting to that basket and shooting threes."  Through 3 preseason games the Lakers have attempted only 8 threes.  That pace would have them attempt significantly fewer 3s than any team in the NBA over the last 10+ years.
In response to a disappointing season, the Lakers have instead decided to pursue past glories, by trying to play a brand of basketball that is semi-antiquated, and certainly doesn't maximize it's talent against modern defensive schemes.  And this begs the question: what exactly are the Lakers trying to do?  Their blind romanticization of the past is reaching Don Quixote levels.  Waving an imaginary sword at windmills, to restore order to the way things were.  Waging a war on the modern game, instead of trying to fit into it.  Of course, that's not to say D'antoni's approach was correct.  It had its flaws.  But the biggest flaw D'antoni's Lakers had was a simple lack of talent.  And no hiring of ex-Laker legends or a pursuit of 1980s basketball is going to change that.
As the Lakers enter this season, to some it's a tragedy, a once proud franchise, setting itself up for failure pursuing a plan doomed for failure.  To others it's a comedy, for the exact same reasons, a misguided attempt to re-store an era of greatness.  As the Lakers go down their quixotic path, perhaps it's best to remind them of the words of Miguel de Cervantes Saavedra: "It is one thing to write as poet and another to write as a historian: the poet can recount or sing about things not as they were, but as they should have been, and the historian must write about them not as they should have been, but as they were, without adding or subtracting anything from the truth."
But until they realize this, please just continue tilting at windmills.  For the rest of NBA fans, whose teams haven't been as fortunate as the Lakers the last 30 years, this opportunity to lean back and laugh heartily is welcomed.
Sam Esfandiari has written for Warriorsworld and LetsGoWarriors. This is his first submission to The Diss.