Diss Guy: The Philadelphia 76ers Overcoming Adversity
The Philadelphia 76ers were sitting at a pathetic 0-17 record, one loss away from tying the league's all-time record for season-opening futility still held by the 2009-10 New Jersey Nets. Sure, it may have taken a fortunate break from the scheduling gods and numerous injuries to their opponents, the Minnesota T'Wolves, but all the same, the 76ers are off the schneid with one ugly bullet dodged. And props to their players and coaches for that.
We're all-too-familiar with the 76ers current strategy of hitting the most stinky, stanky rock bottom of a South Philly trash can in the height of summer in order to compile a mix of assets and cap space which will, in theory, create an opportunity to build a real life competitive NBA team. General Manager Sam Hinkie is the shrewd mind behind a roster that is the youngest in the league, made up of players lean on NBA experience and even leaner hits on the salary cap. Depending on your source, Philly is paying over 20 different players this season, but any of those players that find their way into a Sixers uniform aren't there to generate wins, but rather to ensure losses pile up.
Against this backdrop, Michael Carter-Williams, Nerlens Noel, Luc Richard Mbah a Moute, Henry Sims and Hollis Thompson were joined by Robert Covington and KJ McDaniels in chasing victory in Minneapolis. Three of those players weren't even drafted. And yet the youngsters from Philly still found a way to overcome their inefficiencies. They shot a subpar 39% from the field, 64% from the free throw line, under 21% from three, were outrebounded by Minnesota, gave up 17 fast break points, and, by most any measure, played a crappy basketball game. And still, they overcame the odds. With 2:16 remaining, Philly was down 75-73. But then rookie hotshot dunk machine KJ McDaniels hit a go-ahead corner three. At 1:21, Minnesota's stand-in center Gorgui Dieng grabbed an offensive rebound in a mass of bodies and stuck the put back to pull the Wolves to within one. And watching it there was a sense that everyone on the court, while severely lacking in fully realized basketball ability, was fighting with genuine effort. No one wanted to lose and contrary to the senseless arguments from the college hoops set that NBA players are greedy athletes who play for money instead of the love of the game, everyone played with hearts fully exposed. So when Dieng wrestled that ball away from those bodies, I wondered if it was symbolic of Minnesota's refusal to lose. It wasn't. The Wolves didn't score another point the entire game. They missed four shots, turned the ball over twice while the then-winless 76ers were uplifted by the undrafted Covington and lottery pick Noel.
I can't lie, I was bummed to see Philly win, but my disappointment isn't directed at the players and it took me a minute to figure that out. The players are out there playing against a stacked deck and are powerless to do anything about it. Even other teams in the league employing a long-term rebuild have what appears to be the decency to field bad teams that at least have shots in hell of winning NBA games. Philly? Philly is a roster of mashed up fringe players alongside kids can barely drink legally. Philly is the rock bottom of that urban trash can. Philly is trying hard, but most nights it doesn't even matter, Sam Hinkie's made sure of that.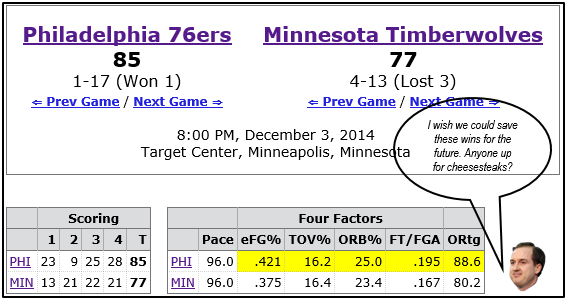 Miss Guy: The Philadelphia 76ers Smearing Feces on the Present
If I had my druthers, the 76ers would've started the season something like 0-44. It would've been a record so pathetic as to be absurd, so embarrassingly impotent as to stain the record books. But I don't have any axes to grind with Carter-Williams or Nerlens. They're just young messengers delivering the gospel of Hinkie. Getting bad to get better isn't a novel idea in sports or business. New owners and new management come in, make some overhauls with designs on a brighter, more profitable, more competitive future. In the case of Hinkie's 76ers, we've encountered something else that, whether fair or not, feels grimy compared to the NBA futilities with which we've become accustomed.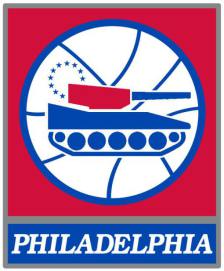 Rebuilding or tanking or whatever you want to call it is part of hacking into an NBA system that rewards crappy performance in an effort to improve overall competitiveness. The early 2000s Bulls did it, the post-Arenas Wizards did it, the Lakers, Jazz, Magic and Wolves are doing it, maybe the Celtics are doing it, but no one has done quite as transparently as this iteration of Philadelphia … and that's the point. Hinkie's pretty much removed the veil, destroyed any illusion of fielding a competitive team in the haste to re-imagine the Sixers. And it bears out in the stats in the 100+ games since Hinkie took over:
Total margin of defeat is -549.5 – nearly 200 points greater than the next worst team: Utah
Simple rating System (SRS) where zero is average: dead last with -10.87
Lowest O-rating (Ortg) in the league 98.3 – only team under 100
Lowest eFG% at ~47%
Highest TOV% at 15%
Second worst opponent eFG% - 52%
Philadelphia compares favorably to the worst teams in NBA history: the 1993 Mavs, the 2012 Bobcats, the 1973 Sixers. Through twenty games this season, they're getting beaten like a drum, currently pacing for the third worst margin of defeat in league history. Their SRS is pacing towards fifth worst all time. With the exception of the 1993 Mavs, a team that was made up primarily of rookies and second-year players, and the 2012 Bobcats, a team that was built on ineptitude as much as anything else, these Sixers are as stinky as it gets – and it's on purpose.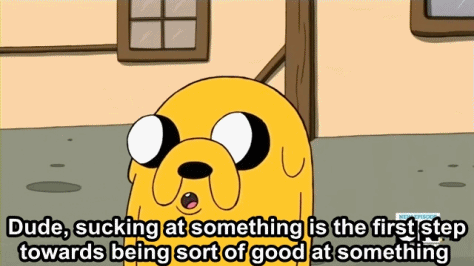 Before the Sixers became lords of the slums, I never bothered asking myself if NBA teams had an obligation to commit to some minimal level of competitiveness. Do we grant leeway for injuries, bad luck or ineptitude? Are some rebuilds more tank jobs and some tank jobs mistaken as rebuilds? Were the 2014 Bucks with their 17 wins somehow more acceptable than the Sixers with their 19 wins just because their GM unintentionally built a really crappy team and dealt with injuries? I don't believe there are right or wrong answers, but like so many things, intent matters. Sitting through the flagrantly bad Hinkie regime, I'm not even conflicted, I just know I don't like it. Maybe I'd rather be humored by Hinkie signing a couple of vets and at least presenting the illusion of front office effort in the here and now.
In a worst case scenario, Hinkie's strategy is a resounding success and Philadelphia's planning a championship parade in 2018. In a league where success breeds imitators, the last thing we need are more Sam Hinkies, hinkifying the league with their horrifying pragmatisms. So don't take it personally Philly fans and players, it's not you I'm cheering against, it's the dangerous ideas of your mad scientist GM.