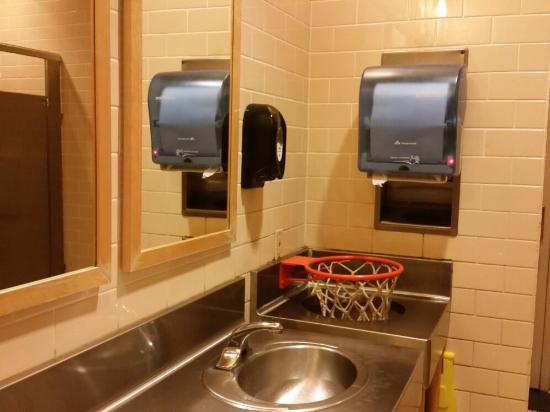 The Reader is back, to help you and your number two.
Flip Meant Something to Everyone
Zach Bennett
Hardwood Paroxysm
Today marks the one week anniversary of the death of Flip Saunders, the beloved ideologue of the Minnesota Timberwolves. Once the death was announced, I, like many diffuse scribes dotting the landscape, wanted to write something to commemorate the man and his memory, but were unable to, due to either physical or emotional distance from the subject. This is not the case for Zachary Bennett, who provides a very complete and reverential look at the life and times of Phillip "Flip" Saunders. Bennett access both primary and secondary sources to paint a picture of a pure basketball man; a late-comer to Minnesota who fell in love with the life he created for himself in the Upper Midwest. Bennett did an excellent job eulogizing Saunders in this piece, and those interested in reading an encapsulation of a full life cut far too short should give this piece a look.
Love and Basketball
Jeremy Conlin
The Classical
I turn 30 this upcoming week, and this season marks my fifth season "covering" NBA basketball (from the comfort of my couch). I don't often think wistfully about my early basketblogging days — like 26-year-old Mr. Conlin, I was the same age when I started banging out basketball words on the keyboard — but reading this piece in The Classical did get me thinking about those halcyon days of youth. Conlin presents a 6-part treatise on his affection for the sport. One of the sections definitely jump-started an "early blogging days" montage in my mind. Conlin is worth quoting at length:
Even if basketball has no idea that I exist, it still provides a small modicum of meaning to my life. Being an NBA hyper-fan provides for a sense of camaraderie, on the blogosphere and on Twitter. I can connect with people that share my passion in a way that loyal consumers to other products cannot. If the compulsive part of my brain had become obsessed with the idea of owning a Toyota or eating Frosted Flakes every morning, my life would be very different.

But entertainment is a communal experience. Everybody's morning bowl of Frosted Flakes is different, as is every commute to work in a Rav-4. But when I watch Game 6 of the NBA Finals, I know that everyone else is watching the same Game 6 of the NBA Finals. I can surrender my agency and let the experience wash over me. So even if basketball doesn't know that I exist, I know that basketball exists, other people know that basketball exists and, by extensinon, other people are able to know that I exist as a person who loves basketball.

These shared experiences come to define who we are as a community, playoff deciders as well as the regular season minutiae. Sometimes, the latter matters even more: Millions upon millions of people were watching Game 6 of the Finals last year, but how many people watched Russell Westbrook put up a 49-15-10 and lead Oklahoma City to an overtime win on that random Wednesday night in March? The smaller the group gets, the more special those memories feel in retrospect. The more exclusive a group gets, the more significant it becomes to be included.
Though I would not deign to privilege the experiences of this consumer group as opposed to other ones, Conlin's piece does accurately portray the emotions of the twitterpated NBA fan, losing themselves to the beauty of the product. All of Conlin's small treatises bear some relevance to all of us NBA fans. It is great that The Classical still exists to feature work like this; sorely missing in the cookie-cutter world of NBA analysis.
NBA Star Thabo Sefolosha Tells His Story of Assault by the NYPD
Nathaniel Penn
GQ.com
I have thoughts, obviously, about Thabo Sefolosha, and about the role police brutality has played in the presentation of the basketball product. Someday, I will compile those thoughts, and offer some sort of argument about how to contextualize the assault of Thabo Sefolosha at the hands of the NYPD. But for now, it is important for us all to read every word of Sefolosha's account, and take note of three aspects. First, Sefolosha calls the incident "police brutality," and based upon his words, and the accompanying cell phone videos, he is absolutely correct. Second, we must understand how much trauma and psychological damage the police exacted in this incident, not just on Thabo, but on all parties that night. Finally, we should take note that the National Basketball Players Association — the union that ostensibly protects the lives and livelihoods of the players — is not mentioned once in this piece. I fear attention will turn away from this now that basketball has started again, and Sefolosha is on his way back to playing. But this is hardly over; the police will not ever let it end.
81% of Anthony Davis Looks Like This
Kris Fenrich
Dancing With Noah
Before I begin, let me just say: Kris does the damn work, man. He's the man who will search through newspaper archives to find secondary sources describing a mid-season knee injury from the 1980s, or will stay up late making tables lining up his analysis subject with other similar specimens. In this way, his work is truly interdisciplinary: it anchors itself with the air-tight specter of statistical analysis, but becomes truly expansive and illustrative through dynamic inner (and external) dialogue and discussion. With that praise in mind, I highly encourage you to read this sort of career check-in with Anthony Davis, who is beginning his fourth season as a member of the New Orleans Pelicans. Kris's nuanced analysis jumps around many different analytical areas, and settles, essentially, on this conclusion: while it is clear that Anthony Davis, statistically speaking, has the chops to mix it up with some of the greatest all-time players, there are still important reservations about a history of ticky-tacky injuries, and a pattern of slow restarts after Davis is re-integrated into a lineup following a moderate absence. Kris is a friend and a colleague, and I'll never utter an ill word about him or his work. It is truly a pleasure to be doing no-money blogging with Mr. Fenrich; he is truly a Diss Guy.
Thunder vs Magic 
Jonathan Tjarks
Pattern of Basketball
Finally, let's drop by Pattern of Basketball, to take a look into the brilliant, beautiful mind of Jonathan Tjarks. Though you can get your delicious filling of Mr. Tjarks at several other outlets, my preferred location is Pattern of Basketball, his personal blog. Reading Pattern of Basketball is like looking at the notebook of a basketball scientist; excitedly scribbling down observations, offering potential explanations for the various phenomena under study at that particular moment. Tjarks' thoughts draw from many different sources and traditions, and as a result, we always are left with a fair, nuanced analysis on whatever basketball event is currently piquing Mr. Tjarks' attention. These bullet-point thoughts on the Magic versus Thunder early-season classic from earlier this week illustrate the strength of the blog: informed looks at players, sets, rotations and skills, as well as supplementary thoughts on how particular NBA outfits affect the fan experience. I try and check in with The Pattern of Basketball a few times a week; it is a very valuable resource for NBA and basketblogging fans everywhere.