1. Denver Nuggets (Last Week: 3)
Monday night's Nuggets v. Lakers game was perhaps the year's most exciting. JaVale showcased the good, the bad and the ugly of JaVale, there were fast breaks and points in the paint galore, and Iguodala put on a defensive clinic. They've done this before, but for some reason I'm inclined to believe the Nuggets have crossed some magical threshold of "getting it" this time.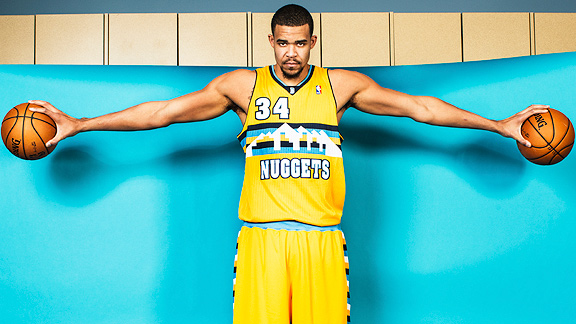 2. Washington Wizards (Last Week: 2)
I'm telling you, don't sleep on this team. They've won seven of their last nine, including a back-to-back over Denver and Houston. For the basketball purists they play solid defense, for the speed freaks they have John Wall, and the rest of us have Bradley Beal's rapidly maturing game.
3. Miami Heat (Last Week: 1)
LeBron has been so consistently amazing that I take it for granted. 35-12-7? Ho-hum. Gotta remind myself sometimes that in 20 years I will regret not having watched him play more.
4. San Antonio Spurs (Last Week: 7)
They might've been higher if I didn't have to hear opposing teams' broadcasters talk about the Spurs. If I hear about how they're old, or how we keep waiting for them to tail off, or how they lost in the playoffs to the Thunder last year one more time…
5. Houston Rockets (Last Week: 4)
As the Rockets are the third youngest team in the league, when watching them you can sometimes see the light bulb go off as they "get it". Even more excited to see what they do with Thomas Robinson, who at first glance doesn't fit well into their system.
6. Oklahoma City Thunder (Last Week: 5)
As a team, there isn't much to see here until the playoffs. As a collection of individuals, on any given night you are likely to see the talents of Kevin Durant, Russell Westbrook or Serge Ibaka, or possibly all three, erupt.
7. Los Angeles Lakers (Last Week: 14)
You're guaranteed something good with each viewing. Sometimes you see an engaged Dwight Howard and are reminded of the 2010–11 season, and other times you get to watch the #LOLakers
8. Indiana Pacers (Last Week: 15)
I'm not one to fetishize the 1990s NBA and talk about how it was a "tougher" league back then. But that doesn't mean I can't enjoy the one team that remotely resembles those late 1990s New York Knicks teams.
9. Los Angeles Clippers (Last Week: 8)
Despite all of the trade talk, Blake Griffin's evolving game, Grant Hill return from injury and everything else, it's the same old story: Chris Paul or bust.
10. Chicago Bulls (Last Week: 6)
It's that time of the year for a lot of playoff teams; that post-All Star-partem depression when they realize they still have to slog through 30 regular season games before the hard games even begin.  I'm seeing this a bit with the Bulls, who are getting injured (Taj Gibson is the latest) and not defending as tenaciously as they were 15 games ago.
11. Toronto Raptors (Last Week: 12)
Long have you coveted your neighbor's credenza, a wonderful piece of mahogany that adorns their foyer but is used only for key storage.  You want that credenza bad; you'll use it right, put some flowers and pictures on it.  After a few years, you talk that neighbor into selling you the credenza.  You bring it home, and hell yeah, it looks great!  Your foyer is exciting as hell now! Only problem: rest of your house is basically empty, except for a few pillows and a vase. No couch, no bed, no tables or chairs. Yeah. You can't furnish a house with just a credenza.
12. Brooklyn Nets (Last Week: 11)
It finally dawned on me: the Nets are the plain ol' vanilla ice cream of the NBA.  Now don't get me wrong, I like vanilla. It's a great all-purpose ice cream, consistently cold and sweet. There's nothing offensive about it; it's ice cream, every time.  But some times — most of the time — you want something different than plain ol' vanilla.
13. Memphis Grizzlies (Last Week: 17)
Much in the same way the Grizzlies make their opponents work for every shot they get, the Grizzlies make me work for consistent enjoyment every time I watch them.  Yes, I know there's a beauty to a great defense and workhorse offense that grinds out 24 seconds of squeaker sneaking back cuts and high pick and rolls night in and night out.  But golly gee, Grizzlies, I can only watch you nail your defensive rotations perfectly so many times before I just say "Okay, okay, have the fourth seed."
14. Utah Jazz (Last Week: 19)
Really, the only reason I watch the Jazz is for Al Jefferson's patented ball fake. Frankly, calling it a fake is generous; he just raises the ball with his hand, stares blankly the hoop, and with a nod of his head, magically makes his defender fly into the air. The entire thing takes up like four seconds of the shot clock as well.  It's possibly the most refined bad-YMCA pickup ball move in the world.
15. Boston Celtics (Last Week: 13)
Acquiring Jordan Crawford — a guy who treats passing the ball like it's a phobia — was enough to bump the C's up two spots.  It makes no sense whatsoever.  But at the same time, I feel like he's going to win a playoff game for them.
16. New York Knicks (Last Week: 9)
I'll say this: the Kidd-to-Kenyon connection would've been league pass gold if No Country For Boring Teams existed in 2001.  In 2013?  Ehhhh.
17. New Orleans Hornets (Last Week: 16)
Bad good teams drive me nuts.  You know bad good teams: the teams that are bad in the standings, but clearly have good people in place, as well as a solid foundation and will win someday.  The Hornets are this team to the letter.  They look so good for 42 minutes, but those last 6? Holy offensive drought and inexperience closing games, Batman.
18. Portland Trail Blazers (Last Week: 18)
Terry Stotts has his distressed vacuum salesman look down. Six straight months in the red.  How will I tell Francine??
19. Golden State Warriors (Last Week: 10)
It is fun to talk about Jarrett Jack God Mode when he is single handedly bringing the team back from the brink against the Timberwolves. It is quite another matter when Jarret Jack God (Complex) Mode ignores an absolutely red-hot Stephen Curry down the stretch in a loss to Indiana.
20. Dallas Mavericks (Last Week: 22)
I have boycotted the Mavs since Mike James started getting meaningful minutes. In 2013.  In America.  We should be ashamed.
21. Cleveland Cavaliers (Last Week: 20)
Besides Kyrie, the only reason to watch a Cavaliers game is to tweet about how bad Dion Waiters is and watch the absolutely blinded Cleveland fans try to talk him up.
22. Charlotte Bobcats (Last Week: 25)
You know, I kinda like this team. Yeah, they're not very good, but they're young, athletic and most importantly, they always try. That's not something you usually can say about 13–43 teams.
23. Minnesota Timberwolves (Last Week: 21)
For a team that employs three of my favorite players—Ricky Rubio, Andei Kirilenko and Nioka Pekovic—their style is so unbelievably unattractive that I just can't bring myself to do it.
24. Orlando Magic (Last Week: 26)
Really, this team is just one James Harden away from being the Houston Rockets. A lot of nice young pieces that beg for a superstar.
25. Sacramento Kings (Last Week: 23)
Do you think when Thomas Robinson got traded away from the cesspool that is the Kings organization he ran down the street screaming joyously?
26. Detroit Pistons (Last Week: 24)
What's sad is that Andre Drummond could really use some time playing with a real point guard (sorry Brandon Knight), but will barely get the chance too.
27. Atlanta Hawks (Last Week: 29)
It feels weird to say so, but consistency isn't exciting. Getting the 4/5 seed every season isn't exciting. Playing in a lethargic, half empty arena every season isn't exciting.
28. Phoenix Suns (Last Week: 30)
All I want is some brother chest bumps, brother shared rebounds, and brothers sitting next to each other on the bench
29. Philadeliphia 76ers (Last Week: 28)
Doug Collins sums it up.
30. Milwaukee Bucks (Last Week: 27)
Wait, so you added a shooting guard who doesn't play any defense to a backcourt that already includes Brandon Jennings and Monta Ellis? Bucks GM John Hammond has a thing for no-defense small shooters and no-offense thin bigs. Not a winning combination.