While I'd like to thank Kevin Draper for giving all these new readers, I know my deepest thanks goes to Rep. Pat Garofalo. Thanks, Pat! You thickheaded racist.
Tuesday: Dallas Mavericks at Golden State Warriors (7:30 PM PST on League Pass)
The Homer Game of the Week features me, in the flesh, watching my beloved Golden State Warriors take on the Dallas Mavericks at Oracle Arena. I'm always geeked to see my team, but I'm especially jacked for this game against the Mavs. Certainly there's the larger playoff implications — Warriors are hanging onto sixth place while the Mavericks sit pretty in seventh — and the Monta Ellis-revenge factor. But this game means a bit more to me. The last time I saw Dirk and the Mavericks play was back in April 2001, when Dirk was a second year player, Mark Cuban was a second year owner, the Mavericks were still coached by Don Nelson, and The Diss was just a twinkle in my mind's eye. The Mavs were finishing up a 52 win season, and the Warriors were finishing up a 17 win puke-fest. As the Mavericks finished mopping up the Warriors — the Mavs won a balanced scoring attack from Michael Finley (22), Steve Nash (18) and Dirk Nowitzki (14), while the Warriors were lead in defeat by Antawn Jamison (31 and 11) and Vonteego Cummings (28 and 10 assists) — I shouted "HEY NELLIE, YOU SUCK!" as the arena started to empty. Nellie's head jerked up and looked right in my direction. I froze. I'd like to think that my clarion call convinced him to come back to the Warriors five seasons later.
Wednesday: Portland Trailblazers at San Antonio Spurs (6:30 PM PST on ESPN) A lot of good stuff to choose from this coming Wednesday (I will be choosing Warriors vs. Clippers, obviously, but Nets vs. Heat or Bobcats vs. Wizards are solid options as well) but I will refer you to the Blazers vs. Spurs game on national television. The NBA season is a series of ebbs-and-flows, and the Blazers are taking a few licks at the moment. Generally they look just fine, the same deadly outfit they've been all season. They've lost two games in a row, and are attempting not to swap spots with the sixth-place Warriors in the playoff standings. You've gotta be intrigued on how they respond to a tough overtime loss to the Rockets, and no team provides a better litmus test than the fuck-you-up Spurs. There's always something to like about the late-season Spurs, and this year it's the slimmer, trimmer Patty Mills, who has officially entered that ball-dominant non-starting guard realm with some high-volume scoring performances in February. So there you go. A national television game with excellent teams and playoff implications. That's good enough for me.
Thursday: LA Lakers at Oklahoma City Thunder (6:30 PM on TNT)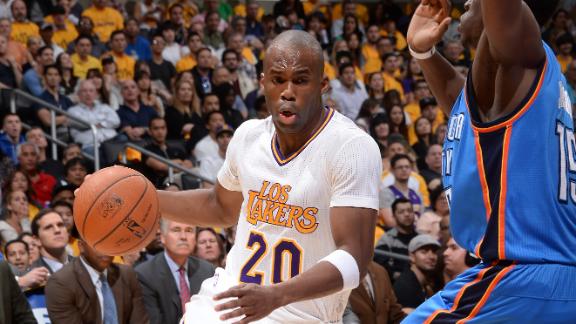 While I generally think that too much is made of "tanking" in professional sports, the utter preponderance of national television games featuring the Lakers has unintentionally given us the most public display of an utterly forgettable season in recent memory. In the Lakers we are given something different every single night. None of the starting lineups are ever the same. None of the players deliver consistent performances. It's always exciting and uneven, and the only predictable result seemingly is a Lakers loss. Surely there are exceptions to the rule — the Lakers surprise victory over the recently-struggling Thunder is one — and in the end, that adds to the intrigue. But everything about the Lakers this season has been so entertainingly bad, it's hard not to give it a look each time it's on. I'm fairly sure the Thunder will make the Lakers pay for giving Kent Bazemore the green light to kill them in the fourth quarter, but I'll make sure to watch the first two quarters to find out for sure.
Friday: Memphis Grizzlies at Toronto Raptors (4:00 PM PST on League Pass)
Rarr! Those scrappy Grizz have done it! They've taken the eighth seed, and now have to stave off the Phoenix Suns (and maybe the Wolves) to hold onto that final spot and book their date against either the Thunder or Spurs in the first round. The Raptors, meanwhile, are frequently chosen in Games of the Week due to their crash-and-kick style of play; the most entertaining wrecking ball ever. Somehow, this matchup between the Grizzlies and the aforementioned Raptors seems like a great friday night fete to see what two teams who really have gotten their shit together in the second part of the season. I predict a fun, close one.
Saturday: Sacramento Kings at Chicago Bulls (5:00 PM PST on League Pass)
)
Anyone remember that Bulls-Kings game from the regular season a few years back, where the Bulls had a huge fourth quarter lead, and gave it all away? The game that was labeled as "Tyreke Evans' coming out party" and signaled that D-Rose was going to be a disappointment? The game that established Paul Westphal as a foundational Kings coach? No? None of that ringing a bell? Yeah, I barely remember that either.
Sunday: Dallas Mavericks at Oklahoma City Thunder (4:00 PM PST on League Pass)
Everyone get pumped for Sunday, because it's a doozy of a day. The Rockets play the Heat in the ABC game, but that's just one good matchup. Raptors versus Suns, Warriors versus Blazers and even Kings versus Wolves present worthy options. But Sunday is a day for fall-away one-legged jump shots, delivered with maliciousness, sealed with contempt. Yes. Long have I loved Thunder versus Mavericks.