Editors' Note: We are proud to present a guest piece from James Jackson. This is James' first contribution to The Diss. You can follow him on Twitter here.
***
In the NBA, patience is a beautiful thing; or rather, it can produce beautiful things. One only need to look at teams like like the Miami Heat, Indiana Pacers, Oklahoma City Thunder, Golden State Warriors and the San Antonio Spurs to see obvious examples where cohesion, unity and brotherhood are dolled out in nearly wasteful amounts. In all of these teams, we find that sustained success is most closely tied to the development of a certain team culture where consistency becomes second nature. Coaching stability is vital, unselfishness is embraced, and patience becomes a virtue. Indeed, nothing is expected to cohere overnight, especially without enduring seemingly requisite rough patches. But progress will be made; this, of course, is the byproduct of patience and care. And when that progress reaches an apex? Oh, what a reward at the end; when patience is honored and compensated. Indeed, there is an art to creating something beautiful in the NBA, and more than any sport, the finished product is a sight to behold. When everything works out, each pass seems both timely and aesthetically pleasing, each shot seems pre-ordained and just. When the players and coaches are in harmony, the love is tangible, as are the hugs, handshakes and celebrations shared between bonding brothers. On these functional, patient teams responsibilities and niches vary; no one is more or less accountable than the other, and the sacred "process"seems more meaningful than the results.
However, while there is beauty, there is also embarrassing blunder, and this is especially apparent this season. The Eastern Conference has shown itself to be more remedial than respectable; bad enough for a sub-.500 team to possibly win an entire division. While the Heat and Pacers remain their usually dominant selves, everyone else has crafted a product that only a hopeless mother could love. Among these afflicted teams — and much to our collective surprise — are the Brooklyn Nets, living a picture-imperfect reality that none of us could have predicted. Of course, at this point, the story is fairly well known. Despite possessing the NBA's highest payroll, the Nets have been nothing more than a cheap knockoff of what was supposed to be a championship roster. Their five-year title window has one year remaining, and according to most, it has already closed.
The Nets have no shortage of issues, among which the biggest is a lack of an established culture. Much of this is a result of poor financial design and hasty investments. After two seasons of wheeling and dealing for veterans, there is no salary cap flexibility, instead replaced by financial purgatory familiar to the crosstown-rival Knicks. Among these newcomers, injury, age and attrition have contributed immeasurably to team-wide ineptitude, and the expedited championship path has left cohesion absent; essential fraternalism completely missing in action. Those variables, along with a hyper-competitive but haphazardly-wired owner, a rookie coach devoid of any experience and a top-heavy, expensive roster, provide a tidy summary of the multitude of ailments that have afflicted the Nets. Indeed, in these seemingly stillborn Nets, we are forced to confront the fact that the art to crafting something beautiful is contrasted by the incapacity to stay out of one's own way. More than even the Knicks, the Nets have been a hindrance to themselves. Their impatience, thus far, has been their undoing.
By the command of their ultra-competitive-but-seemingly-in-over-his-head owner Mikhail Prokhorov, the Nets have built a team meant for championship contention only in theory. From the Deron Williams trade that sparked the rebuilding phase to the Kevin Garnett-Paul Pierce trade intended to conclude it, the Nets have garnered more attention for aiming high than aiming properly. On paper, each trade leading to the Williams-Johnson-Garnett-Pierce nucleus served a unique purpose. Williams was cast as the cornerstone for a new era, Johnson as an important piece to a still-developing puzzle, and Garnett and Pierce as championship-proven cogs renowned for excellent role play and leadership. And while more than enough games remain for the Nets to right this ship, it won't steer in its intended direction. Conventional wisdom assigns blame to the players – and there is no shortage of that to share – but the onus belongs to Prokhorov, the catalyst behind the Nets' newest low. Even Before acquiring Deron Williams, Mikhail Prokhorov called dibs on an NBA championship within his first five years of owning the Nets. The declaration hung in the air like a "shotgun" declaration from a quasi-friend bumming a ride; indeed, coveting something doesn't assign you priority. Common wisdom (and past experience) has displayed that NBA Championships aren't won because they're simply coveted. Infinite variables boost or jeopardize title bids, and spending frivolously doesn't negate that reality.
Because of this ever-imperative reality, chemistry and stability hold special places in the hearts of the present-day Heat, longtime-contending Spurs, ever-improving-but-certainly-championship-caliber Pacers, still-young-but-plenty-battle-tested Thunder, and infinitely-fun-to-watch-but-nightmare-to-oppose Warriors. But compared to these respective elites, Prokhorov's Nets have taken the Hasting's Cuttoff to contention, and their trek appears to be gravely perilous. The Nets under Prokorhov have not shown themselves to be particularly interested in taking the long road to the promised land. Among the eight Nets in the rotation, only one (Brook Lopez) was drafted by the Nets, and only one other Net on the entire roster (Williams) has been there for at least three seasons. And, by and large, this impatient, reflexive decision to roll the dice on trades rather than draft picks has proven disastrous for both the present and the future. We can look at the decline chronologically; a decline that even the most casual fan can recite. Shortly after signing Williams for five years and $98 million, the Nets – ever impatient and self-pressed for contention – added Joe Johnson to the mix.  Of course, with Johnson comes scoring acumen, but it also comes with $89.4 million remaining on an unpopular contract, including the $24.9 million he's guaranteed in 2015-16.
However, Johnson's steady decline in production – now entering its third consecutive season — is more damning than his inflated salary. More a score than anything else, Johnson's been more a shell of the isolation wizard the Nets hoped they were acquiring. More often than not, he's been a painful example of the Nets' lack of identity, direction and consistency. The numbers tell a sad tale. In 92 games with Brooklyn, Johnson has more games shooting below 45 percent (54) than he does above 45 percent (38). His penchant for facilitating the offense has been hindered by advancing age and being a step slower, resulting in his assists declining for a fifth consecutive season. And I'm sorry to remind you that this is two years before Johnson is paid $24.9 million, in a year the Nets have no first-round picks. There is not much to like in the Johnson acquisition; diminishing returns and soaring tax bills by the minute.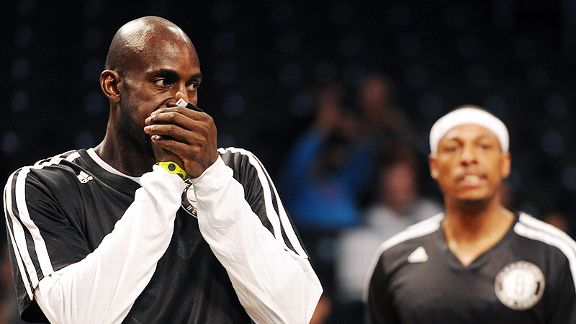 Yet Johnson isn't the only big-name the Nets imprudently invested in and from whom they are seeing few tangible returns. Rather than explore other avenues to reduce their salary tax burdens, and more responsibly build towards a more sustainable future, they burdened themselves by swapping three future first-round picks (2014, 2016 and 2018) for one year of Paul Pierce and two years of Kevin Garnett, both combining for $38.5 in remaining salary. Like we, as basketball fans, reluctantly expected, Garnett and Pierce have resembled their declining forms featured on last year's Celtics, who finished 24th in team offensive efficiency, per Basketball Reference. neither player has resembled anything close to their Celtics forms. Neither Garnett nor Pierce will tell you they are no longer championship contributors, and they very well still are, but their salaries (Garnett makes $11.5 million this year, Pierce $15.3) push nostalgic perspective aside and bring disappointment to the forefront. Furthermore, injuries and inconsistent play have been compounded by holes in the roster and poor team building. There is no budding big man coveted by Prokorhov and drafted by Billy King for Garnett to split minutes with during the end of first and end of third quarters. Furthermore, Pierce's injury could hurt less if not for Andrei Kirilenko, 32, bought (for cheap) being hurt himself,. Sadly, despite our attachment to Garnett and Pierce, the games themselves imply that they aren't championship cogs to the degree the Nets need them to be. Unfortunately for them, the Nets have no other options. Certainly they cannot look to their rookie coach Jason Kidd, who continues to manage his own professional blunders with the poor play of the team he has inherited, championship aspirations and all.
Now, we don't have to be stern parents about this; banishing our disappointing charges upstairs without supper. Perhaps we can find it in our cruel armchair-bound hearts to be forgiving; to take a deep breath, cast a favorable gaze on this downtrodden team as we sit in front of this fireplace, where a failed Nets season becomes the logs engulfed by a blistering inferno.  After all, this was an attempt to build a culture for a truly unique team; to craft a successful way forward that could be branded as particularly Nets. Following a painful-to-watch seven-game first round loss against the Bulls, the next step forward required thorough contemplation and correct action. With Williams, Johnson and Lopez, as well as the coaching of P.J. Carlisemo, the Nets nearly advanced to the second round. In the minds of Prokorhov and King, making another push for improvement seemed more probable than possible. But the margin of error was small, and pushing the nuclear option button has proven to be the best route to success, at least in these early goings.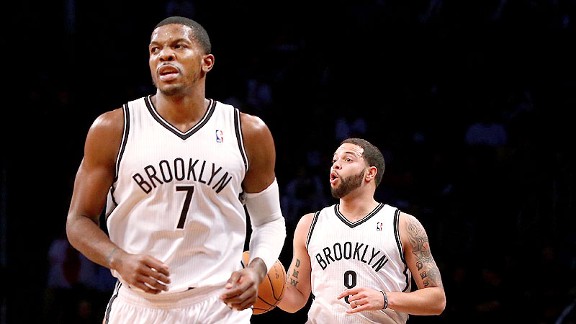 With that in mind, it's hard to be fully forgiving. All the red flags were there, after all.  What else can you expect for a team on its third coach in a year? On a team with an instable roster and baffling, blundering overseers who give away draft picks for rickety hot rods, begging for a final race against clearly superior cars? In these moments, we feel a sense of pity; a sense of, how could you not see this happening? What the Nets have strived for cannot be hastily manufactured or dreamily contrived, especially under the vice-grip of a collective bargaining agreement stressing prudent spending and team management. Unlike the Pacers with their young, talented, and home-grown core of Paul George, Roy Hibbert and Lance Stephenson, or the Warriors with their similarly-developed firing squad of Stephen Curry, Klay Thompson and Harrison Barnes, or the Thunder with Kevin Durant, Russell Westbrook and serge Ibaka, the Nets aimed high without a parachute. Assembling great talent means nothing without cohesion, a standard of togetherness or any semblance of stability. As of late, insightful franchises are rewarded for their patience and discernment with a contender, while impatient front offices get only egg on their face for attempting to cheat the system. Unlike the 2004 Lakers and 2011 Heat, the Nets have no transcendent talent to accompany them back to the drawing board. Instead, there's Deron Williams, Brook Lopez, and core of expensive stars who by and large will remain shells of themselves.
It's a shame that today's Nets will be the same tomorrow, the next season and two seasons from now; without draft picks to infuse youth for an aging roster, salary cap space to further-weaponize limited talent, and still paying Jason Kidd to figure things out (or, perhaps if things keep going the way they are, paying him to stay away). And that's okay, because great triumph means little without preceding struggle. Champions are not born without learning the sting of second-place – or, at the time of writing, 12th place — and furthermore, there is no shame in pursuing contention. This is, after all, the NBA, and everyone wants an opportunity to prove themselves to be superior. But that isn't done without time, nuance or a backup plan in case things go unexpectedly, all of which have been absent in the Nets' plan.
So as the season progresses and the future's flexibility remains limited, there is no choice but to be patient; to sit and find pleasure in the warmth of a concrete jungle alit with flames. We can all hope that wins could eventually become more common, but none of us expect anything close to what we feverishly expected during the heat of the summer. Yes, by those estimations, this should have been a contender, the ushering of Brooklyn dominance, or at the very least, a threat to the New York basketball crown (though given the Knicks struggles, they still might). Instead, there is only disappointment, nostalgia and persistent questions. And rather than being next in line for supremacy, the Nets have earned, what a wise Brooklyn philosopher might call, a long kiss goodnight.