It is a Diss tradition to dedicate the second of the last Games of the Week to the teams that I didn't bother to watch this year, simply because they were too bad, too tankish, too uninspiring, too dramatic, too not the Warriors, or too whatever else I saw fit. It is also a Diss tradition to bathe these teams in RED, which is apparently the color of shame. Not all Diss traditions are kind. Perhaps these teams will do better next year.
Monday: No Games Scheduled
The NBA and the NCAA get a big fat red face-painting today. No games scheduled? Really? Because of the national championship game for college? That's a big, steaming load right there. Sure, the tournament has been entertaining enough this year. But nothing — NOTHING — is worth removing a day of games for. Only way the NBA can make up for this is to come out, call NCAA president Mark Emmert a skeezy fucking prick-hole, turn him upside down, and shake that douchebag really hard so every NCAA athlete and under-funded academic program can get the millions upon millions of dollars that fall out of his pockets. Go hit your head with a brick, Emmert, and may your antiquated, pay-to-play hack-job of an organization burn in hell.
Tuesday: Dallas Mavericks at Utah Jazz (6:00 PM on League Pass)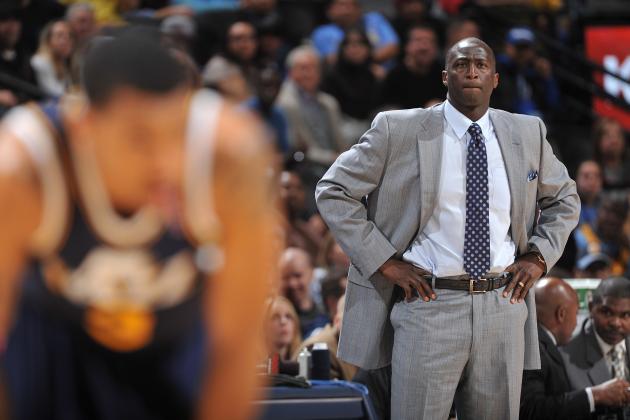 Each year, a perfectly innocent team suffers simply because they give off that "give me four or five years, and I'll have my shit together" vibe sometime in early summer, and I just write them off for the next nine months. Unfortunately, that distinction belongs to the Utah Jazz, who were broadcasting all sorts of weird signals just as soon as the offseason began. They didn't even try to resign either of their two best players from the previous year (who then went on to have great years for their new teams), and their intriguing rookie (as much as any of those exist this year) spent a significant part of the early season injured. So by the time they actually started playing better after the All-Star break, they were all personas non grata to me. Gordon Hayward, Derrick Favors and Trey Burke are interesting enough, but not on a weekly basis. And you can't help but look at Phoenix, who were projected to be about as bad (or maybe even worse) than the Jazz, yet are thriving under former lead assistant Jeff Hornacek's tutelage, and think that they might've let the wrong guy go to a different team within the conference. But all that's in the past, now. Utah has a down year about as often as Haley's Comet appears, so I'll give them a mulligan. Sort of.
Wednesday: Phoenix Suns at New Orleans Pelicans (5:00 PM PST on League Pass)
After two consecutive years of winning my end-of-the-season approval for a job vaguely-well-done, I have to give the New Orleans Pelicans a big splash of the red stuff this year. The reason is simple: Anthony Davis has made them look bad. In 2012, the team was seemed to be trying to forget Chris Paul and reassert itself under then-lauded coach Monty Williams. In 2013, after getting bought, and drafting Davis, the team was focused on trying to get healthy, and start developing a Davis-Ryan Anderson-Eric Gordon core. In 2014, after a largely celebrated offseason that saw them obtain Jrue Holiday and Tyreke Evans, and undergo a wack-nuts rebranding into the Pelicans, the team was actually projected to win some games. So much for that, I guess. Anthony Davis' brilliance on both the offensive and defensive end had the unintended side-effect of highlighting how poorly this team is built and coached. There were some acts of the Basketball Gods, like injuries to Anderson, Holiday and Evans (that is, all of the other good players on the team). But AD didn't really do them any favors, despite his excellence. To see such an exquisite player forced to run extended minutes with Austin Rivers and Brian Roberts is a crime of the highest order in the NBA. So my love affair with Monty Williams and Dell Demps is officially over. I demand a real team around Anthony Davis. Perhaps Adam Silver can re-purchase the team and send AD to Golden State.
Thursday: Denver Nuggets at Golden State Warriors (7:30 PM PST on TNT)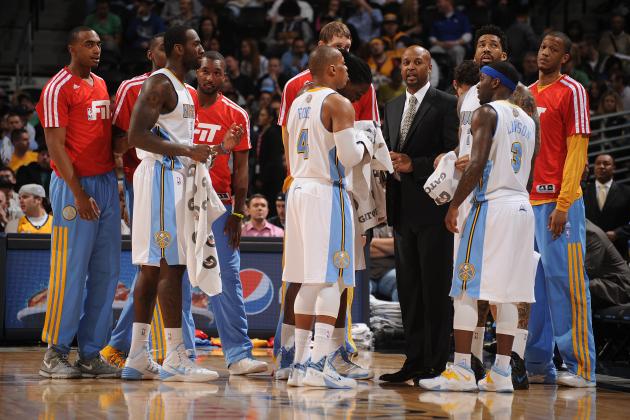 The Homer Game of the Week features my beloved Golden State Warriors facing a former favorite of mine: the Denver Nuggets. The Nuggets went from being one of my most-watched teams to one of my least, and much of it has to do with the beguiling danger what I'll term the "faceless army" syndrome. Last year, the George Karl-lead Nuggets developed an exciting brand of "next-man-up" basketball, which worked out great until the "next man" failed to step up in the playoffs, and George Karl lost his job. The Brian Shaw-lead Nuggets, in many ways, were very much like the Nuggets of the prior year, but this time around, that "faceless army" worked disadvantageously for the Mile High Club. At various points in the season, the Nuggets really lacked a true "face" to really help me figure out what, exactly, was going on with the team. The veterans didn't get along with Shaw, and Shaw didn't seem to try and get along with the veterans. The team stole the "Most Friendly for Knee Injuries" label from the Blazers (get well Nate Rob, JJ and Danilo, who wasn't fixed properly by his team). And by February, they were giving off that sort of musty smell of a team that probably had too much pride and latent talent to outwardly tank, but it was clear that it wasn't in the cards. If they get one of the lottery picks, they'll get a Melo-like presence to re-anchor the team, and get a Trailblazers-style rebuild-on-the-fly started in earnest (think Damian Lillard joining LaMarcus Aldridge) which will get them back into the top eight in the West. But this year was not one worth watching in Denver.
Friday: Washington Wizards at Orlando Magic (4:00 PM PST on League Pass)
Don't get me wrong: there will be a day when we look back at the Dwight Howard trade, and assert that the big winners of that whole crazy things weas the Orlando Magic (sort of like the Grizzlies are said to have "won" the Pau Gasol trade, even though the Lakers got two championships out of Gasol). Nic Vucevic still projects to be a top-five center someday, Arron Afflalo has been found money, and the cap space and draft picks the team accrued will ensure competitiveness someday in the future. Orlando will come out of that looking pretty, even if Dwight makes several deep playoff runs with the Rockets, and even wins a championship. But we are still many days away from uttering that opinion, and not getting wide-eyed looks from just about everyone. When I checked in on this team, it looked like Jameer Nelson was still getting an awful lot of playing time despite the fact that younger players needed the development. The young guys themselves looked promising (I especially like Tobias Harris, Victor Oladipo and Mo Harkless), but aren't really anything worth tuning in for on a regular basis at this points in their careers. I'm sure the Magic will be sick come 2017, but it's 2014, and I can't be bothered right now.
Saturday: Boston Celtics at Cleveland Cavaliers (5:30 PM PST on League Pass)
Even when the Cavs briefly threatened to snag the eighth seed from the Atlanta Hawks (who are spared a spot in Games of the Meek because someone has to finish eighth out there), I was done with this team. Few teams appeared to have less fun throughout the season, and it really showed in the product. Similar to the Pelicans, the Cavs got a pass the last two years because they seemed to be clearly on a rebuild-path. But this was the payoff year, and despite the weakness of the East, we got very little in return. And man, was it sad. Kyrie and Dion did not gel as an elite backcourt, were at odds the entire season, and couldn't keep their names out of trade and eventual departure rumors. Newcomers like Jarrett Jack, Earl Clark and Andrew Bynum contributed very little from the outset, and late-arrivers Luol Deng and Spencer Hawes provided too little, too late. Mike Brown looks like the least enjoyable coach to play for in the entire league. The hero worship for straight-up role player Matthew Dellevadova got unbelievably uncomfortable. And even with all of this, the team almost staggered their way to the playoffs. That's the East for you, folks. I won't miss this Cavs team. Hell, this Cavs team won't miss this Cavs team. That's how much they hate themselves.
Sunday: Toronto Raptors at Detroit Pistons (12:30 PM PST on League Pass)
Congrats, Joe Dumars. Your Pistons are the first team to be listed in Games of the Meek three years in a row. Between you and me: I think this year was his best fuck-up job; some grade-A shitty general managing. If you thought that whole "overpay inefficient starters" thing was just a phase that he got over back in 2009, you are wrong, my friend! This is one of the few times I can remember that nearly every reservation someone had about a team during the offseason came absolutely true. There weren't enough possessions to go around for the team's starters, and no one was good enough to make those possessions meaningful. The team played next to no defense. The bench was entirely non-existent. The head coach was a dud. And look who's left standing. Everyone claims that Tom Gores will let Dumars walk at season's end. I'll believe it when I see it.