"Are you kidding?"
That's the text I received from an NBA writer when it was announced that Bleacher Report had hired the New York Times' Howard Beck. While three other hires were announced simultaneously—The Orange County Register's Kevin Ding, The Palm Beach Post's Ethan Skolnick and ESPN.com's Jared Zwerling—the big news was that perhaps the country's finest beat writer was leaving the country's premier newspaper for Bleacher Report. From the New York Times to the cesspool that is Bleacher Report's slideshows, SEO-determined articles, and non-paid and non-skilled writers: what the hell was Beck thinking?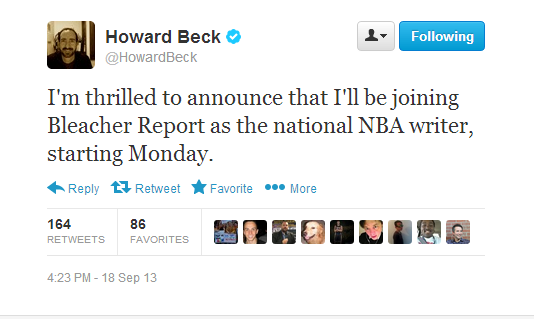 But Howard Beck's decision isn't actually all that interesting. Beck spent the last 16 years as a beat writer, seven covering the Lakers for the Los Angeles Daily News and the last nine covering the Knicks for the New York Times. He already has the prestige from covering the league's two marquee franchises and writing for the country's marquee paper, and like most other Times writer he was probbaly underpaid relative to his value. When a (presumably) highly paid job that got him off of the beat and lets him cover national NBA news came around—not to mention that it lets him spend more time with his family—it isn't hard to imagine why he would jump at the offer.
Bleacher Report was bought for nearly $200 million by Turner Broadcasting a year ago: they have the money to poach most sports writers if they're willing to pay enough. The salient question here isn't why Beck, Ding, Skolnick and Zwerling left their respective employers for Bleacher Report.
The salient question is, "What do these hires say about Turner Broadcasting's long-term strategy with Bleacher Report?"
Since purchasing Bleacher Report for its Turner Sports division back in August 2012, not much has seemingly changed. The only public signs of the partnership were TNT announcers' frequent mentions of the Bleacher Report Team Stream app during NBA broadcasts, and Reggie Miller incorrectly crediting an interview with Michael Jordan to Bleacher Report. With these four hires, however, that is quickly changing.
It is noteworthy that in tweets announcing their respective moves both Skolnick and Zwerling mentioned that they would be working for Turner Sports, not just Bleacher Report, and in an interview with Deadspin Beck noted, "'there will be opportunities across other Turner platforms'". Through TNT, Turner Sports broadcasts 52 NBA regular season games, All-Star Weekend, up to 40 playoff games and at least one Conference Finals. Additionally, along with the NBA Turner jointly manages NBA TV, NBA.com, NBA League Pass and NBA Mobile. With the exception of Zwerling, never a major contributor to ESPN.com's NBA coverage, the other newly hired writers will have their first opportunity to perhaps break into the big-money world of TV broadcasting.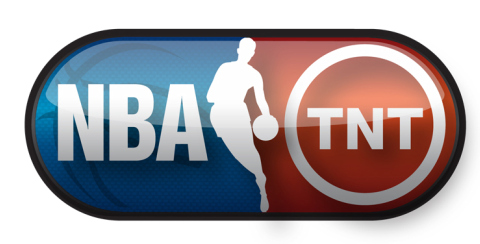 The cross Turner Sports platform work these writers will be doing suggests Turner executives have a much deeper level of involvement in the affairs of Bleacher Report than we've previously understood. In fact, the hire of four notable sports writers seems like a massive content laundering (h/t Ethan Sherwood Strauss) operation overseen by Turner Sports.
The old Bleacher Report had no use for a phenomenally talented writer like Howard Beck, likely its highest paid writer, because its model was built on quantity over quality. Howard Beck's first, widely shared, article for Bleacher Report written four days ago, a great take on the New York Knicks firing their general manager, has so far received 143,000 "reads". Bleacher Report already has Gabe Zaldivar, a writer you've likely never heard of whose 521 articles average 144,000 "reads"; Matt Miller, whose 386 articles average 140,000 "reads"; and Tim Daniels who has written 3,116 articles since he started, an average of 3.3 articles a day, every day, for the last two and a half years. Bleacher Report is so good at what they do—producing five different keyword littered takes on every single sporting event using an algorithmic-generated headline—that they have a stable full of writers that are "better" than Beck, where better is measured by a writers ability to quickly pump out click-bait content.
Before being bought by Turner, Bleacher Report had raised at least $36 million in venture capital funding, yet none of that cash was spent on hiring established writers. Sure, Bleacher Report made big announcements of hires every once in awhile, but almost none of those were full-time paying jobs, and they were all relatively unknown (in the wider world) online writers. They also rarely stayed on for even a full year. There were certainly no hires of Beck's stature, or Ding's or Skolnick's, before Turner's involvement.
As a major sports rightsholder—Turner Sports broadcasts baseball, college basketball, NASCAR and golf in addition to the NBA—it is important that Turner have a robust online presence. More and more the "second screen" experience—having a computer, tablet or phone open while watching the game—is becoming mainstream, and Turner needs to be competing for those eyeballs. They need to be able to bring a Turner Sports writer onto a broadcast to tell a story, and then point readers to a Turner-owned place where they can find out more about said story. That place is Bleacher Report, and frankly, it's an embarrassing place to point your viewers to.
With a few exceptions—looking at you NBA League Pass—Turner Sports is thought of as a high quality operation. NBA on TNT is by far the best basketball broadcast on TV, March Madness Live is a fantastic way to take in the NCAA basketball tournament, its PGA Championship coverage is often lauded…and then there's the widely-mocked Bleacher Report.
All of this points to Turner Sports "Beckwashing" their content. Much like every business these days is stumbling over themselves to spend more money telling you that their packaging is made with 10% recycled materials than they're actually spending on environmentally-friendly practices, the hires of Beck, Ding, Skolnick and Zwerling seems like an effort by Turner Sports to convince everybody that Bleacher Report is a source of high quality content, and to deflect criticism.
Criticism: Bleacher Report doesn't pay any of its writers. Response: It pays enough to hire Howard Beck away from the New York Times.
Criticism: Bleacher Report only publishes slideshows and other crap. Response: Kevin Ding wrote a great article recalling a key observation Kobe Bryant made back in 2002.
Criticism: Bleacher Report writers don't attend games and often have no idea what they are talking about. Response: Ethan Skolnick attends every single Miami Heat game.
Despite the high-profile hires however, these criticisms—as well as many more leveled by Joe Eskenazi in last year's damning SF Weekly profile of Bleacher Report—still ring true for the vast majority of Bleacher Report writers and content. The vast majority of the writers are still unpaid and the vast majority of the articles are still crap.
No small amount of public relations shilling will change that.
* I reached out to a Bleacher Report editor and a Turner Sports PR rep for comment. After initially seeming willing to talk the Bleacher Report editor stopped responding to my e-mails, and the Turner Sports PR rep never responded to e-mails or voice mails.