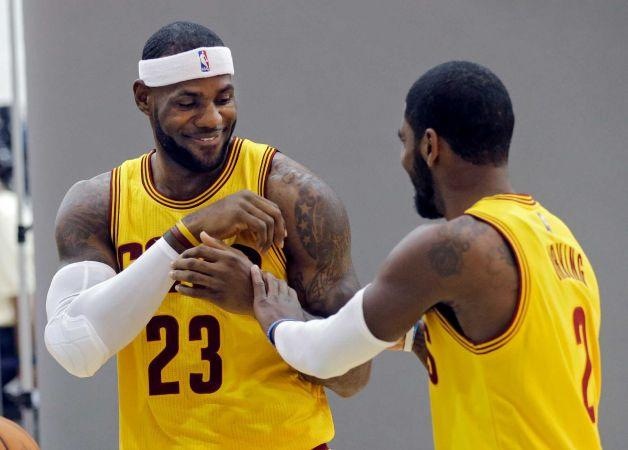 Media day has become known as the unofficial start of the NBA season, despite the fact that in most cases, the players haven't even begun practicing with their teammates yet, and meaningless preseason games still are more than a week away. On this day, the team is paraded into a large room, where they all participate in strange photo shoots. In these cases, the players are more like models than they are professional athletes; standing tall and proud in their uniforms, perfecting hardened looks and blank stares as flashbulbs pop and hiss around them. As they stand there, perfectly still, almost arboreal in quality, one can't help but note that, should their coach blow a whistle and yell "hustle up!", the players would excuse themselves and trot away from the fracas of media day, have a hasty huddle, and take the court against another NBA team. They would be ready, after all, for as the players remain motionless, they are dressed as if they are ready for motion, action, excitement. Here is LeBron in tights, $200 shoes adorning his feet. Here is Melo with his headband already in February form, his trademark orange sleeve compressing a magnificently cold shooting arm. Yes, these players are armed and accessorized, ready for action. They are crisp, clean, full of flare. However, at this moment, the neoprene remains dry, the headbands remain perfectly settled on highly-scrutinized hairlines.
While the event marks the beginning of a new NBA season, media day also seems to signify the end of the first round of Accessory Season; the extended period of time where new lines of flair are produced, and later presented by their most famous endorsers. By this point in the proceedings, in between the end of NBA finals, and the start of training camp, NBA players — as well as the myriad of businesses that pay them to push shoes, shirts, large plates of nachos, deodorant, cell phones and breakfast cereal — have released most of their major products. Media day serves as the rollout for these items, a chance to model the tchotchkes. An obvious example exists in LeBron James' new shoe, the LeBron 12, which was revealed late last week to the purchasing public at Nike's headquarters outside of Portland, Oregon. The shoe itself resembles the crystalline entity; a messy compound of uneven hexagons and synthetic material resembling futuristic snakeskin. Yet, at the same time, it's presented as the zenith of progress; the end of a magnificent journey of feet-sheathing, and all for a "it could be worse!" price of $200. "It's a shoe defined by extreme precision, as well as explosive performance," says Trevor Edwards, President of Nike's Brand (with "Brand" capitalized as a terrifying proper noun). "[It] has everything that LeBron needs in a basketball shoe — and nothing more. In a word, it's the best." In the lead-up to media day, the reveal of the shoes wove interestingly with other additions to the ever-expanding iconography of the NBA, like a myriad of sleeved alternate jerseys being adopted by various teams, to logos for D-league teams which are compared (favorably?) to a "non-alcoholic gay disco." All of these disjointed releases come together at media day, revealed in a carefully crafted event meant to tie all the disparate slogans, icons and individuals together in a unified message: "invest in us."
I will argue that, among all the sports that exist on our very-nice-but-ultimately-doomed planet, basketball provides the most forgiving environment for accessories — the tangible and often purchasable assets that accentuate a player on the court — to flourish, thrive, and be innovated. Additionally, basketball allows its participants the greatest opportunity to accessorize; to experiment with various tools and products in an effort to enhance performance and even establish a brand. Perhaps basketball's primacy in the realm of accessorization isn't a surprise. Among the five major North American sports — and I will graciously, progressively include soccer in this list — basketball features the most scantily-clad players; galloping gracefully in roomy, baggy garments, unencumbered by long pants and brimmed hats, and unladen by vaguely-effective helmets and suits of armor. Their intensely built bodies are often laid nearly bare before us, seemingly begging to be covered in images, garments, labels and logos. In many cases, accessorizing is the choice of the player; a staunch display of agency and self-promotion. In most other cases, that accessorizing is done for them, either by the teams that employ them, or the sponsors that pad their accounts. Regardless of the case, accessorizing occurs, and then the accessories themselves trickle down, to your weekend run with your friends, to the catwalk, or even to the club. Indeed, basketball accessories serve as a strange conduit between a freakishly elite group of athletes and the vast midsection of the world, and accessorization becomes a common language of understanding between these two disparate groups.
If we were to take it a step further, it could be argued that the mere existence of the NBA, as well as the general accessibility and utility of NBA-inspired accessories, has been enough to generate innovation that has influenced popular culture more-so than nearly any other sport in the world. Again, this isn't a surprise, or at the very least, it can be fairly easily explained given the insistent visibility of the players. Perhaps it is their perceived superhumanity that has led to the creation and consumption of a myriad of products based upon excelling at physical activity and chewing up the competition. The idea that at a basketball-shaped pump on the tongue of a Reebok, or cartoonish-looking springs on the heel of a shoe, could provide choice amounts of artificial athleticism - I used to be bound by gravity until I got my Nike Shox! - is informed totally by the extraordinary feats NBA players are able to accomplish on a nightly basis. The notion that an arm band, or a calf sleeve, could provide something more than just extra weight on a non-essential appendage, or that a head band could provide you with extra street cred off the basketball court is a direct result of the unique style of marketing the NBA participates in: a showcase of accessories, arrayed upon exceptional individuals, where correlation and causation are often blurred, and it is unclear whether the accessories make the man, or vice versa. This is how the NBA has distinguished itself over the years; by making the products the players wear on the court meaningful and obtainable available to those who truly want them.
In this way, media day — which rubs many the wrong way — is generally regarded with disdain because of it's association with Accessory Season, and the NBA's annual rite of unrolling their various brands, messages and marketing schemes for the upcoming year. Media day as an institution stands in stark contrast to Ron Artest, the slapstick former NBA forward who has rebranded himself as "the Panda's friend." Artest, who is bound for the Chinese Basketball Association after wearing his skills thin in the states, offered something completely different for his new purchasing audience: the first shoe, meant to be played in, with a stuffed animal attached to the top. The $75 shoe itself looks rather plain; it's all about the panda on top. "The bear is not detachable," Artest assures potential buyers, "the Teddy bear is a permanent and is the pandas friend! The ears on the side are also not detachable. Enjoy!" Given the importance placed in shoes — and headbands, and arm sleeves, and knee straps, and any other item that makes a player what they are, and enables them to do what they do — Artest's tomfoolery seems almost sacrilegious; discordant with the times we live in. But at the same time, and like his former colleagues in the National Basketball Association, these items are meant to represent the individual, and everything the individual stands for when they're on the court. In the same way Reebok Pumps made you springy like Horace Grant, and Nike Shox made you fly like Half-Man-Half-Amazing, the Panda's Friend will make you a tough defender, a strange twitter follow, and a whimsical presence wherever you take your skills and your shoes. Of course none of these things are actually happening. However, as long as you believe in what you're wearing, and the person who told you to wear them, it's honestly as real as can be. And since belief is usually expressed in terms of dollars and cents, it's hard to know what's real, and what's fantastical, in this strangely blurred world.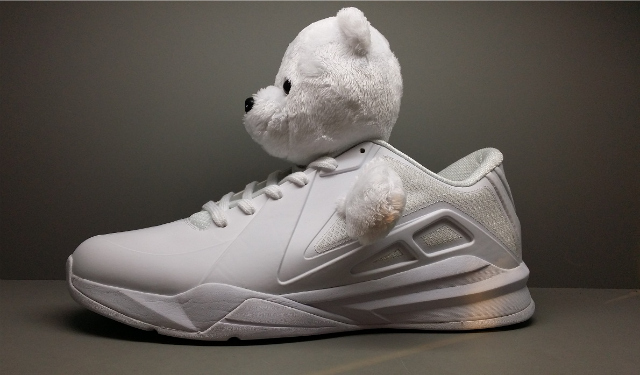 The NBA season is still 27 days away. Training camps have just gotten underway, and teams are now beginning to offer small glimpses of what could be in store on a nightly basis. LeBron is receiving under-the-legs passes from Kyrie Irving, slamming the ball into the hoop with a facial expression that seems savagely comfortable, ready for just about anything. On the other end of the spectrum, a rebuilding team like the Minnesota Timberwolves are still finding ways to show off their new pieces; delighting drunken college students at a late-night open practice, filled with all sorts of witching hour alley oops and tomahawk jams. Yet in all of these scrimmages, the players look destitute, sashaying around in Adidas-brand jorts and sweaty long sleeved shirts steaming under over-sized pennies. No, it is not yet time for the players to really show us what they have in store. That will require games that count; an opportunity for them to show us their flair, in the hopes that we will eat it up, our eyes wide with amazement, our mouths ajar and tantalizingly moist with saliva, and our pockets aflame from dollars and cents just waiting to be spent.