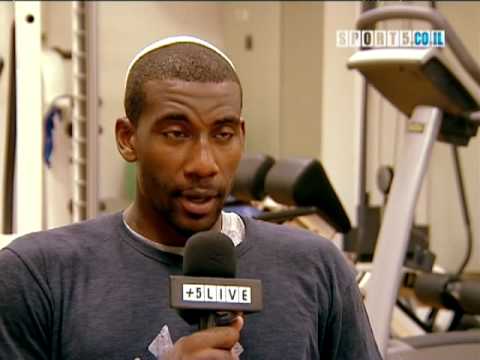 Both Amar'e and I wish you a happy Hanukkah.
Tuesday: Golden State Warriors at Indiana Pacers (7:00 PM EST/4:00 PM PST on NBA TV)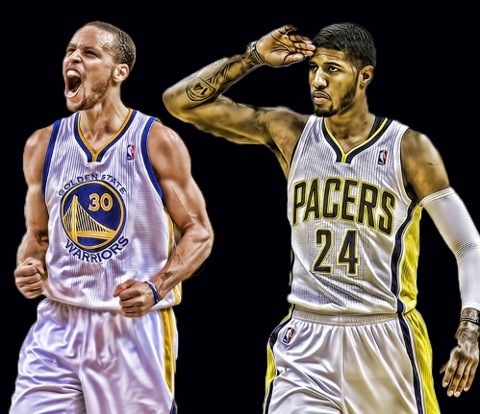 The Homer Game of the Week features my beloved DEFENDING 2015 NBA CHAMPION GOLDEN STATE WARRIORS going for 23-0 against the tricky-as-hell Indiana Pacers. Much has been made of the Pacers' successful transition into the world of modern-day small ball. At the moment, the Pacers look like the closest thing the Eastern conference has to the Warriors. The Pacers boast the league's 7th best offense (up from 23rd last season) as well as the 5th best defense (up from an already-elite 7th last season). They also feature another magnificent talent in Paul George, the reigning player of the month for the Eastern conference. Once you add career-year C.J. Miles, Monta Ellis, who loves to exact revenge on his former squad, and the ever-valuable George Hill, you got a bit of a problem on your hands. It's also worth mentioning that the Pacers have played the Warriors brutally over the past two seasons. They managed to win a home game (that Steph was resting in) last season, and gave the Warriors a tough three quarters when they came out to Oakland (though they ended up losing 117-102 in the end). Who knows? If the Pacers end up being the one in 81-1, it will be an easy enough pill to swallow.
Wednesday: Orlando Magic at Phoenix Suns (9:00 PM EST/6:00 PM PST on League Pass)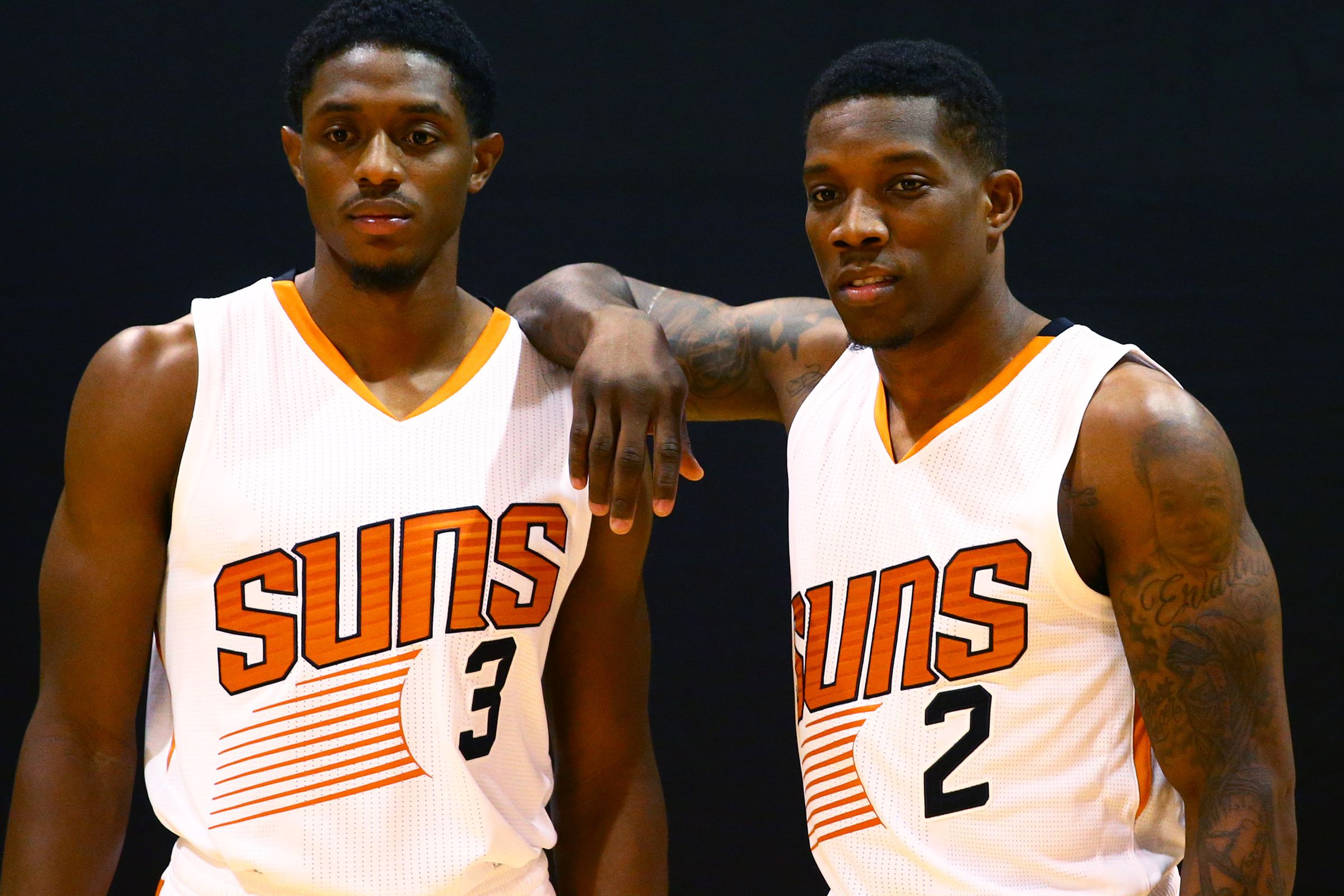 Last night's unexpected comeback against the Bulls sealed the deal for me: the Suns have regained their positions as nightly League Pass lovelies. True: they've gotten a bit worse each year that Jeff Hornacek has been in charge. They've gone from 48 wins in 2014, to 39 wins in 2015. At 9-12 (as of Tuesday), they don't look much better than their disappointing iteration from last season; perhaps even a few degrees worse, even. Also true: the whole "drive, kick, and play free!" movement seems to have lost a lot of its prestige the further the team drifts away from the playoffs. But there seems to be less acrimony this year, and they have some really fun players to watch. Brandon Knight could make a case for being the most underrated player in the NBA. P.J. Tucker is the version of Draymond Green you get from Nordstrom Rack. Archie Goodwin and T.J. Warren are entertaining young players. Alex Len isn't going to be a bust. And who knows why Jon Leuer is so entertaining to watch? I sure don't. Like, how is he good? I don't get it. I guess I don't need to. I'll be happy to give them a gander as I also take a closer look at the Magic, who are having a nice 11-9 season of which I have not watched a single blessed minute.
Thursday: New York Knicks at Sacramento Kings (10:30 PM EST/7:30 PM PST on TNT)
What an odd TNT game. Not only does this nationally-televised game feature two sub-.500 teams (though the Boogie-Rondo partnership is becoming must-watch League Pass), it's also some rare Knicks After Dark presented to a huge audience. My question is: will anyone on the East coast be awake to watch it? It'll be 10:30 PM in New York when this game starts. That's, like, bedtime. At least for me it is. This is why I'm pleased I do my NBA-watching from the comfort of California, where the games (that I don't really care about) start at 4:00 and end at 6:30, which allows me a chance to watch the end of the 5:00 games, and the entirety of the 7:30 game. I can't imagine my basketball night starting at 7:00 pm, and having to wait until 10:30 pm to take a look at my team. I'd probably never watch basketball. I'd also probably have more of a life. Oh well. I actually think this will be a fairly entertaining game, if anyone can stay awake through it.
Friday: Oklahoma City Thunder at Utah Jazz (9:00 PM EST/6:00 PM PST on League Pass)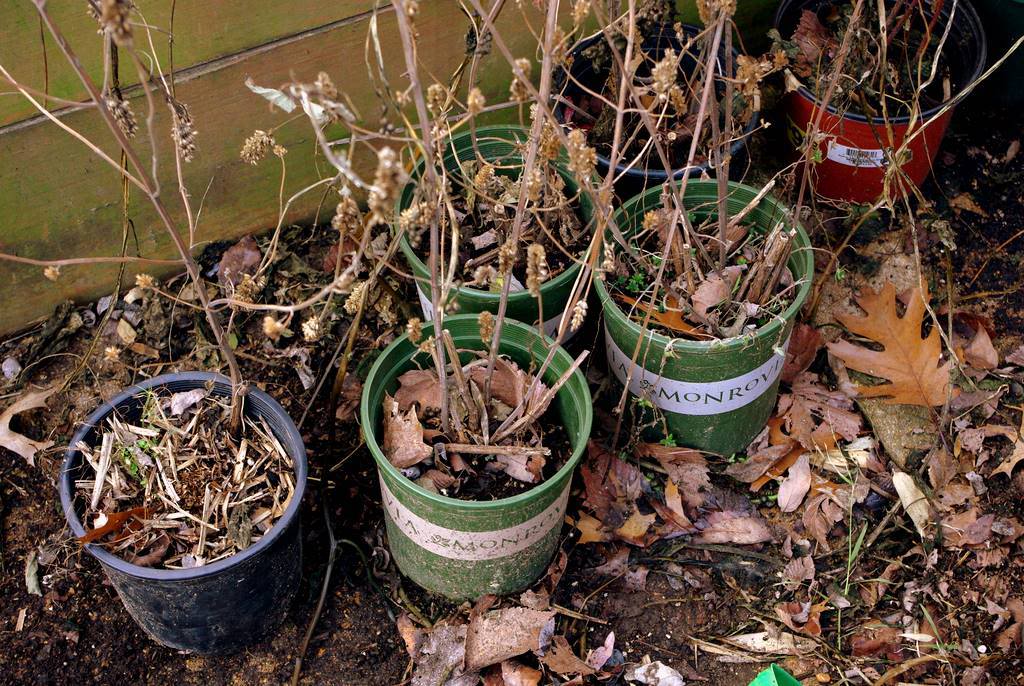 Gird yourself, bud: games sorta suck this Friday. The national offerings look pretty limp; the only person who really cares about Heat/Pacers or Spurs/Lakers should let 2000 go. And I suppose there's a bit of appeal with Cavaliers vs. Magic, but I have plans to watch the Magic on Wednesday, and I'm taking a break from the Cavs drama for a week or two. That leaves us with Thunder versus Jazz; the best game left on the schedule. You know what you're gonna get: the regular KD and Russ offerings, met sternly by the long, limby Jazz, and their rapidly improving cast of two-way position-less players. That'll do for a Friday night. And as an added bonus, we'll probably get an Enes Kanter sighting. No arena crowd conjures that uncomfortable angry mob feel quite like Energy Solutions Arena. You can really feel the hate through the television screen. It's impressive, in a lot of deeply disturbing ways.
Saturday: San Antonio Spurs at Atlanta Hawks (8:00 PM EST/5:00 PM PST on League Pass)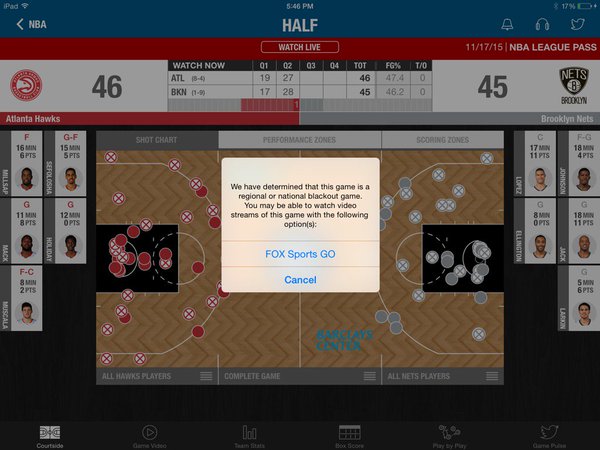 Basically each time the Hawks are on national television, I feel obligated to watch them. Why is that, you ask? It's because EVERY OTHER GAME OF THEIRS IS BLACKED OUT IN MY MARKET. As far as I can tell, the Hawks are the only team that presents this predicament. I can see any other team from any other device. I can even watch the D-League! But not the Hawks. No way. Only time I can see them is if they're on TNT, ESPN or NBATV. It's a shame, because I'd probably watch them a lot. But now I can't. I hope the Spurs throttle the Hawks. I hope they ransack them. Never trust the Hawks, man. Never trust the Hawks.
Sunday: Utah Jazz at Oklahoma City Thunder (7:00 PM EST/4:00 PM PST on League Pass)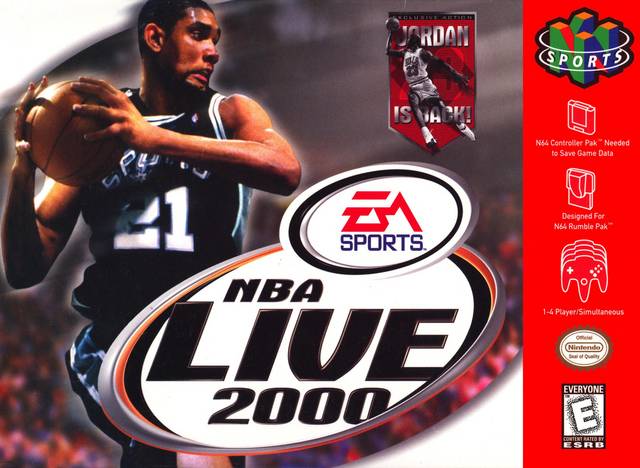 Back in the day, NBA Live used to have a feature called "Grudge Match." If you lost a game, either against a real life opponent or the computer, you could click on the "Grudge Match" button and immediately play the same team again. It was often pressed as a reflex; a frustrated growl and an angry button-mash on the controller. Based on how things go on Friday, either Jazz fans or Thunder fans will have an option to give it another go, and try again against the team who will have beaten them just a few days prior. The Grudge Match doesn't happen terribly often during the regular season, so I'll make time to check it out. Also, there aren't really any good games that day. Maybe the NBA just schedules Thunder vs. Jazz when there's literally nothing else you'd want to watch that day.