Diss Guy: Tim Hardaway
Believe it or not, something piqued my attention last week that had nothing (well, almost nothing) to do with basketball.  Rob Portman, a conservative senator from Ohio, changed his stance on Gay marriage, and became publicly championing the cause of equal marriage rights for same sex couples.  The turning event, he claims, was when his 21 year old son came out.  Portman said that though he struggled with his political and religious values, in the end, overarching themes of "love" and "respect" won the day.  "I have come to believe that if two people are prepared to make a lifetime commitment to love and care for each other in good times and in bad, the government shouldn't deny them the opportunity to get married."  And with that, his views were changed, and thus, his political platforms from here on out.
After Portman publicly changed his stance, the praise did not roll in from liberals.  The noted economist Paul Krugman wrote in The New York Times that "while enlightenment is good, wouldn't it have been a lot more praiseworthy if he had shown some flexibility on the issue before he knew that his own family would benefit?"  Brian Zygmont, professor at Clarke University, wrote on his blog that "there is a big difference between you and I, Senator Portman, and our stand for marriage equality.  I support marriage equality because it is the moral and legal thing to do.  Not because I am gay.  Not because I have a gay family member (that I know of).  And not because I have any personal vested interest.  I support marriage equality quite simply because it is the right thing to do. You support marriage equality (now) because you now have a personal interest in the matter.  And if that were not present, you'd likely remain opposed to it."  Since Portman didn't share Zygmont's views and upbrining, Portman was, of course, " a coward."  Yikes.  Needless to say, the liberals weren't impressed with Portman's newly-stated stance on equal marriage rights for all.
When I read the critiques of Sen. Portman's stance, I could help but think of Tim Hardaway, who has been on television a lot these days because of his son' participation in March Madness.  Hardaway, of course, altered his post-career trajectory greatly when he said that he "hated gay people" in 2007, shortly after John Amaechi became the first NBA player to come out of the closet.  Though Hardaway quickly recanted, the damage had been rightfully done.  Hardaway spent many years as something of a pariah; a former great who had been blacklisted because of his comments, and who needed to do necessary work to build credibility and rapport with not just the NBA, but the liberal viewing public, as well.  Eventually he got to where he needed to be to make good on his playing exploits — retired jerseys, sponsorship deals — but not after a few years of public advocacy and serious recantation for his homophobic transgressions.
When Joakim Noah said "fag" and received a $50,000 fine, it was hard to accept his apology.  Hardaway took note, and offered his perspective on making good after years of living a mistake:
He took the onus and went ahead and corrected the whole situation, like I did. That's all you can do is correct the situation. You're not trying to hurt anybody. You're not trying to offend anyone. You just have to take the right approach and hold your own self accountable for it and make everything right. That's all you can do….I'm still trying to rectify it. People ask me about it, and I tell them, 'That's in the past. I'm moving forward.'…I still learn from it and it's still a bump in the road for me. But you have to still move forward, still have to keep going, and that's the way it is. I'm not trying to shy away from it. I'm not trying to say I didn't do it. I'm rectifying it. I understand what I said and how I said it, which was wrong. And I'm just trying to move on from it.
In the end, it seems to me that it's the eventual destination that matters the most in these questions of delayed enlightenment.  Sure, the journey is important, but as long as the intended destination is reached, all we can do is applaud the person for getting there.  Most have been able to do that for Hardaway, who has become a staunch advocate for gay rights.  Perhaps someday we'll be able to do that for Portman as well.
- JG
Miss Guys: Philadelphia 76ers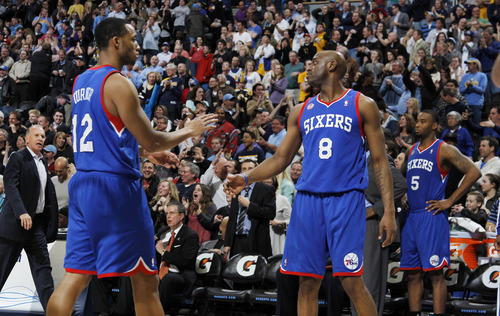 There wasn't much to watch this week, and certainly not a lot to watch last night.  So it was unfortunate that I had to witness the Nuggets' 14th straight win at the hands of an inept Sixers team who couldn't hold a 7 point lead late in the game, thanks to a deadly mix of turnovers, missed free throws and idiotic fouls.  In the end — a 101-100 loss after having a 100-95 lead with 14 seconds left — no one was happy.  Doug Collins wasn't happy.  The players weren't happy.  Even the CEO wasn't happy. Everyone had a critique but no one was willing to say, "this one is on me" (except for Damien Wilkins, it seems).
I don't think a loss, or by extension, a losing franchise, can attribute their woes to any one person, place or thing.  Teams exist in front of us  as representations of a particular sets of institutional values rather than a collection of individuals or an array of skill-sets.  A team attempts to actualize goals, and live up to benchmarks set by predecessors.  They try to maximize value, both on court and off of it, and work towards something greater.  When this stops happening, the "reset" button is hit, and a new set of individuals tries again.  It's a vicious cycle, but one that has been proven through trial-and-error, time and time again.
Last night, it was clear the Sixers have reached that moment to hit the reset button.  When no one wants to take ownership for what has occurred within the organization, it seems that it's time to purge the organization.     Collective failures of effort (and subsequent failures to rectify mistakes) are hallmark features of compromised organizations.  When there's no clear way out of a prolonged malaise except internal reassessment, it seems prudent to identify those who will work towards that cause.
I think this, really, is why Doug Collins was so unhappy with the trade to have the opportunity to rehab Andrew Bynum before his free agency summer.  With Iggy and Vucevic, there was always effort and ownership.  With Harkless, there was a rookie who didn't know any better than to work hard for his employer.  All of those influences are gone, and now there's little to celebrate.  That's why Doug's eyes are so wild.  That's why he's so dismissive of his team.
The Sixers will be going through some necessary changes this summer.  It's unfortunate that it took nights like these to hit "reset" and thus start the wretched process of sacrifice and rebirth.
- JG