1. Miami Heat (Last Week: 2)
No, they're not perfect, and they're not exactly stomping over the Spurs or the Thunder. But they're the best team I can remember watching over the last decade or so, and also one of the most entertaining. We're pretty lucky.
2. Denver Nuggets (Last Week: 1)
A loss to the Pelicans knocked the Nuggs from the top spot, but no one's complaining about 15-1 over their last 16. There's always a new Nugget to fall in love with, and over this last viewing period, my love has been Wilson Chandler. Perhaps it was China, but there are times during the game that he's unstoppable; the best player on the court who can score any way he likes. I'm suddenly feeling great about the "Nuggets win the West" prediction I made (to myself).
3. Washington Wizards (Last Week: 5)
On Monday, John Wall had 47, 8 and 7 in a statement win against the Grizz, and the Wizards are 21-16 since he came back. Shut this team down and put them on ice for next season.
4. Oklahoma City Thunder (Last Week: 4)
For your consideration: Kevin Martin. Is there any role player more enjoyable to watch? Even I jump on his head fakes, and I'm a fattie on a couch.
5. San Antonio Spurs (Last Week: 6)
Tony's back. I'm a little bitter that this means the end of the Nando de Colo era.
6. Los Angeles Clippers (Last Week: 8)
Do I really like watching the Clippers? 15 months into the birth of Lob City, I'm still not sure. They lead the league in highlights, no doubt. They also lead the league in removed mouth guards whenever they complain a call. More like Saliva City. I'm ready for the playoffs to start.
7. Golden State Warriors (Last Week: 19)
The Dubs must've read the ninth edition of the Power Rankings. The burn must've been deep; the sting sharp. Why else would they suddenly start scoring 100 points a game again? What else could motivate Steph to average over 30 and get Bogut to find his lift? Never underestimate the power of the Power Rankings, folks. Never ever.
8. Memphis Grizzlies (Last Week: 12)
Remember when Z-Bo was considered to be a nudnik, and no one wanted him? Watching this guy get ramped up for the postseason is something to behold. He's just hungry, all the time. Hungry Hungry Hippo would be a solid nickname for him, if I didn't think he'd kick my ass.
9. Milwaukee Bucks (Last Week: 11)
Hell yeah I still love the Bucks. I've creepily cut the faces off of all my favorite We Believe players and sewn them onto their modern Bucks counterparts. Jennings now wears Baron's mug, and Ersan Ilyasova is now sporting Al Harrington's mug. JJ Redick is a far less trill Captain Jack. And Monta? Well, he's still just Monta.
10. Houston Rockets (Last Week: 9)
We get it, you take a lot of threes. Will it work in the playoffs? It's still working for me on League Pass.
11. Indiana Pacers (Last Week: 7)
Next time you catch a Pacers game, watch Roy Hibbert's positioning on defense. Not only does he spend hilariously long amounts of time in the paint, he does this hilarious side step dance, bringing him outside then back inside the paint (during the few possessions that he makes a pretense to leave).
12. Los Angeles Lakers (Last Week: 3)
The Lakers were flying high, but have now hit a rough spot, lost MWP (possibly for the season) and are awkwardly integrating Pau Gasol back into the lineup. Good thing the season starts tomorrow, or something.
13. New York Knicks (Last Week: 18)
I might be the only fan that doesn't enjoy watching JR Smith play basketball. It's not necessarily that he is a gunner—I love watching Jamal Crawford and Monta Ellis. Maybe I just don't like the Knicks.
14. Brooklyn Nets (Last Week: 14)
It's just starting to pop up on everybody's radar, but Gerald Wallace has been terrible this year. Kris Humphries hasn't played much, and Deron Williams is only now rounding into shape. Wait, why does this team have a winning record? Brook freaking Lopez.
15. Toronto Raptors (Last Week: 13)
If I had to pick the one player on the Raptors I would pay lots of money to watch, I wouldn't make a pick. But if I had to, I'd pick Amir Johnson. Amir Johnson is sneakily underrated, but he's still Amir Johnson.
16. Portland Trail Blazers (Last Week: 21)
Somehow, some way, the team with a bench made up of players who probably wouldn't get any run in China still has a 6% chance of making the playoffs. Hold out hope Rose City!
17. Dallas Mavericks (Last Week: 26)
If these rankings bad been made after last night's game, the Mavs would probably be 5 places higher. It is such a joy to watch Dirk Nowitzki play offense. If I were a foot taller, skilled at basketball and German, I'd be exactly like him.
18. Boston Celtics (Last Week: 10)
How good of a player would Avery Crawford/Jordan Bradley, a combination of Jordan Crawford's O and Avery Bradley's D, be?
19. Chicago Bulls (Last Week: 15)
Can we please just have Derrick back. Pretty please? Pretty pretty please?
20. Minnesota Timberwolves (Last Week: 20)
We give up on injured players too easily. As it turns out, Ricky Rubio is incredibly good at basketball, but because he struggled out of the gate (he tore ligaments in his knee!!) and the ascendance of other PGs like Irving and Curry, everybody forgot about him.
21. Atlanta Hawks (Last Week: 17)
Your last chance to watch Josh Smith squander his talent and not give a shit before he signs with another team. Oh wait, he'll do that there too.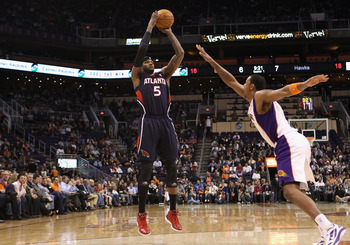 22. New Orleans Hornets (Last Week: 16)
I've been watching Anthony Davis a lot lately and I've come to the conclusion that he is deceivingly good. He only makes the occasional highlight block and seems to slink along unnoticed, but looking at the box score after the game and you see it stuffed with useful numbers.
23. Utah Jazz (Last Week: 22)
WHY DIDN'T YOU MAKE A TRADE AT THE TRADE DEADLINE!?!? Yeah it takes two to tango blah blah blah, but staying pat has been a disaster.
24. Orlando Magic (Last Week: 25)
In only his second season Vucevic is putting up 14 points and 13 rebounds nightly. Doug Collins gets ripped on for many things, but not finding away to place Vucevic more than 12 minutes a night last year might be his biggest sin.
25. Cleveland Cavaliers (Last Week: 23)
In their last game the Cavs started Shaun Livingston, Wayne Ellington, Alonzo Gee, Tristan Thompson, Tyler Zeller. The only player there that would find minutes on a competing team is Tristan Thompson. Oy vey.
26. Charlotte Bobcats (Last Week: 24)
Looking at the supposed weakness of this year's draft and the Bobcats salary cap situation, and it doesn't look like relief will come anytime soon. Expect them to hold down the bottom of the 20′s for awhile.
27. Detroit Pistons (Last Week: 28)
Apparently the Pistons have a guy named Viacheslav Kravtsov on their roster.
28. Sacramento Kings (Last Week: 27)
The off court debate is magnitudes more compelling than the on court product, and has been so for months.
29. Phoenix Suns (Last Week: 29)
I guess I'll look for cute moments between only the second set of brothers to ever play for the same NBA team?
30. Philadelphia 76ers (Last Week: 30)
Just go watch the La Salle Men's Basketball team instead.