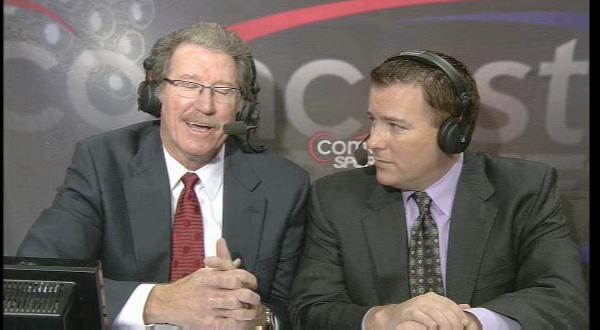 If you follow me on Twitter, you have probably noticed that I watch (almost) every single Golden State Warriors game and I frequently criticize TV play-by-play voice Bob Fitzgerald, analyst Jim Barnett and sideline reporter Ric Bucher. Oftentimes those criticisms are retweeted by Warriors fans and questioned by others: it seems there is a disconnect between the local and national perceptions of the Warriors broadcast team. Indeed, those that only know the broadcast team from the occasional League Pass perusing—or Fitzgerald from his work on Olympic broadcasts—generally consider them to be a good television team.
I want to put an end to that notion: they're not. Bob Fitzgerald, Jim Barnett and Ric Bucher make up the worst broadcast team in the NBA. Fitzgerald and Barnett are a coupe of the only high profile holdovers from previous Warriors ownership (another being PR man Raymond Ridder), and their continued employment is a black mark against Joe Lacob's tenure as owner. To understand why requires a deeper than superficial understanding of the history of the Golden State Warriors.
Jim Barnett has been the Warriors analyst since 1986, and Bob Fitzgerald the play-by-play man since 1997. Previous owner Chris Cohan took control of the team in 1995, meaning for almost the entirety of the dark days in his stead (1995—2010) Warriors fans had to listen to Fitzgerald and Barnett cheer lead for incompetence and idiocy.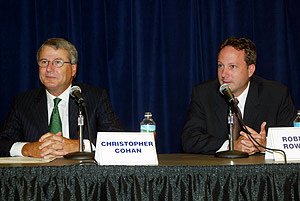 The failures of the Chris Cohan era were almost as big off the court as they were on it. The organization's policies regularly insulted paying customers, most notably when they forced loyal season ticket holders who wanted to retain their season in under renovation Oracle Arena to buy season tickets in temporary home HP Pavilion, 40 miles away. The marketing team trumpeted trivial accomplishments and advocated for awards for undeserving players, the public relations operation lied to reporters and the public, and the front office frequently forced out popular players and executives. The chief architect of these severely misguided policies was hated team president Robert Rowell, who I wrote about two years ago.
Through it all Fitz and Barnett were happy to play the fools, knowingly oblivious to how the organization took advantage of—and took for granted—it's unreasonably loyal fanbase. I understand that they are ultimately employed by the team, and have never expected them to openly criticize it. There is a wide range of tones between "massive, unrepentant homer for a terrible organization" and "criticizing ownership" however, and Fitz and Barnett never strayed from the former. One only needs to look towards current Kings play-by-play voice Grant Napear—who works for the deceitful Maloof Brothers—to understand how to promote the team without insulting your viewers' intelligence.
The homerism doesn't sound as bad this season because the team Fitz and Barnett are slobbering all over are actually good (though not that good). This isn't a new approach however. Their tone has been the exact same throughout their tenure. Fitz's exuberant reaction to Baron Davis dunking on Andrei Kirilenko in 2007 was appropriate; it wasn't when it was a Jason Richardson dunk in the midst of a blowout loss for a 14–35 team two season prior. They are relentlessly complimentary of even the most limited Warriors players, frequently advancing outlandish comparisons to truly great players.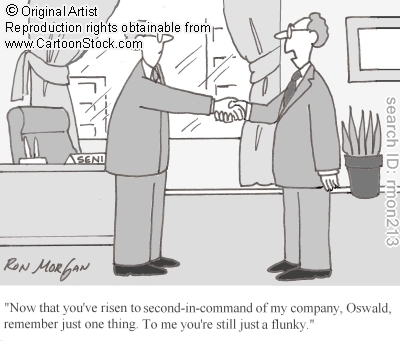 This attitude extends to their game analysis. When the Warriors lose (which has historically been most of the time), you never hear them discuss the Warriors team failings. No, the cause of the loss is always because of deified opponents or statistical anomalies. Over the years, their are players the fanbase refers to as Warriors Killers: limited role players who nonetheless morph into stars against the Warriors. These players are often undersized fours, and included players like Carl Landry, Chuck Hayes, Jason Thompson, Jason Maxiell and Kevin Martin. Fitz and Barnett act like a 25/15 game out of Chuck Hayes is a normal occurrence because he is such a talented player, when the simple truth is the Warriors sucked at interior defense and rebounding. They also mouth incredulity at things like the opposing team hitting 50% of their three-pointers or a large free throw discrepancy, ignoring the Warriors lead-footed close outs and lack of will to drive through the lane and absorb punishment.
Each of them also has quirky—and factually unsupported—notions about the game of basketball they hammer home nightly. If the opponent ever initiates a fast break off of a long rebound from a missed corner three, on cue Bob Fitzgerald says "As I always say, missed corner threes lead to easy points". Never mind the previous five missed corner threes that didn't result in a fast break or research that shows his premise is false, as that doesn't fit the Bob Fitzgerald narrative. Similarly, if a shot is blocked out of bounds, Jim Barnett can be counted on to wax poetic about the skill of Bill Russell, and how he always kept blocked shots in-bounds. If a young player commits this unforgivable sin, he'll give them a break with a "he'll learn", as if a player is in 100% control of the trajectory of a deflected shot.
This year's introduction of sideline reporter Ric Bucher has made the broadcast even worse. The Warriors broadcast has been through a string of sideline reporters, none of them particularly memorable or offensive, yet somehow Ric Bucher is both. It starts with his too-long-for-Twitter ramblings on Sulia that showcase a reporter five years removed from being in-touch with his subject, and extends to his on-camera persona. I ask this question in all sincerity: is Ric Bucher inebriated during his broadcasts? The clip above is admittedly his worst moment of the season, but he has consistently stumbled over words and players names, and has seemed surprised when the camera cut to him like his job isn't to break into broadcasts with with quick 30-second snippets of news.
Fitzgerald, Barnett and Bucher are a throwback to another era, to an organization that treated its fans as ATMs and not part of a vibrant basketball culture. A throwback to an era of over promising and under delivering, putting sales people in charge of basketball decisions, astroturfing fan blogs and breaking up the only enjoyable Warriors team for two decades. The Warriors fanbase is mature, intelligent and incredibly loyal, and deserves better than ownership flunkies whose propaganda only seems reasonable next to the outlandish Iraqi Information Minister.