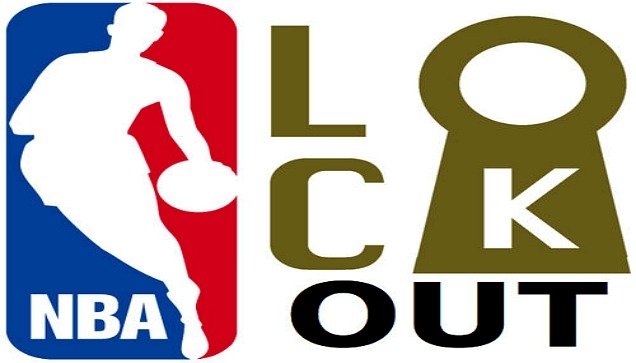 This is why we have lockouts. This is why the owners fought to reduce the length of maximum contracts from six years to five. Despite having the nuts, this summer we have seen at least one front office blunder on a player extension, and if the reports out of Indiana and Sacramento are correct, we're about to see two more.
All first round picks are signed to four-year contracts, the first two years guaranteed and the team holding options on years three and four. After the third year of the contract (assuming the options on years three and four are picked up) until the beginning of the fourth year, the two sides can negotiate an extension to kick in after the fourth year. Once the option on the fourth year is picked up, that salary is set whether an extension is signed or not.
The incentive for players' to sign early extensions is clear. They want to sign for as much guaranteed money as soon as possible, as a hedge against catastrophic injury or a severe dip in performance.
The incentive for teams is also clear. Teams want take advantage of players' desire for stability by offering a below-market contract. The best example for this was the Golden State Warriors signing Stephen Curry to a four-year, $44 million extension last season. If he had waited until this offseason to sign Curry surely would've commanded the maximum five-year, $80 million extension, but coming off of multiple major ankle surgeries, Curry desired the stability of an early extension. By gambling that Curry would stay healthy and develop into a star, the Warriors managed to ink a very team-friendly deal.
So if the incentive for teams is to prey upon the desire for security to offer a below-market rate, why do we see so many teams offering maximum extensions—which by definition cannot be below-market—earlier than they have to?
This was one of the major issues that led to the Thunder's ill-advised trade of James Harden last season. Despite the fact that he was already under contract to play the 2012–13 season for a relative bargain of $5.8 million, the Thunder traded him to the Rockets in part because they were worried about paying him for the 2013–14 season and beyond, and felt like trading him was the best way to extract the most value. If they had waited to sign an extension or trade him, they would've seen that he wasn't a top-30 player but a top-10 one, and might've had a better outcome than trading Harden for a year of Kevin Martin and a couple of mediocre draft picks.
The mechanics of the Collective Bargaining Agreement give teams enormous amounts of control over players' early years that go beyond the aforementioned team options in years three and four of the rookie contract. For this example, let's use the Wizards' John Wall.
***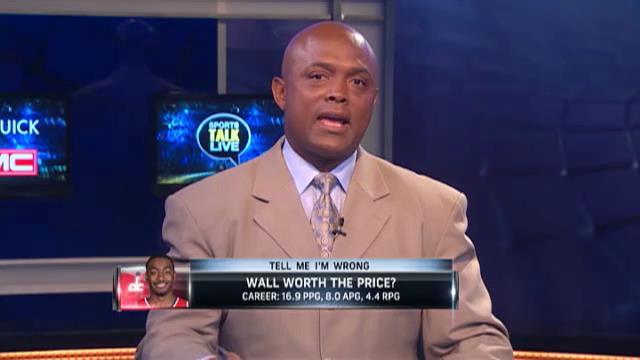 The fairly consensus view is that John Wall is a good, not great, player with the potential for greatness. For instance, Sports Illustrated's Point Forward blog ranks him as the 40th best player going into the season. Last season it looked like Wall was cashing in on that greatness, but it came in only 49 games after suffering a "stress injury" to his knee. He also missed 13 games his rookie year. Despite the fact that Wall's development into a star is far from certain and he sports injury concerns, two months ago the Wizards signed him to the maximum five year, $80 million extension a year earlier than necessary. Why?
The best-case scenario for the Wizards is that Wall makes "the leap" into superstardom and is forever mentioned in the same breath as players like Chris Paul and Derrick Rose. The worst-case scenario is that he re-injures his knee and becomes a shell of his former self, a la former All-Stars Brandon Roy, Amar'e Stoudemire and Tracy McGrady. Or, perhaps less dramatically, he never makes "the leap" and remains on the fringes of the top-ten point guard discussion, failing to justify the value of his contract.
The risks for the Wizards clearly outweigh any benefits. If Wall does have a spectacular season, the Wizards can sign him to the exact same contract one year from now. If he gets re-injured or fails to improve, they will have dodged an $80 million sized bullet. But to be sure that inking Wall early is a mistake, we have to look at potential scenarios that could occur if they hadn't done so. The following paragraphs have been written as if he didn't sign an extension.
The Wizards have already picked up the option on Wall's 2013–14 season, which will pay him $7.5 million. After the last game of the NBA Finals the Wizards will have about two weeks to decide whether to submit Wall a qualifying offer or not. The qualifying offer is a one-year contract offer at 130% of his 2013–14 contract, about $9.75 million. It is likely that, except in the event of an absolutely dreadful season, the Wizards will be willing to pay Wall $9.75 million for a season. If they determine that he isn't even worth $9.75 million, well then good thing they didn't sign him to that maximum extension!
Once Wall has received the one-year, $9.75 million offer from the Wizards, he becomes a restricted free agent and has three options:
He can sign the qualifying offer and play out the 2014–15 season, after which he becomes an unrestricted free agent, free to sign with whomever for however much he is offered.
He can negotiate a new contract with the Wizards that would cover the 2014–15 season and beyond, thus rendering the qualifying offer moot.
He can sign an offer sheet of another team, which the Wizards would have an opportunity to match.
Assuming he has a great year season for the Wizards, option 1 is the worst-case scenario. They get to pay him at below market rate for a year, but then he can walk away without the team getting anything in return. Of course, they still have a chance to sign him to a contract like the other 29 teams, but signing the qualifying offer is usually a big "screw you" to your former team.
Option two works out great for the Wizard. The maximum amount of money they can offer Wall—$80 million for five years—is unchanged from before. If they sign him to the max contract they end up in the same place they would have Wall had signed it a year earlier, but with even more evidence that he is worth that amount of money. If the Wizards can somehow convince him to sign for less money (say he had a good but not great season), than they've saved money by waiting a year.
Perversely, John Wall signing an offer sheet with another team could actually be the best thing for the Wizards. Because of CBA rules that allow a team to offer more money and more years to re-sign its own player, the maximum offer sheet another team could present John Wall would be a four-year $58 million one, which the Wizards would then have the option to match. If they do match it, they get to pay him $14.5 million a year instead of the $16 million maximum they can offer (though they only get him for four, not five, years).
So the worst case scenario to not signing John Wall to a maximum contract early is that the Wizards have him for another two years at a below market rate, he develops into a superstar, and walks away after the 2014–15 season. But in practice, this never actually happens.
If Wall does indeed have a great season, there is almost no chance he will accept the qualifying offer instead of signing an extension with the Wizards or signing an offer sheet with another team. Especially for a player with some history of injury, taking $9.75 million of guaranteed money when offered either $58 million or $80 million is insane. Wall might be really, really pissed at the Wizards for not extending his contract, but he's got tens of millions of dollars worth of reasons to get over it. The next player to accept the qualifying offer when they have a maximum contract offer on the table will be the first. It has never happened.
***
We're back to the original question: why do teams sign players to maximum extensions early? The biggest reason is because of its inevitability. Last season the Clippers signed Blake Griffin to an extension early because they planned on doing it this year anyways. Getting the deal done early makes Griffin happy, as well as possibly convinces other free agents that the Los Angeles Clippers are a good destination. For instance, maybe Chris Paul wouldn't have re-signed with the Clippers this offseason if there was the fear that Griffin wasn't going to be with the team long-term.
But still, this doesn't make much sense. In college Griffin sprained his left MCL, and tore cartilage in his right knee, and he ended up missing his entire rookie season with a broken knee cap. He was, and always will be, at risk because of his history of knee problems. It is foolish to guarantee long-term money to somebody with severe injury history until absolutely necessary. And as far as Griffin signing with another team this summer if he hadn't signed an early extension, remember that he would've only been a restricted free agent, with the Clippers able to match any contract offer he received.
Other arguments to sign players to maximum extensions early rest in a nebulous place of untestability. Perhaps if the Wizards didn't sign John Wall early, his agent Dan Fegan—who represents Dwight Howard, Ricky Rubio, Avery Bradley and others—would steer his players away from the Wizards. Maybe John Wall will feel he has something to prove, and gun for statistics rather than playing team ball. It's possible role players would be less likely to see Washington as a favorable destination without a Wall extension.
All of those scenarios are plausible and undoubtedly could be harmful to the Wizards, but frankly they're not all that important. For a few years Dan Fegan tried to steer players away from the Golden State Warriors because of how they handled his clients Stephen Jackson and Al Harrington, yet I seem to remember that his biggest client Dwight Howard seriously considered signing with the Warriors this offseason. What changed? The Warriors hired competent people and became good! Agent-team relationships certainly matter on the margins, but the most important thing to attracting good players isn't the subtle machinations of agents, but winning basketball games.
The same thing goes for the rest of the arguments to offer a player a maximum extension early. You know what will improve John Wall's team play? Surrounding him with good players. You know what will make role players view Washington as a favorable destination? Winning.
***
The costs of being saddled with an albatross contract in the NBA are enormous. The Lakers owe Kobe Bryant $30.5 million no matter how successfully he returns from one of the most difficult kinds of surgery to recover from. The Knicks owe Amar'e Stoudemire $45 million over the next two years despite the fact that he's barely even the eight-best man on the roster. The Nets owe Joe Johnson $69.5 million over the next three years even though his best season was way back in 2009–10. The Bulls are paying the luxury tax because they have to pay Carlos Boozer $15.3 million this year, the same player they've been trying to trade for the last two years. The list goes on.
The latest reports are that the Indiana Pacers are "finalizing" a maximum extension with Paul George, while DeMarcus Cousins is "nearing" an extension with the Sacramento Kings that might be for the maximum amount of money. This is insane. Paul George is a good player who helped lead his team to the Conference Finals and performed well in a showdown against LeBron James. But one season does not a career make, and the Pacers would be prudent to ensure he is indeed a long-term superstar before backing up the Brinks truck. And DeMarcus Cousins, the same DeMarcus Cousins who has been suspended twice each by his team and the NBA, the same DeMarcus Cousins who has been fifth, second and first in technical fouls during his three seasons and has been ejected seven times? This is the behavior that has convinced the Kings they should give up all leverage to sign early?
The current Collective Bargaining Agreement runs through the 2020–21 season, but either side can opt out after 2016–17, a mere four seasons away. Rest assured, the owners will opt out and put on a song-and-dance about how much money they're losing, and how the players' share of Basketball Related Income needs to be reduced. Just remember that when the owners argue for a 2017 version of the Allen Houston Rule or an amnesty clause, it is because of a situation they created when so many owners were determined to needlessly throw away all leverage over rookie contracts.