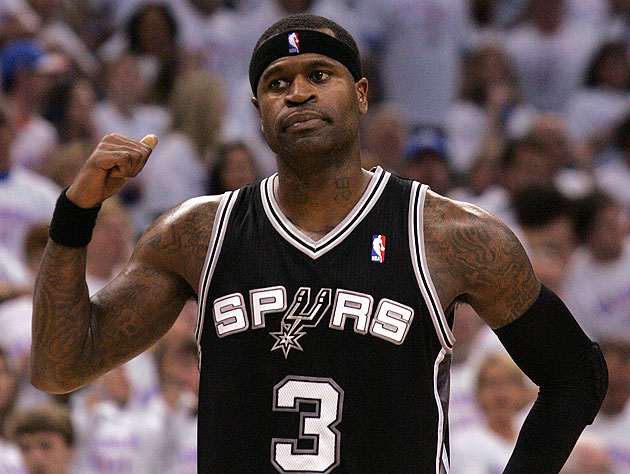 At long last, Stephen Jackson made an offseason headline, and sadly, I'm not really going to comment on it. It has nothing to do with an NBA team interested in his services, or even a rumor of a team interested in his services. No, it was TMZ worthy; a dust-up at a show of some sort, involving Steve Francis, the failed point god. Forgive me: I have no desire to watch Captain Jack — now likely a former NBA player, given that his phone hasn't rang since he was cut from the Spurs — choke out a certifiable former NBA player in Stevie Franchise at a rap show somewhere. It would take a very long, boring day during the hot NBA offseason to get me to click on a video of retired NBA guys with their hands around each other's necks; past, present and future professional frustrations actualized in a brilliantly ugly moment of vulnerability and rage. However, if that's your thing — and more power to you if it is — here's a link.  Drink it up, if it's your diet soda of choice.
With training camps still some time away, and Captain Jack's tenure likely drawing to a wilting, unceremonious conclusion, it's interesting to consider where I — and we — are at with the man who famously made love to pressure. Once upon a time, when the Diss was younger and I was more innocent, I proudly called myself Stephen Jackson's "biggest fan".  Of course, I wasn't the only one who thought of themselves as Captain Jack's most valuable deckhand.  Indeed, Captain Jack has long held a special place in the imaginations' of NBA fans. A litany of prominent events informed this folk worship — a big NBA Finals in 2003, a few vicious left hooks the Malice in the Palace in 2004, a career resuscitation with the We Believe Warriors in 2007, a key role with the upstart Bobcats in 2009, and a hot shooting playoffs with the Spurs in 2012 — and for the most part, he deserved the adulations he received.  For us, Captain Jack laid himself bare; revealed all that he had for us to see, unapologetically and even forcefully.  In Captain Jack, you had a solidly built shooting guard, six-foot-eight with solid handles and excellent positional defense. You had a versatile player with an ability to stretch the floor and move the ball. You had an emotional leader and spark-plug for on-court controversy.  You had entertainment in both a classic and modified form, at least in the NBA; an undrafted journeyman who had worked his way through ups and downs of many magnitudes, and who stayed true to himself. It was hard for me not to love that. It was hard for any of us to not love that.
Something changed though.  It's hard to pinpoint exactly when it occurred. Really, there are a multitude of moments we can choose from. Maybe it was when Robert Rowell (a villainous man known all-too-well to Warriors fans, but whose despised visage can remain blissfully undefined to everyone else) signed him to a hefty multi-year extension behind the backs of both Chris Mullin and Don Nelson.  Or perhaps it was when he was traded to the Bobcats, having soured his relationship with the Warriors and many members of its fanbase after the team blew up their already rickety foundation. Or perhaps it was when Gerald Wallace was traded to the Portland Trailblazers only a few months removed from a playoff run in a cost-cutting move. Or perhaps it was when he pouted his way out of Milwaukee (where he was sent after he pouted his way out of Charlotte) so he could get a job with the team he once spurned (for less money), the San Antonio Spurs.  Hell, it may have even been as late as this May, when he was abruptly released from the Spurs as they prepared for another deep playoff run. Maybe it was all of these moments. Maybe it was none of them. It probably doesn't matter that much.
At some point, Stephen Jackson plateaued.  At some point, Stephen Jackson stopped improving, at least as a professional basketball player. I'm not really talking about the numbers; the things he produces on the court (though his numbers have declined each year since 2009). Captain Jack had his moments in relative abundance- this third to last game as a Spur he had 12 points, 7 boards and 3 assists on 40% shooting in 30 minutes against the Grizzlies — and that really never was the problem. Rather, it seems to me that at some point, Captain Jack decided that he really was going to concentrate on himself, and really, himself only. He had done what he needed to do as a professional basketball player. He had won rings; gotten paid.  He had made the plays, from big stage to small; had convinced himself he was better than everyone, from his mortal enemies to his very own teammates.
It is hard to deny that Stephen Jackson's decision to turn inward and focus on himself is disappointing to many of us. None of us expected to see Captain Jack being TMZ fodder so soon, and it is both jarring and disheartening, even in this steamy, muggy nadir of the offseason. Certainly, much of this is exacerbated by the fact that Stephen Jackson has the money to do whatever he pleases. His rap career is well underway — at least by his estimations — and if his Instagram account is to be believed, dropping a career as an NBA player won't have too many immediate ramifications. But it goes deeper than that. Captain Jack was not a selfish player. He was always willing to share the ball; very rarely hoisted up shots that he couldn't make. He could sneak dimes into the post, or drive to the hole and kick it to an open shooter on the outside. He moved without the ball for his teammates, drawing defenders out of their way, or moving himself into a position where he could be of use. And he always took on the tough defensive assignment, be it Dirk, Durant, or LeBron. Captain Jack was always willing to be that guy on the court; slowly trotting up and down the floor, exposing his mouthguard to the world, taking on the hard jobs.
But though he made love to pressure, he often left it the next morning high and dry, cab fare in hand and sent out with a dark glare that wasn't apparent the night before.  The pressure of maintaining interest and making sacrifices for others around him stopped affecting him a long time ago, if it ever did in the first place. The pressure of accepting changed roles and putting on a good face through unfavorable employment situations (despite the continually high pay) was something he never seemed to enjoy facing, so he stopped. The pressure of being accountable to anyone but himself was no longer worth the effort of showing up to work. So he stopped working the basketball job. He had the time, money, and projects to do so. So he did it. He left, sick of the mind games. And now, he's likely never going to perform for us in an NBA uniform ever again. And we'll just have to deal.
This is tenuous ground we are standing on, and Captain Jack's future is not truly certain. Many proud men leave the NBA prematurely and defiantly, and return to our consciousnesses humbled and cowed. True, some go on to become global icons in other lands, like Steph Marbury did in China after a bizarre exit from the NBA. But most seem to just flicker and flail; flames jumping and leaping inconsistently until the point of extinguishment. We saw two such men, Tracy McGrady and Allen Iverson, retire earlier this summer; players whose pride and defiance became hallmark of a particular generation of NBA stars. Steve Francis, Captain Jack's unfortunate co-star in the video I refuse to watch, is likely in this group as well. Though he has never explicitly stated it, Francis probably has his regrets about his clunky exit from the NBA, left with few options after injuries sapped his athleticism, and he found himself banished to China and mildly-viewed YouTube highlight videos. And certainly there are other lesser names long forgotten by fans of the game; prideful men who never found their footings in their high profile jobs, and were quickly swept in the undertow and sent downriver.
There's no predicting if Captain Jack will get to the point that T-Mac and the Answer reached; wistfully recalling the glory years with hollowed looks on their faces. There's no telling whether we'll even continue to look on his distinctive face with lovable admiration, and fondly recall his rainbow threes, crisp off-ball movement, and staunch defensive stands. We NBA fans are like goldfish; short and long term memories dashed to pieces by an overabundance of information flakes floating at the top of the bowl. By the time the Spurs were in the playoffs, Captain Jack in silver and black was a faint memory; replaced easily by Danny Green, Kawhi Leonard and Manu Ginobili. We Believe, already mirage-like at this point, has grown even more hazy now that the team has improved in a more sustainable way, and young home-grown players supplant mid-career salary cap-clogging carpetbaggers like Captain Jack. When the games get going, I will watch, even though Captain Jack won't be there. At one point, that might've been harder to do. But not anymore. Players come and go. Captain Jack is no different.
If you read the "About The Diss" tab at the top of the site, you find that much of this space is dedicated to Captain Jack. I wrote that we'd "promise to keep this up as long as Stephen Jackson has a contract". As of today: no contract, as far as I know. But of course, The Diss is not ending. Our mortality as a blog — and my mortality as a fan — continues without needing Stephen Jackson in the league to round out an NBA bench somewhere. We will all continue without Captain Jack; the NBA relatively unchanged as another player moves into the 9th or 10th spot in a rotation somewhere. We already have continued on without him, in many ways. And he, seemingly, has well. He will live his life; make music, invest money, make money if he can. He will be as trill as he can be. But for all of us, there's more to look at at this point. There's different sights to see; different passions to pursue.
So I say goodbye to Captain Jack; a player who has been a part of this league nearly as long as I've been a fan. I'm no longer his biggest fan, it seems. It was definitely a good run, though. And after many years, that's probably what matters.
Long live Stephen Jackson; until I forget him.