Diss Guy: Russell Westbrook
Three triple doubles in 10 playoff games while blowing smoke off the barrels of imaginary pistols. Yellow pants, gold rimmed sunglasses, gold chains. In the playoffs, he turns the ball over more, shoots more, uses more possessions, and is less efficient. Good Russ, Bad Russ wrapped up in this kinetic ball of electric energy. Yeah, Russell Westbrook is the more interesting player alive … probably.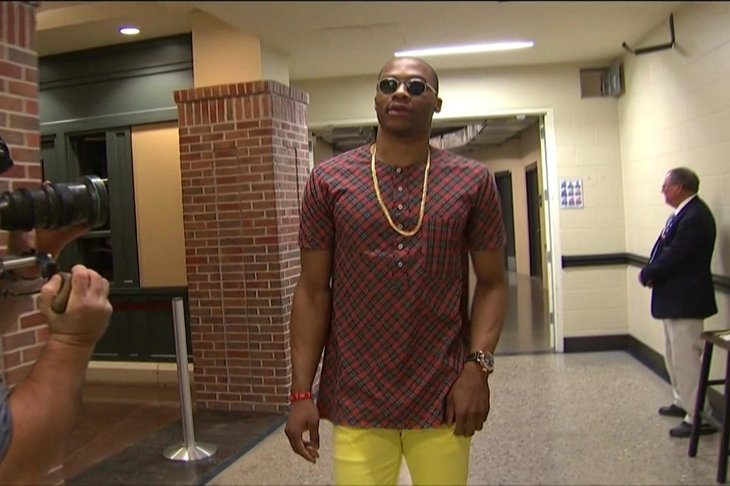 No other player has swings like Westbrook, oscillations that have taken fans and analysts years to accept as a break from the existing point guard paradigms. Westbrook is capable of alienating his most dedicated fans by dribbling down a shot clock and instead of deliberately working for a good shot, firing up a contested 25-foot jumper that inevitably clanks off the rim. The same guy will leave his passionate detractors conceding his greatness by stalking down that same miss, somehow weaving between would be box outs and rising up above Blake Griffin and DeAndre Jordan to snare the offensive rebound and another opportunity at polarizing basketball. He'll do all this and leave you emotionally conflicted in the span of 20 seconds.
What to make of this madman who's averaging 26ppg, 9rpg (3.3 orpg!), and 8.3apg in the playoffs, but who simultaneously turns it over almost five times/game with an eFG of 46%? If the play of regular season Westbrook is marked by the occasional, yet expected anomaly, then playoff Westbrook is a full blown personality disorder we've come to accept.
No one disputes Westbrook's ability, but even after six years as a pro, he's the rare elite player we struggle to accept. Aside his contemporaries, he offers a fury-driven volatility that doesn't align with our conceptions of Point Guard. If Chris Paul is the archetype of a modern, pace controlling point guard who rarely makes mistakes (example: his game-three 21-pt, 16-ast, 0-turnover gem), Westbrook is the wild freelancer who needs to destroy a few canvases to deliver his masterpiece. Where Tony Parker is an extension of Gregg Popovich, the reliable engine powering the Spurs well-oiled offense, Westbrook infuriates humans everywhere when he insists on going it alone – as the best scorer in the world is relegated to mere spectator. Steph Curry may be the most deadly shooting guard alive capable of eliciting fear from coaches and opponents across this great league, whereas Russ causes the same kind of fear – in his own fan base.
But what wraps the entire enigma into something and someone so much more than your standard issue All-NBA player is Westbrook's ability to, at times (and more frequently now than ever), harness all that energy and emotion into pure unpredictable productivity.
Whether picking Mike Conley's pocket for game-saving steals or shooting 0-14 in a stretch of overtime games, whether he's profiled for his choices in fashion or slanging Subway flatizzas in an odd gray tank top, Russell Westbrook is the most interesting basketball player alive.
Miss Guy: The Coaching Carousel
Every year around this time NBA front offices roll out the old blood-stained guillotine and coaches ready their necks for the inevitable chopping to come. Since April 21st, we've seen three head coaches fired, one retired, and one resigned so he wouldn't be a lame duck. That's nearly 17% of the league's coaches turning over in less than three weeks. Since the Pistons have been rolling with an interim head coach since February, it's fair to assume we'll lose at least one more coach before the off-season is complete.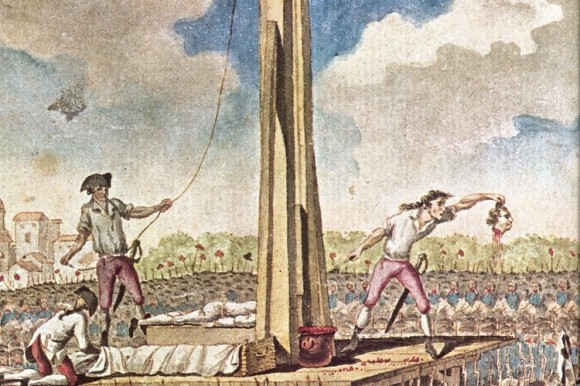 For better or worse, this is in line with the average of 6.5 coaching changes per season as reported out by Steve Kauffman of Kauffman Sports Management Group which represents NBA coaches. (Interestingly, Kauffman also represents front office personnel which could lead to some interesting negotiations and conversations.)
This website has done a terrific job of exploring the powerful role race plays in NBA coaching, from the pipeline and race-based stereotypes to the not-so-subtle data around black coaches being fired faster than their white counterparts. Whatever the causes, and if you're willing to do just a bit of research you'll see race is one of them, the NBA coaching carousel is about as regular as the seasons, but does change correspond with success?
If you toss out the outliers (San Antonio, Detroit, Charlotte), since 2000, the average coach is getting three years to prove himself. But in terms of regular season and post-season success, it's no surprise that the more stable the franchise, the more titles and wins are had. With the exception of the Pistons and their eight coaches since 2000, every title team has above average tenures for their coaches.
The differences are small, but not too surprising. When looking at this off-season's changes in Golden State, New York, Los Angeles and Minnesota, history tells us top-level success is still a ways off and not because their average tenures are reducing, but more likely due to the lack of continuity that typically accompanies a new coach. Larry Brown is the only coach in recent history to win a title in his first year with that team. In most cases, we see coaches with a team for two to four seasons before they're able to contend. How well does this sit with hungry fan bases with high expectations like the Lakers, Knicks, and Warriors?
There are myriad reasons teams are successful in the NBA and coaching changes are just one of the variables. Also myriad are the number of reasons a front office will make a coaching change. It's not the core metric for success, but franchise stability and continuity do play a factor. For teams and front offices insistent on taking a spin on the coaching carousel, give pause. The success you crave may be a few years out.