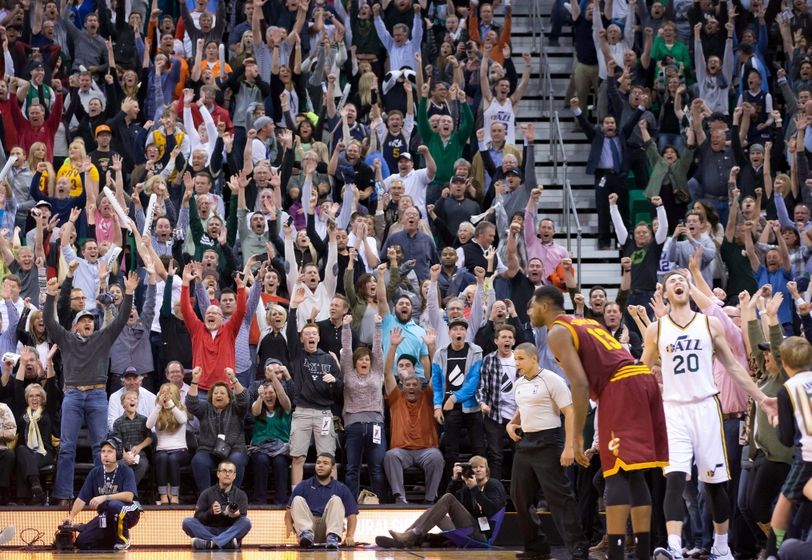 Recently, I started telling people that Salt Lake City had made its way on my radar as a place I'd consider moving when I'm done kicking rocks in my home-'burb and I decide to live paycheck-to-paycheck in another western American city. It's always refreshing to have a new landing strip to crash-and-burn on in my mind, and Salt Lake City is probably my most bizarre, self-absorbed geographical fascination yet. I've been dropping the news casually, in the obnoxious way that folks in my generation casually reveal plans about shirking their lives in a particular place to try something new in a different one. "Yeah, I've thought about Salt Lake City lately," I've been saying to anyone who'd listen, stretching my arms casually looking towards the East, ostensibly in the direction of hardened, unseen mountains and sprawling lakes of salt. "I could see myself there, you know? I've really heard some good things about it." In all the times I've airdropped this news, and to my dual delight and dismay, my shrugging wanderlust has produced a nearly uniform reaction: a strained, puzzled look, as if I'd opened my mouth and dry kidney beans had started pouring out instead of my voice. They'd clear their throats, and say with admirable restraint: "Salt Lake City? In Utah? Why would you want to move there?"
I think I can understand the sentiment, even though the sentiment itself is problematic. If we're going by the discourse produced and consumed by most individuals, America has a strange, hesitating relationship with the state of Utah, and in many ways, the relationship feels mutual. In the cultural imaginations of the average American, Utah represents difference; practices and personalities that don't quite line up with the rank-and-file. Undoubtedly, much of this has to do with how we perceive the Mormon church, or more specifically, the aspects of the church that the average tummy-scratching citizen is interested in: fictionalized and/or sensationalized accounts of polygamy, mysterious secrets and strange councils, and oppressive, armed sects. These perceptions are actualized movies like SLC Punk! and television shows like Big Love, fabulously deviant romps that present themes of the individual fighting against a hegemonic, sinister church. Rumors of a fundamentalist land make their way to both coasts, panicked dispatches like "I've heard they only have 3/2 beer there" or "I've heard all the clubs have a $30 cover," and the resulting product is a mess. For those who haven't spent much time in Utah — I'd wager that's most of us — Utah feels a bit foreign, like a place that seems hard to understand, and maybe even like a place that might not want to be fully understood.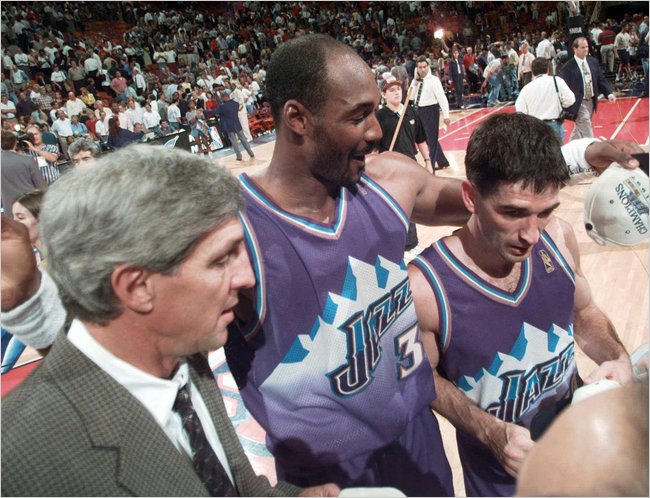 I would argue that much of this sentiment comes from our relationship with the Utah Jazz, who for a long time were the most visible representation of the state of Utah. During the mid-to-late 20th century, and into the first few years of the 21st century, the Utah Jazz were the Western Conference's most consistent contender, and casual fans outside of Utah — especially those my age, who were children during this period — were prompted to make sense of the team for themselves. Finding words to describe that version of the Utah Jazz was, and remains, difficult. Of course, Karl Malone and John Stockton were the players who introduced the concept of the "pick and roll" to me, and for several years, I joined others in watching the diminutive point guard dart around his larger counterpart, weaving through massive bodies and zipping passes to preferred targets. Over time, like others outside of Utah, I grew to hate the team, deeply. The snow-capped mountain on their jersey seemed to be a sickeningly perfect symbol for the team; anchored by presences who, from my perspective, had been in Utah forever, set firmly in the landscape, and looking down ominously on potential foes with their eyes fixed on the summit. Karl Malone scored points and skewed racial perceptions, wearing wide-brimmed hats and cowboy boots as he, steadily producing through age and injury. Jerry Sloan cemented his legacy as the league's premier hard-ass, a man you'd never want to fuck with, and for the last part of the 20th century, the Jazz were a monolith: massive, mighty, and mysterious.
But there was always something more sinister to the Jazz, something that couldn't be ridiculed in a retroactively-awful-blackface-routine from Jimmy Kimmel; a certain conceit that the Jazz were also representative of the place they played in, a place I struggled to understand. There would be nothing tangible that would either solidify or deconstruct this concept in my mind, just small, uncomfortable leaks that would emerge. Much of this came to light in 2007, after former center John Amaechi came out, and unleashed some disturbing — yet, hardly surprising — accusations against his former coach, and the then-living owner of the team Larry Miller. In his words, and in actions that followed, strongly held suspicions seemed confirmed: that this was not a tolerant place, and that this team was representative of that intolerance. Amaechi accused his coach of using homophobic slurs in practice, and stoking hateful fires in the locker-room. He extended his critique to the owner Larry Miller, whom he called a "bigot" and a "homophobe." Such accusations seemed to hold water, given that Miller, who owned several movie theaters in Utah, pulled Brokeback Mountain from his establishments because they "threatened the traditional institution of marriage" (though he later apologized for this move).  Even after Malone and Stockton retired, and Carlos Boozer and Deron Williams took their places in the vaunted pick-and-roll (and beat my team in the second round of the playoffs in 2007), and after their departures, Al Jefferson and Paul Millsap; even after I purchased League Pass in 2008 and started truly investigating out-of-market contests on a nightly basis; even after Larry Miller died and left his vast business empire to his son, Greg Miller; even after Jerry Sloan and lead assistant Phil Johnson left the Utah Jazz after a rumored falling-out with his star point guard — details that have never been confirmed or denied by any party — and Tyrone Corbin took the helm, these feelings never left. As I did as a child, I would look out on the almost-exclusively-white-skinned crowd packed into the former Delta Center, and not understand what I saw. I did not understand, I did not want to understand, and felt I never would.
But times change. People do too; slowly, almost imperceptibly. The American West is vast and beautiful, and the new Utah Jazz have become a part of that glorious new West. The erosion of the old Jazz happened piecemeal, and the birth of the cool snuck-up on us without announcing its arrival. The mountainous uniforms and branding have been done away with, replaced with the clean, classic threads of the team's late New Orleans/early Salt Lake City past, highlighted by perhaps the best logos and branding in the NBA. In the firing of Tyrone Corbin, and the arrival of Quin Snyder, the Jazz have put the Sloan era to bed; while fans are happy to regale him, and any other Jazz member from the recent glory years with ample amounts of admiration and respect, there is clearly a new leader in town. Gordon Hayward has ascended into the realm of borderline star; another member of a rapidly-evolving caste of two-guards who can be counted on to lead the team in scoring, as well as guard the other team's talented perimeter players. He is flanked ably by Alec Burks, Trey Burke and Dante Exum, quick, talented guards and open-floor phenoms who handle the ball, play defense and orchestrate the offense. The front-line is stacked, anchored by burly Derrick Favors — averaging 16 points and 8 rebounds in this early season — supported by Enes Kanter, who is slowly morphing into a dangerous stretch-four, and highlighted by Rudy Gobert, he of unlimited wingspan and inconceivable vertical leaping. They are augmented by free-agent signings Joe Ingles, who turned heads at the FIBA World Cup, and Trevor Booker, who has delighted with his impressively expanded game, and a versatility that fits in well with the rest of the team. And, at the moment, they sit at 5-7, having won games in exciting fashions, including two game winners. In the wake of troubling greatness, we are left with something that, for the casual fan, is far more exciting: a new vision, a new path, and modern, free-flowing basketball with players who are entrenching themselves in our minds, presumably for years to come.
Certainly, there is still work to do. For if it feels like we are just getting to know these Jazz, it is because in many ways, we are. Much like their other small-market counterparts, the Jazz seemingly have been very selective about who they let cover their team. Deseret News and The Salt Lake Tribune remain the primary credentialed voices that offer dispatches outside of the team. Most of the Jazz's excellent fan blogs — SLC Dunk, Salt City Hoops (who do enjoy media access), and Purple and Blues, to name but a few — offer mostly secondary takes on the team; informed observations, but certainly lacking in the primary sources that other NBA team blogs can access. Though the team employs a number of writers who write directly for the site, these pieces end up being mostly explainers and character-profiles. At this point, our impression of the team is still superficial. If the Jazz were to deregulate themselves even further — open up their franchise for others to see, to understand — there is no reason that they, and their state, could continue to go through the re-imagination they've been enjoying. Once written off, Salt Lake City has become known as "the gayest town in America," and  environmentalists and young, left-leaning individuals move to the city to make new lives for themselves. While rennaissance seems like a strong word, the city, and the state, seem to be going through a transformation in the minds of others. It's very compelling that the Jazz are a part of this, as well.
Tonight, the Warriors play the Jazz. I expect the contest to be hard-fought and fun. And while I hope that my team prevails in the end, I also know that for huge stretches of the game, I will be watching the team from Utah move the ball crisply, run a high-powered offense that makes effective new use of exciting young players I've only recently grown to love. It's hard to know where this affection will lead me. It's hard to think about leaving the Bay Area, and the Warriors, behind for Salt Lake City. But cool is hard to deny, and at this point in the season, there are few teams — and places — that are cooler than Utah and their strangely-tuned Jazz.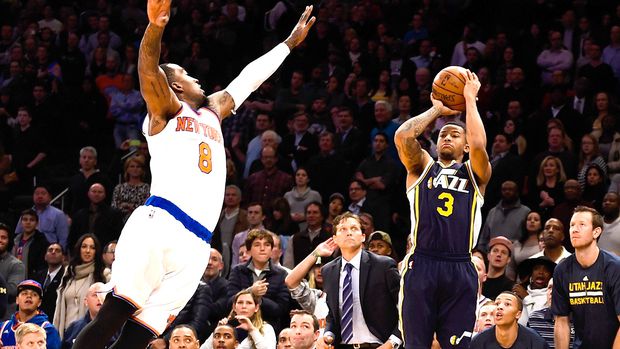 Note: It has been pointed out to the author that Salt City Hoops has media credentials with the Jazz, as well as several other radio stations and smaller publications. The post has been edited to reflect this. The author regrets his error.